Back to selection
Quick Takeaways from Sundance Artist Services Distribution Workshop in Seattle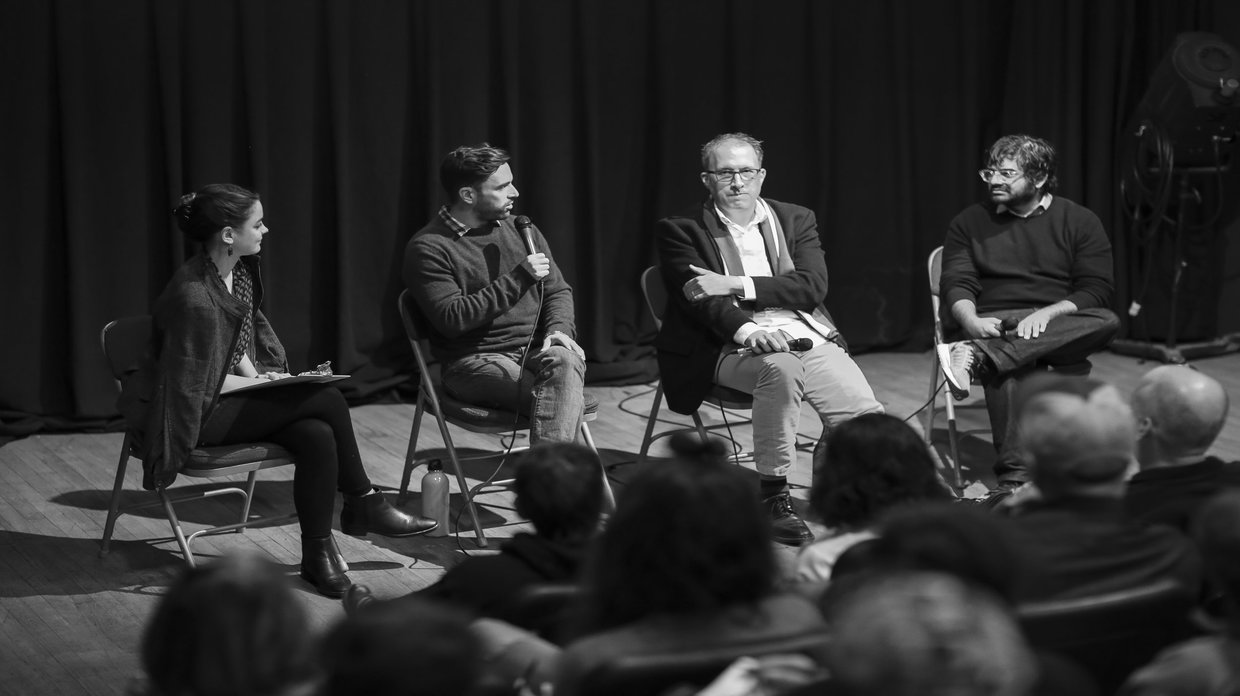 Sundance Artist Services panel at NWFF c/o Oguz Uygur
Launched in 2011, the Sundance Institute's Artist Services program was initially designed to help Sundance alumni filmmakers get their work in front of audiences in a shifting industry environment in which DIY distribution strategies were increasingly an option. While digital distribution opportunities continue to be offered to Institute alumni, Artist Services has expanded its educational initiatives and online resources to include all indie filmmakers, not just ones who have screened at Sundance. Through online resources, live workshops, and a network of allied organizations, the program provides support and insights on creative funding, marketing, and distribution. Artist Services also holds daylong events around the country in tandem with the program's allied organizations. Workshops have been held in Park City, New York, Los Angeles, San Francisco, Austin, and Miami.
On Saturday, October 1, the Northwest Film Forum hosted the first-ever Sundance Institute Artist Services workshop in Seattle. The day's workshop included speakers discussing crowdfunding, new forms of distribution, digital distribution deliverables and direct-to-fan distribution models.
Chris Horton and Liz Manashil of Sundance Institute helped facilitate and panelists included festival programmer Sudeep Sharma, Peter Gerard of Vimeo, filmmakers Khalik Allah, Tracy Rector, Clyde Peterson, and Evan Briggs, producer Jennifer Roth, and Jonathan Marlow of Kanopy.
"I asked a lot of filmmakers in attendance what they got out of the event and the responses ranged from nuts and bolts tips to creative inspiration," Courtney Sheehan, Executive Director of Northwest Film Forum, told Filmmaker afterwards. "Seeing and hearing about so many different case studies and success stories that hinged on unique approaches for financing, marketing and distributing projects really underscored for filmmakers how vital it is to pay attention to constant changes in the best methods and practices for reaching audiences."
Below are some takeaways from the day:
Festivals are theatrical.
Sheehan explain that the old model where "your film gets into a festival, it gets discovered, gets picked up, gets a theatrical release, goes to VOD, and maybe expands from there to foreign sales and educational" is a rarity. "That process is not something the vast majority of films will undergo," said Sheehan. "The traditional week-long run is making a lot less sense." Sheehan urged filmmakers to think of festivals as their theatrical release and "to be honest about what the film is about and who it is for."
Sharma said that "festivals are a really important part of distribution landscape." He went on to say that distributors are often looking at festivals to do the work of culling and promoting films that acquisition executives would previously have done.
Sharma's advice to filmmakers is to do research into what the best festival is for your film. "You never know what kind of response you'll get out of a festival. It can't be replicated." Also, Sharma said to think about what the goal for you and your film is: "Is it to make a living or have people watch it?"
Remember, there are smaller festivals where your film might have a better chance of getting attention. "There are more festivals now than there are people in the city of Seattle — some prestigious, some not, all [offering] opportunities to engage with an audience," said Jonathan Marlow, chief strategy officer of Kanopy.
Don't forget the educational market.
Marlow, co-founder and former Chief Operating Office of Fandor, recently left the company to join Kanopy, the higher education streaming service, as chief strategy officer.
The plus of the educational market is that "it actually makes more money for the filmmakers," Marlow explained. Kanopy is planing to launch in public libraries soon so "the films can be available to anyone who has a library card," said Marlow.
Self-distribution might be the best option for your film.
Far too many people look at self-distribution as a fall-back method, said Marlow, but in many cases, it's the best choice you're going to have. In fact, for many films "not distributing with a traditional distributor is not a problem," said Marlow. "It's probably the best thing you can do."
For self-distributed titles, social media is key. "The 'share' is by far the most important element of a social media campaign," said Sundance Institute's Chris Horton. "The more shares you can get, the more people can see it."
Horton pointed to A24's successful social media marketing campaigns for films like Swiss Army Man and The Lobster as examples of how to do social media marketing successfully.
In the case of First Girl I Loved, which won the Audience Award for "Best of NEXT" when the film premiered at the 2016 Sundance Film Festival, the filmmakers received traditional distribution offers and instead, opted to self-distribute. They decided to get the word out by spending money on social media advertising. With targeting spending on Facebook, the film's Facebook page went from 205 Likes to almost 37,000 Likes, according to Horton.
Stay positive.
Though there are more movies available than ever and audiences are opting for subscription services like Netflix rather than shelling out money for theatrical or traditional VOD, ultimately, "people are happy to pay for something they really want to watch," said Gerard, VP of content distribution at Vimeo.
Don't get sucked into the negative side of the business. "When someone says, 'Fuck you,' I hear, 'I love you," Allah said on the importance of maintaining a positive attitude.
On a more practical level, filmmaker Clyde Peterson, director of Torrey Pines, an animated feature film, reminded the audience that funding is out there for them if they know where to look. "Go get that fucking money!" commanded Peterson, who successfully raised more than $30,000 on Kickstarter.
The audience cheered and headed out of the day newly determined.