Back to selection
"We Both Think Beauty Lies in the Imperfection": DP Ante Cheng on Justin Chon's Gook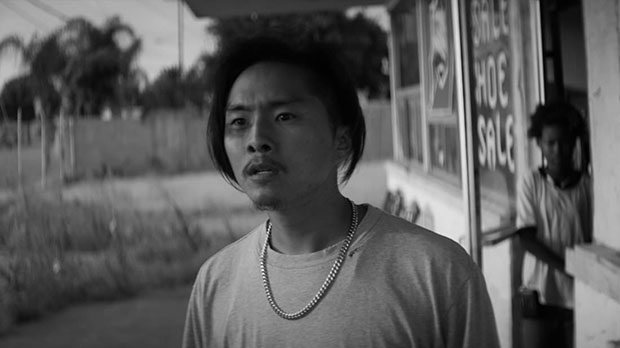 Gook
Actor Justin Chon appeared in all five Twilight films and a number of TV shows before making his directorial debut in 2015 with Man Up. His second feature, the provocatively titled Gook, premiered in the NEXT lineup at the 2017 Sundance Film Festival. The film was shot by Ante Cheng, a Los Angeles-based cinematographer from Taipei. Cheng had previously shot shorts and directed commercials and music videos before getting tapped by Chon for Gook. Prior to the film's debut at Sundance, Cheng spoke with Filmmaker about shooting in black and white, his favorite Los Angeles-set films and finding inspiration in the words of cinematographer Harris Savides.
Filmmaker: How and why did you wind up being the cinematographer of your film? What were the factors and attributes that led to your being hired for this job?
Cheng: At the LA Film Festival, Justin Chon saw a short film that I shot, Afuera. He liked the urban lighting and instinctive handheld work. We did another short together that showed him how I feed off actors and captured scenes with moving masters. Then we had a chat about the story and his vision, which was to shoot in 16mm black and white film. I showed him my photographs that I shot on B&W film stock and hand-developed over the years, and they pretty much sealed the deal. This is my first feature in the U.S., and I'm thankful to Justin for trusting me with this opportunity. Also thanks to James Yi (Producer) for the pep talks during our daily drives to set.
Filmmaker: What were your artistic goals on this film, and how did you realize them? How did you want your cinematography to enhance the film's storytelling and treatment of its characters?
Cheng: We designed the film's visual language to fit the characters. Handheld for Justin Chon and Simone Baker, steady frames for David So and Sang Chon, steady shots that progressed to handheld for Curtiss Cook Jr. We also wanted the first time actors to feel comfortable. Simone could roam free and her first take was often the best. On the other hand, David, who has a comedic background, would have a fixed frame to warm up and perform. Justin gave me a lot of creative freedom to trust my aesthetics and instincts, and he would push me when he felt the cinematography was too safe. We both think beauty lies in the imperfection.
In prep, I came across an interview with Harris Savides in New Cinematographers, and I've been working towards his mindset. "I think sometimes it is only when you go further than what you know or what you expect that you get something that's new, exciting and great. It's easy for me to light you and get that perfect exposure. But to get that not perfect exposure takes it to another level. If you underexpose enough it's beautiful, you go too far and you're ruined and if you go too little it looks like a regular movie."
Filmmaker: Were there any specific influences on your cinematography, whether they be other films, or visual art, of photography, or something else?
Cheng: We watched black and white movies shot over the decades; one of our main influences was La Haine (DP Pierre Aïm). We also watched our favorite films shot in LA by the masters – Heat (DP Dante Spinotti), Drive (DP Newton Thomas Sigel), Nightcrawler (DP Robert Elswit) – as well as '90s music videos, street photography and news footage of the riot. Although we did not want to be locked into a certain style, we let the visual references be deep in our minds as we developed our own voice for this film.
Filmmaker: What were the biggest challenges posed by production to those goals?
Cheng: Our shooting style evolved over the course of production, which was an advantage of spending a month to tell a story. Two of the five main characters in the film were first time actors; Justin wanted to keep their performances fresh and genuine, and liked us to roll without rehearsal. For the same reason, he prefers moving masters over traditional coverage. Rooth Tang and Reynolds Barney (editors) were putting together assembly cuts as we went and found out most of the time the first take was the best. Furthermore, Simone Baker (our lead actress, who turned 11 on set) legally could only be on set for limited hours.
The combination of these factors meant that we had to be ready to roll with unknown variables. It certainly created challenges for Elijah Guess (gaffer), who had to light areas where the camera might pan 270 degrees. And for Samuel Kim (1st AC), who had to pull focus when the camera and actors were on the move, without marks and rehearsal. I was operating by feeling the vibe of the actors and going with the flow of the scene. It turned out to be a liberating experience – there were moments on set where I felt I was alive. I felt this is what I like to do, what I can do, what I want to do.
Another bonus of not going into extensive coverage is that the days would end early and we would have delicious dinner in Koreatown.
Filmmaker: What camera did you shoot on? Why did you choose the camera that you did? What lenses did you use?
Cheng: We were planning to shoot on 16mm B&W, but due to our humble budget we shot on our co-producers' (Nam Luong, Lily Vi Pham, Dan Fisher) Red Epic Dragon. We tested a bunch of vintage lenses and loved the rendering of a set of Kowa Prominar Anamorphic Primes from Radiant Images. As principal photography went on, I became familiar with the characteristics of each lens, and stayed on the wider T-stop.
Filmmaker: Describe your approach to lighting.
Cheng: The California sun is the key to the look of the city: we wanted to embrace it, and the use of hard light. The film is set within 24 hours, and half of it takes place around a shoe store. Sharon Roggio and Jena Serbu (production designers) built the set on an empty lot, with large windows facing east. James Yi (producer, AD) figured out the complex logistics of matching script time to shooting time.
We simply staged to the position of the sun for our day exteriors. For day interiors, we were worried about our modest lighting package with the big windows and bright backgrounds. Our biggest light, an Arri M18, served as the key/edge and we underexposed the faces; it ended up great and we kept the underexposed look throughout the film.
The power efficient Mole Richardson LED Fresnels were instrumental for night exteriors. Sometimes we would have a single source and let it fall off into darkness. For night interiors, we used traditional tungsten Fresnels and practicals. A plus side of shooting in black and white was not having to fiddle with gels at all.
Filmmaker: What was the most difficult scene to realize and why? And how did you do it?
Cheng: The climax sequence where the four characters and storylines collide. It included specialty shots that we had one chance at it, and the actors were spread out in different parts of the building. So the scene couldn't be run in its entirety as we were used to. It might look simple on the surface, but it took extensive planning and faith that the audience would be engaged in the story.
In contrast, the long take in the hospital might look complex, but the entire crew was in sync at that point and we got the take earlier than expected. As we were waiting for the dawn to shoot the next scene, the cast and crew took the camera and filmed a impromptu music video while I took a nap in the picture car.
I've learned a great deal from the talented crew throughout the shoot, we left it all on the screen and we're looking forward to the premiere at Sundance.
Filmmaker: Finally, describe the finishing of the film. How much of your look was "baked in" versus realized in the DI?
Cheng: We simply shot it with zero saturation. We were shooting in raw so we could mix the color channels in post. Sebastian Perez-Burchard (colorist) did a excellent job recreating the subtle contrast response of black and white film. We both have the same taste and did not want to go overboard with the power windows – we also had a great time listening to his movie soundtrack collection in the grading sessions.
Camera: Red Epic Dragon
Lenses: Kowa Prominar Anamorphic Primes
Lighting: Natural light, Arri HMIs, Mole Richardson LED Fresnels
Processing: Digital
Color Grading: Tunnel Post