Back to selection
"Cutting Has Been a Constant Learning Experience": Editor Jack Hutchings on Berlin Syndrome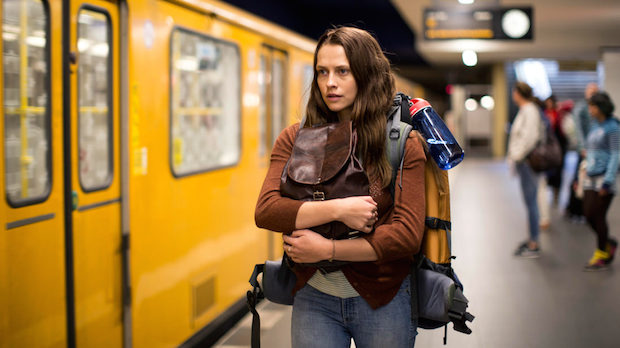 Berlin Syndrome
Over the last 14 years, Jack Hutchings has edited four short films that have screened in competition at the Cannes Film Festival: Yardbird (2012), Jerrycan (2008), Nature's Way (2006) and Cracker Bag (2003). His latest feature, Berlin Syndrome, is a German-set thriller that premiered at this year's Sundance. The film concerns an Australian tourist in Berlin who has an erotic fling with a schoolteacher that turns into a tale of captor and prisoner. The film marks the return of director Cate Shortland, whose last film Lore screened at festivals across the world. Below, Hutchings discusses his working dynamic with Shortland, the importance of test screenings and shaping the film's psychologically tricky subject matter.
Filmmaker: How and why did you wind up being the editor of your film? What were the factors and attributes that led to your being hired for this job?
Hutchings: I did a meeting with Cate and [producer] Polly [Staniford] in Melbourne after another editor pulled out relatively late in their schedule, and after talking over the script and project for an hour or so Cate offered me the job on the spot. I loved her directness and also her ability to dissect what it was she was looking for. I also think it helped in retrospect that I said I was really looking to cut a love story, and that I felt that the script was a really fucked up love story. We talked a little about the male character Andi and his psychological issues, and also about her (Clare) and where she was at in life. I also expressed some questions regarding what style of coverage for certain action moments in the film – how "genre" and how technical some of this material was, more of a discussion point that I was curious to talk to [DP] Germain [McMicking] and Cate further about. I'm not sure why I got the job really. It's always an interesting mix of things I guess. I can say I found both Polly and Cate very warm and open and I knew we'd have a good experience from the outset…something that even with some difficult decisions in the cut and the occasional time I forgot to be tactful we moved through pretty effortlessly to the end.
Filmmaker: In terms of advancing your film from its earliest assembly to your final cut, what were your goals as an editor?
Hutchings: Cate and I didn't watch the whole assembly in one go. We watched 20 minutes at a time and cut that section, then moved on. Her suggestion. I will do that on every film from now on. It was great to not worry about what's coming next or get daunted about what we had to do (in 12-13 weeks).
First goal was to try and find a working relationship quickly between Cate and I whilst getting to a first cut; this through watching each section, then going through and marking selects in rushes and chatting each scene over before cutting it from scratch. Some scenes we'd modify the assembly but the majority we cut from scratch working together, talking through what we liked in the material. The goals really change with each cut pass we did. One was to strengthen Clare's sense of being trapped and her reactions throughout to this. Another one was to get them to feel a second sense of attraction at the two-thirds point in the face of all that had come before.
Another was to increase both of their sexual attraction to each other and increase the tension by withholding as much as possible until they arrived at his apartment.
Overall the goal was to create a deeply layered film with beauty in amongst all the dark moments. We wanted it to be believable and for it to be tense. We also wanted extreme moments of poetry; beauty mixed with potential peril. There were many goals throughout the process which we strived to fulfill…I hope we got there! One can never really know. It was also a year ago since finishing the project so my memory on this is being re-jogged now writing this…and I will have missed things.
Filmmaker: What elements of the film did you want to enhance, or preserve, or tease out or totally reshape?
Hutchings: We wanted to enhance their bond constantly. Even in the later parts of the film when they reconnect after his father dies. And also even if that bond meant that they were tied to each other only because he wanted that and not her.
Also we needed to find out how to bring them together best. Should they kiss, not kiss on first or second meeting? How much should we show or imply that he's got some malicious intent and how early to the audience? For me this was the big question to work out. At what points are things telling us that he is really a monster drip-fed and what are they?
We reshaped the New Years Eve to combine the homeless man into that sequence and time. It was initially some days after New Year's Eve but it felt like we could get these climaxes in story and him trying or starting to find a new fixation (next tourist) mixed with her finding the chair and pictures of prior girl (so she couldn't block out what she already knew) all at the same night with then him returning with her nearly getting out with the homeless man's help.
Filmmaker: How did you achieve these goals? What types of editing techniques, or processes, or feedback screenings allowed this work to occur?
Hutchings: This is really just the process everyone goes through on a film. Setting the goals and questions to answer (or leave open) on each cut and working through it. We did have some unofficial test screenings. These were invaluable to gauge responses to things we did or didn't have in at various times. We brought back in the hallway sex scene and strengthened that reconnection moment as it was out of the cut for a while, and we realized it was hugely needed. It needed to be ugly and it needed to show how far things had gone and also that they still had a strange bond.
We'd just write down our thoughts, Cate, Polly and I in many small weekly screenings and also Angie Fielder and Troy Lum were also valuable sources of feedback throughout the process at a few key screenings. There were others with helpful notes however small also. It's always a collaborative process. We got great ideas and lightbulb moments from many places and conversations.
Filmmaker: As an editor, how did you come up in the business, and what influences have affected your work?
Hutchings: For me it was music videos, short film (Cannes Palme d'Or winner), commercials, more short films (more Cannes selections), feature film, commercials and more short films then a constant mix of commercials short films and features. I don't mind what duration, just whether the idea or the story moves me or interests me. For me cutting has been a constant learning experience. Every project. That's what I love about it.
Filmmaker: What editing system did you use, and why?
Hutchings: Avid Media Composer. I don't know, it's just works…and that's what I use. We had two on a unity – one for Paul/Andrew (we had one assistant for half the film and then a another for the second half). They were great.
Filmmaker: What was the most difficult scene to cut and why? And how did you do it?
Hutchings: We kept coming back to a few tricky scenes. The Schrebergarten scene and also the first meeting scene at the traffic lights. Also another tricky scene was the scene post-Christmas dinner on the couch…this one we changed to be so many different things at different points.
The first two mentioned were tricky as so critical to how he comes across and how she responds and how they fall for each other (he in his way, and she in hers – both very different motives going on). And the third for the part of the film were they have the most real conversation regarding why he does what he does and why he chose her.
Filmmaker: What role did VFX work, or compositing, or other post-production techniques play in terms of the final edit?
Hutchings: I think the forest scene should have snow in it! I haven't seen the final film yet with mix and VFX so to be honest I have no idea how it came up!? Also some minor blood and impact work at the failed escape attempt. (Screwdriver through hand etc) Again, I hope it worked! It's rare that I don't see the mix or be a part of it, but this one Cate and Polly were in Sydney, and also Cate being experienced didn't need anyone else's opinions – also we did really work out most of the sound design ideas in the cut and have a good stab at what it would be before we locked – this is something that I almost always do. After all it's half of the experience.
Filmmaker: Finally, now that the process is over, what new meanings has the film taken on for you?
Hutchings: I will have to see it fresh to answer that. It's been almost 10 months so it will be a fresh viewing of sorts for me. The last two projects I've been involved with have premiered at Sundance. Both times I've not been, mainly as both times my children had started their respective first weeks of school the same week. Also I'm pretty much a film festival recluse and don't go to premieres. I've been to Cannes once in four short films in competition (the first time), and never to Sundance now with two features. I'm really on a roll. It's kinda my thing — ha!