Back to selection
Clothes Make the Man: Costume Designer Mark Bridges on Phantom Thread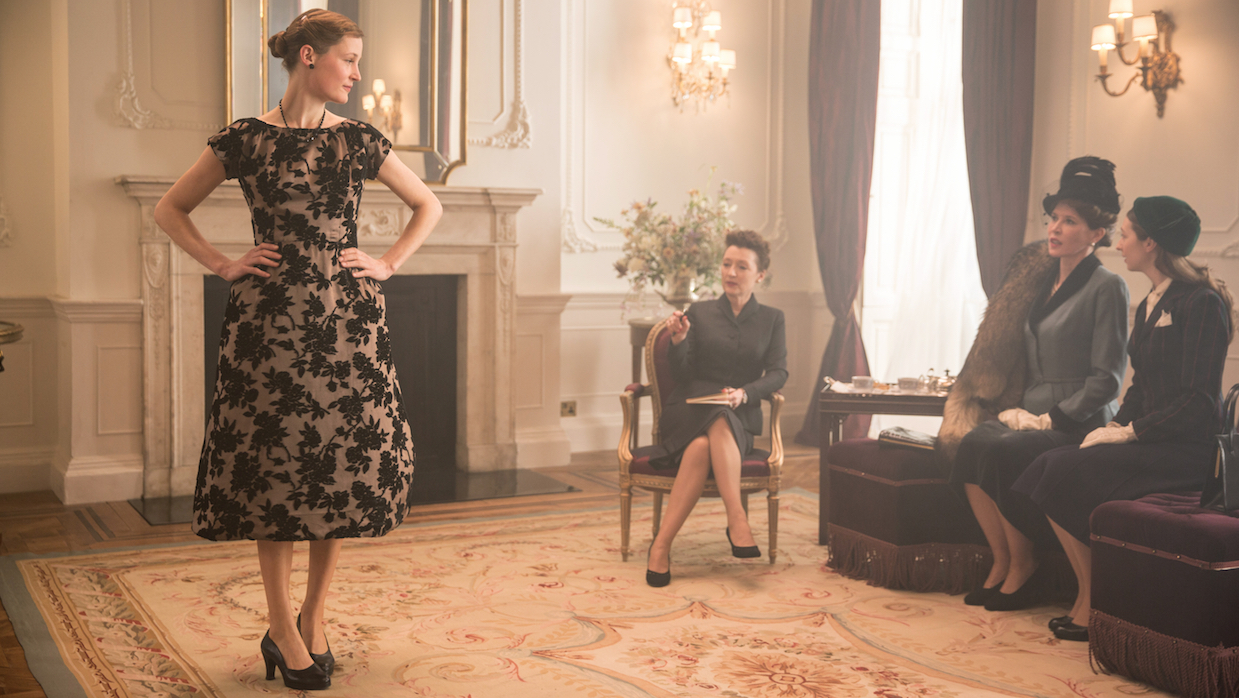 Vicky Krieps (left) and Lesley Manville (center) in Phantom Thread, courtesy of Focus Features
His last narrative feature, Inherent Vice, focused on disheveled hippies in 1970s Los Angeles. With his latest, Paul Thomas Anderson has swung to a wildly different milieu. Phantom Thread concerns Reynolds Woodcock (Daniel Day-Lewis) — a near-monomaniacal designer working during couture's greatest age, the early 1950s — and Alma (Vicky Krieps), the young woman who is sucked into his orbit. With Anderson goes his longtime costume designer, Mark Bridges, here given a dream assignment: not only to design his own couture visions but also to dress the entire world that surrounds them. The film is about an artist, and Bridges's task was to create the art.
The number of films about fashion is small, and still smaller is the number of films intensely focused on haute couture — literally, "high seams" — the intense, at times backbreaking work of turning out custom-made fashion for the very rich. Phantom Thread plunges immediately into all that goes into these gowns, starting with meticulous measurements, moving to creating the patterns and underside of the dresses, and then the sewing itself. Couture is traditionally sewn by hand, and in large part so were Bridges's creations.
Bridges studied archival examples of the era's great fashion designers, such as Norman Hartnell and Hubert de Givenchy and especially Cristóbal Balenciaga, the innovative Spanish-born couturier who combined a cloistered private life with feats of sculptural dress construction that awed his contemporaries. The ill-fated Charles James was an influence on Phantom Thread, too, but more for his personality than for his creations. The Anglo-American designer's expensive gowns were the rage in 1950s high society, but his costly perfectionism, erratic feuds and complicated personal life helped bring his design house crashing down by the end of the decade.
Bridges had to address other questions that went beyond historical authenticity. How should the dresses reflect the peculiar character of their onscreen designer? Which fabrics would Reynolds Woodcock favor, and what would his aesthetic be like? Which costumes will play a role in the plot? Then there is the matter of dressing the supporting characters, such as Woodcock's cool and formidable sister, played by Lesley Manville, whose outfits reflect her implacable efficiency. And there's also Rose, the rich American heiress, who commissions an extravagant green evening gown but fails to treat it with respect.
Bridges recently discussed all that went into creating this tale of a fictional high-end fashion house and making it seem as real as its historical counterparts.
Filmmaker: You've done period pieces before, but in this case the most showstopping costumes, the gowns, are meant to be Reynolds Woodcock creations. As a designer, did this mean you were trying to work in character, almost like an actor trying to come up with things you thought Woodcock would design?
Bridges: Absolutely, especially when trying to put together the fashion show. How do you make a spring collection for a designer who's kind of dark [for] the period? It's not happy, joyous, flirty outfits. We had a floral print, but it was a black background floral print. The suit with the cape and the feathered hat, that is based on [British designer Charles] Creed, so it's leather. You make choices along the way that indicate the designer's taste, and you try to stay in character. There's a little yellow and gray suit with the hat that you see him trying on Alma. It's very chic and very fitted, but it's not that happy. It's not a cheery spring creation, where everyone is going to go, "Oh, spring has sprung." So we were definitely designing in character. Early on, we set out [to answer], "What is the house of Woodcock?" It's deep rich colors, it's lace, it's not terribly ostentatious, it's more about textures and rich colors.
Filmmaker: The costumes and fabrics also seem to have been chosen with very specific things in mind about how they were going to absorb and reflect light. There were also a lot of unforgiving fabrics — that heavy satin, for example. Maybe I'm thinking about trying to wear it, but you really have to work with that to get it to do what you want it to do. Was that a factor as well — how the costumes moved, how they looked when they were lit?
Bridges: I always do try to keep in mind how things are going to photograph. That's why there's not a ton of black in the film. I don't love how black photographs. We made a tux for Daniel that was black. I had hoped it would be like a midnight blue, but at the end we decided on black. So I'm always mindful, as a cinema costume designer, how things photograph, but then I also try to use fabrics that would have been used at the time and be realistic about that. We had a lot of sources: Some of the fabrics came from Italy, some from America, some from London — just trying to get all of the fabrics that evoke the 1950s that were still around.
Filmmaker: The period in which the film is set is regarded by many people as the high point of couture. I was fascinated by how much is shown in the movie of the interior of the dress — the patterns and when they're shown as works in progress. You can see the stitching. Can you talk about how that was done? Was any of that hand-sewn, like couture?
Bridges: Oh yeah, absolutely. We tried to adhere to couture construction as much as possible. Our head cutter, Cecile [Van Dijk], was amazing. Her mother had worked in couture as well. We'd also done research at the [archives of] the Victoria and Albert Museum of actual garments, from Worth and Balenciaga and Victor Stiebel, [Norman] Hartnell. A Givenchy gown we looked at as well. To see how much is hand-done, how simply it's done, how most of the fabrics were just body and flat-lined with silk organza — which we did a lot — and how many interior structures were either created within or were a separate piece. We were very mindful of that because we wanted to make sure Paul had the flexibility to shoot the inside and the outside of the garment.
Filmmaker: You're naming some of the designers you looked at — Balenciaga, Givenchy. It becomes very clear during the movie that Woodcock is fictional, but he does bear some resemblance to Charles James as well. Did you look closely at him or anyone else from this period?
Bridges: We looked at a lot of people from this period, and Woodcock becomes an amalgam of them, including some fine artists that aren't necessarily dressmakers. Charles James was more of an architect. I think some of his personal problems might be what Woodcock is, as opposed to that incredibly cantilevered construction, almost trying too hard, that James would do. Whereas the ease of Balenciaga was always like some kind of feat of magic, there's a kind of practical, frankly British aspect to what Woodcock does. It's earthbound a little bit, as opposed of some of his French contemporaries. I think it's just a collage of people that comes out as a unique individual, drawing on some of the DNA of people who were around at the time.
Filmmaker: I wanted to talk to you not just about the glam, but also about some of the costumes for the other characters, like the beautiful, utterly simple black dresses that Lesley Manville is wearing as his sister. A costume designer once told me her version of a famous Coco Chanel saying, that one should notice only the character and never the costume. Was that in play for any of the characters in this movie about fashion, or did you jettison that notion altogether?
Bridges: I always try to take a backseat to what the actor is doing. Especially Lesley Manville: I love it that you're referring to her dresses as black because Paul wanted them black, and I said, "No, no, no. We have to do them in gray, so they photograph with a little bit of life to them." It can't be like running around in a nunnery or something. It's already a tough, mysterious character who's solitary. I originally wanted her to be a navy, but Paul had the idea of black. So we settled somewhere quite comfortably in this gray motif for her work clothes. We were informed by the women who were, essentially, the saleswomen at Balenciaga, and you see it all the way through any reference to that period: They would wear navy and pearls, very simple, and allow the fashions to stand out, and I think that's what we did with Lesley. Of course, she has impeccable tailoring, she is representing the house, but the darkness of her business attire was really something Paul wanted to go with Lesley's pale skin. There's also charting "fisherman's daughter into designer's muse" as far as Alma goes. But then there's also trying to be time and place appropriate, and not upstage or take you out of the story with something fancy that's going to distract you. The things that do distract you in this story are story points, so I feel OK about that.
Filmmaker: A couple of costumes play a part in the plot of the movie. The green dress for the character of Rose has a collar that rolls up and down to hide her face.
Bridges: That was really fun. We got that fabric in Italy, I just loved it, and I thought, "You know, a moneybags like that, what else would it be but green for an American heiress?" I knew that we were going to see the inside of it, and that's why I added the multicolored petticoat attached to the dress, because that's something that would have been done at the time. I think Charles James did layer some things like that, so I wanted that little detail to be in there to make it a little more visually interesting as she's being disrobed.
Filmmaker: It's a wonderful costume. There's also, late in the movie, the wedding gown. I was interested in that because it seemed to have a little less of something than some of the other designs, and as he's walking around it, Woodcock says, "Well, it's just not very good, is it?" Was that something you were speaking to when designing that?
Bridges: No. I think a lot of things happened that worked out for that. There was no conscious effort to make it not very good. It's nothing to write home about, I have to say—
Filmmaker: It's a lovely dress, but there's some kind of spark that's missing.
Bridges: Absolutely, and you have to ask yourself: Is it a point where Alma is affecting his work? Her intrigue, which he speaks about later, and that he's not the same person that he was. Also, there's some saying that not every single one of the gowns is going to hit a home run. I think other designers will say that nowadays; you just keep forging ahead. I think it comes at a good place in the story, when so much has been made about it, and he supposedly feels so comfortable about designing for her, but this is where you see Alma influencing the outcome a little bit.
Filmmaker: I think so. I wanted to ask about the pink socks that Woodcock wears. They get flashed at several key moments. Was that anything you worked on with Day-Lewis?
Bridges: Daniel wanted the pink socks and told us where to get them. I think he and Paul had thought it would be a good character trait. All the time we were doing his costumes, I think we were trying to have a little flavor of what are considered [traits of] English eccentrics. A lot of times it manifests in pops of color in unusual places. It was Daniel's idea, but I see where it's coming from and it may have been something from his life. He may have known someone who did something like that, some small affectation as part of their personal style. We're always all drawing on autobiographical moments. But I think it was a fun thing. A lot of times if Paul and Daniel work it out, then I'm just happy to go along with it and encourage it.
Filmmaker: One of my favorite moments in the movie is when Woodcock goes off on a small rant about how much he detests the word "chic." Did that affect your philosophy of design in this movie at all? Because much of what's in there I would describe as impeccably chic, in a good sense.
Bridges: Did it affect me? No, I don't think so. I do think when there are some really unusual choices that Woodcock makes—whether it's Henrietta Harding with that purple dress, with the cape and lace collar, or the wedding dress that we just talked about—and not every single one of them is an outstanding, brilliant thing. I think that Woodcock doesn't keep chic in mind. I think there's workmanship there. Chic speaks of "up to the moment" in some kind of fashion sense or style, and I wasn't sure. I think he created garments in a way that he wanted to express himself and express something for his clients but not be mindful of what's going on in the world, sometimes to his detriment.