Back to selection
Don't Fence Me In: Pitching Boundary-Crossing Docs at CPH:FORUM 2018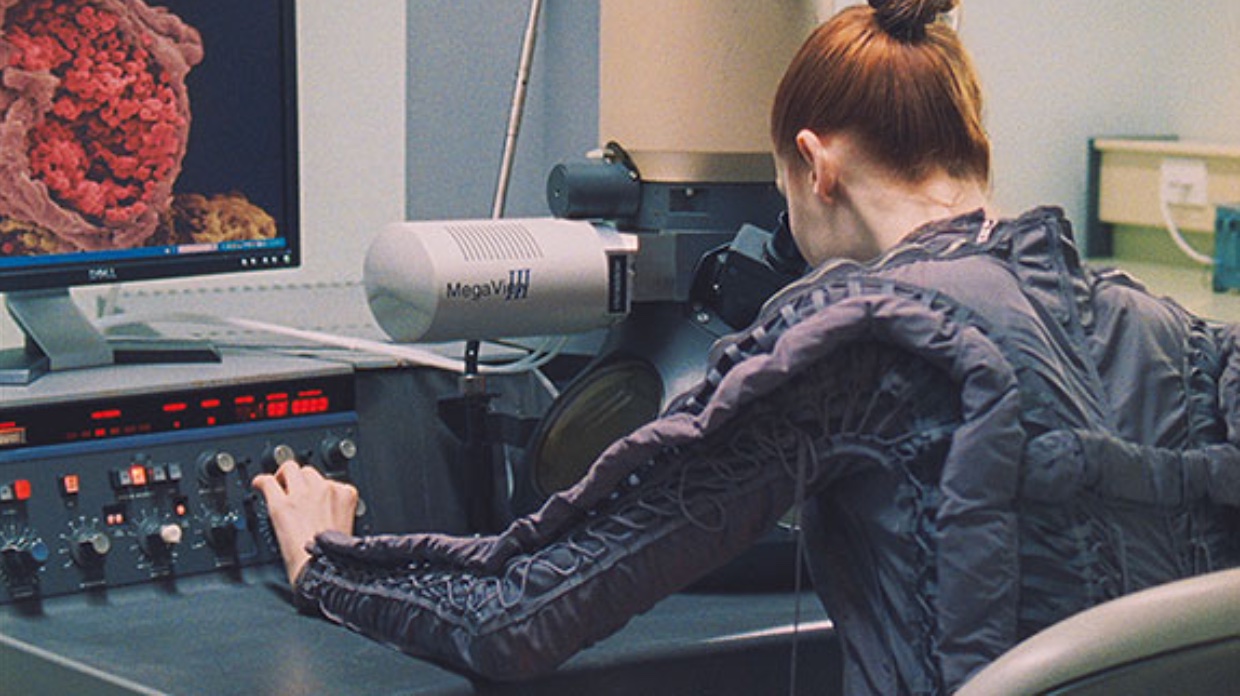 Coccyx
Day 2
The second day of the pitch felt more relaxed, and the projects seemed somehow even more delicate than the ones the day before. There were three projects under the label of ART, two of which I'll talk about here. The third one, Climb Into My Skin (Walk Around in Me), a curiously fascinating premise directed by artist Phillip Warnell and produced by Laura Coxson, was really in too much of an early stage to pitch, and Coxson admitted as much afterwards. It's not very helpful to have a fairly abstract pitch for an already abstract project with a structure that's quite complex. However, I'm ever appreciative that CPH:FORUM gives a platform for projects like these in a film festival setting. Artists tend to present their work a bit differently than filmmakers, and this was also instructive as to how we, who work solidly in documentary practice, can talk more expansively about what we do.
Renowned Swedish artist Tova Mozard presented on her own since her producer Andreas Nordblom was absent and with a wink and a nod started with a short bio of herself in the third person as her producer would have done. She also had a short film called Cops are Actors featured in this year's New: Vision Award category. In her new film, Psychic, she goes back to Los Angeles, where she studied photography at UCLA to explore her own deep interest in the people (mostly female) who hang out their neon shingles as psychics, a very distinctive intersection between commerce, psychology, and storytelling. Using voiceover and beautifully composed static frames, Mozard tunes in with humor, pathos and endless curiosity. "Along the streets of palm readers and tarot shops in Los Angeles, a young woman gets to know who she is and what her future will be like." By embedding herself as a person seeking advice and solace in an authentic way, she, in turn, is rewarded with stories from people who work on these very particular fringes, the stage-set quality of Los Angeles by night a perfect backdrop for what she calls this "mysterious and serious game" of delving into people's interpretations of their own psyches, all set in the mundane dreamscapes of Hollywood.
Another art film was presented by Austrian Ursula Mayer and producer Jacqui Davies (UK), a well-matched team in one of the few pitches where one could really discern the vitality of that relationship — coming from similar worlds, they showed a deep belief in one another's talents. Davies is a London-based curator and has been producing artists' moving image work since the late '90s. She is currently working more with filmmakers. They are working together on a project called Coccyx, and the visual sample sent me into quiet paroxysms of joy for its clarity of vision, innovation and sheer beauty. "Can we access the memories of our ancestors through our DNA? In a fight for survival and reinvention, a pair of unlikely transgender friends are drawn into a world where past, present and future merge and they must undergo the ultimate transformation." Here again, we have a profoundly theoretical and wide-ranging idea that is not going to be easy to cinematize, but by using the coccyx (the vestigial bone at the bottom of our spines) both literally and metaphorically, Mayer means to explore on both a macro- and micro-level the possibilities of hybridization — technologically, physically, psychically, philosophically and politically. I found this a mesmerizing piece with so many tantalizing points of entry and which patently illustrated how the gallery-cinema connection can only enhance a deeper experience in meeting this kind of complex material.
Of the six projects that fell under the F:ACT label, there were two that really captivated me, and admittedly I am still a bit flummoxed by this category because not all these projects really have the investigative chops that are needed to legitimize them as purely fact-based, even though alternative facts are now available as a storytelling tool. Most seemed extremely subjective, and how could intimate portraiture not be? I've already mentioned Hassan Fazili's Midnight Traveler as a project of interest to track, and in fact it has garnered robust support already from ITVS, Cinereach, Ford Foundation, Bay Area Video Coalition, among others. It's an astonishing film for all kinds of reasons, and hopefully those who expressed initial skepticism and doubt as to whether we really need another refugee story (!), after seeing the footage that Fazili and his wife and children shot on their treacherous and frightening journey would be satisfied that we do, indeed, need this particular refugee story. As noted above, Fazili and his family are currently being held captive at a Hungarian detention facility with no possibility of being able to leave. Much to my relief, no one proffered the idea that they hoped this film might help them get released.
Documentarian Fredrik Gertten (another Swede!) has a strong track record of investigative films with vigorous cinematic imperatives. With producer team Margarete Jangård and Canadian Jamie Kastner bookending the director, he presented Push, his latest project exposing the scandals of the global residential real estate crisis with a fierce and passionate protagonist at its center in Leilani Fahra, the UN's Special Rapporteur on Adequate Housing. "Housing prices are skyrocketing in cities globally. Longtime residents pushed out. Gentrification, or a different kind of monster? Housing as a place to park money. Push is a global drama told through local stories." This is a supremely important topic with many voiceless, invisible victims, and one that is awfully hard to wrap the mind around. But Gertten presented a fantastic visual sample and given his past cinematic investigative work (Bikes vs Cars, Big Boys Gone Bananas!) has the instincts to dive deep into what will prove to be an overwhelming rabbit hole, or several rabbit holes. With almost half the budget in place at the development stage, the team delivered a confident pitch on a truly global topic that will eventually affect us all in one way or another.
The last two projects I will talk about here again fell under the FICTIONNONFICTION category, but to my mind Grant Gee and Iva Radivojevic are creating bespoke, complex, mind-bending cinematic work, both makers refreshingly fearless about not shying away from intricate documentary storytelling that looks like a real honest-to-god movie. Using fictional literary works as launching points into their films does not automatically connote hybridity in these instances. Gee and Radivojevic are both directors (and writers) who are deeply rooted in documentary practice, and despite some confusion and furrowed brows about the entanglement of forms here, I think their projects are perfectly illustrative of what we all say we aspire to: providing funding and support and exhibition opportunities for formally innovative documentary work.
Gee, whose Patience (After Sebald) is one of my favorite films, presented The Gold Machine with long-time producing partner, Janine Marmot. He likes to make meditative journey films, his keen ear and eye able to spiral inward and expand outward simultaneously in the most glorious ways. The pitch was quite funny and charming, and Gee's lovely dry sherry British sense of humor was in full effect, his intrepid, supportive producer by his side — not able to get a word in edgewise, but as I've indicated, this was the norm. "A visionary exploration of one of the most influential writers of recent times, Iain Sinclair. The parallel journeys of father and daughter to Peru in the footsteps of a colonialist ancestor produce an original meditation on history, fate and family." This is seemingly his most daring project yet since it's about so many things you really wonder how he's going to pull it off. I have full confidence that he will, as did Sandra Whipham of Doc Society, who is fully behind the project and sounded as if she meant to help see it happen. It's only until very recently that a maker like Gee has even realized a baseline of institutional support from the documentary film community so I am deeply encouraged by that statement. Godspeed on your journey, Mr. Gee.
Inspired by a story from Argentinian writer Jorge Luis Borges, Iva Radivojevic's second feature (her first was Evaporating Borders), is called Aleph, produced by Madeleine Molyneaux (US) and Vilka Alfier (Croatia). The project also has robust support from the Princess Grace Foundation, Cinereach, BRIT Pulse (with Ryan Harrington now the head of the new creative documentary arm of the company) and other entities. Like Pettingill, Radivojevic is a 2017 Sundance Art of Nonfiction Fellow. "Aleph is a creative documentary using elements of narrative fiction to explore the lives of 10 people in 10 countries. Structured as a cinematic 'exquisite corpse', these collective stories lead to what Borges called the unimaginable universe." Heady stuff. And as based in the realm of intellectual pursuits as she is in crafting the film, Radivojevic is also a deeply intuitive maker with an artist's eye and, as noted above, a fearlessness to delve deeply into the invisible connective tissues of human spirituality and experience. Her pitch was delightful, a breath of fresh air and explicated in crystal-clear fashion. She started by asking that the lights be turned down and that everyone in the room close his/her eyes. I never ever close my eyes in a public place especially when told to do so. So I watched her as she came off the stage and started to walk up and down the center aisle. My supposition was that she was going back to the sound booth to ask them to adjust something but part of me was also expecting her to maybe do some kind of interpretive dance as part of her project pitch because one could expect that from her, somehow. (We're friends.) Later, she told me she just wanted to "feel the space," attempting to read the collective room tone.
She also used her seven minutes to show not one but three visual samples of material of the stories of two of the protagonists that have already been shot in Argentina and Algeria and a glimpse of a third protagonist in New York, a very smart move for a project like this. One of the samples showed how the premise would work of one character leading organically (but also fantastically) to the next place, the next storyteller, the next piece of the puzzle that can all of a sudden bind us to complete strangers in another part of the globe in that mystical way some of us wait for all our lives. The film is part dreamscape, part ode to artistic inspiration, part journey, part investigation into the more ephemeral elements of how we create autobiography, and so too does Radivojevic herself shapeshift as a filmmaker in her vision and style from one story to the next. Her footage from Argentina was evocative in tone, timbre, style and palette of the best of experimental South American cinema, a young woman's rapid-fire musings of her inner state of turmoil (she has ceased to feel anything) at once humorous and sorrowful. Radivojevic told me that she's pitched the project a couple of times now and here, for the first time, the panel was overwhelmingly positive with no pushback during the feedback session, the only question coming from Cinetic about how she intends to lead and maintain the audience. However, the mid-production project is seeking significant funding, so it remains to be seen whether an undeniably successful pitch can garner real-life funds from interested parties.
My pithy overarching conclusion is that, despite my criticisms, this was one of the most exciting and encouraging pitch sessions I've been to in quite a while because it was so much more than just the projects it presented to a private audience. I am still deeply skeptical of the form for some reason, but maybe it's partly because I see a tendency for stagnation and complacency in the small population of experts that appear absolutely everywhere like a traveling circus, one whose members get the royal treatment (I include myself here), many of whom are way too nepotistically connected at this point, while directors and artists struggle to fulfill all the requirements, creatively, financially, and otherwise to be able to take advantage of an opportunity like this. We must all own our place in this constellation, each of us taking responsibility to work towards what's best for our communities, particularly the specific creative one we find ourselves in, a community in which we should all continue to contribute and do our part diligently, rigorously, and honestly to help re-make and re-envision what might be possible. No matter the label it's given, the potentials of transcendent polemical art making would then be truly boundless.