Back to selection
Air Rights: Shooting with Drones, the Fine Print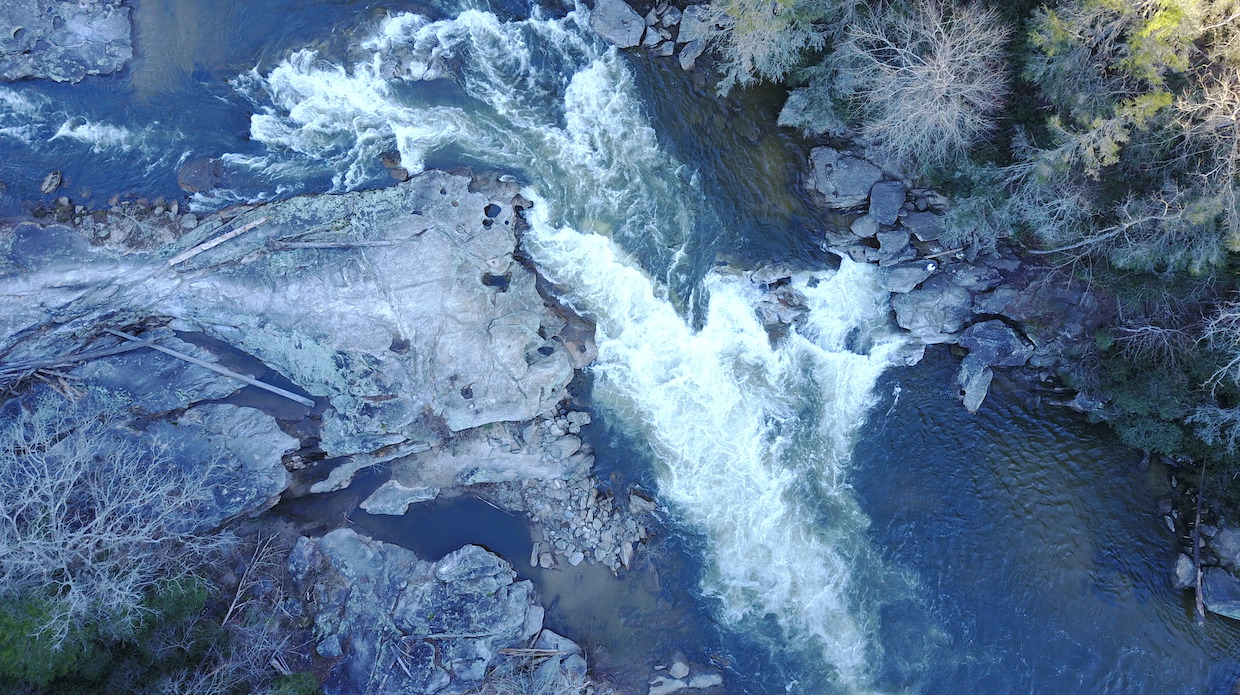 An aerial view of the Chattooga River in North Carolina. Photo courtesy of John Latenser.
In 2010, Eric Austin made a bold choice. The Texas-based father of three quit his day job as a sales rep to focus solely on his side hustle, flying unmanned aircraft systems (UAS)—commonly known as drones. He had a three-month job lined up on a Disney-produced show in Hawaii piloting his single-rotor helicopter adorned with a Canon 7D. In those few months, he would earn more than in a year at his old job.
But before Austin ever spun his blades, he was grounded. Inundated by aerial permit requests and unable to get definitive guidance from the Federal Aviation Administration (FAA), California's film offices began denying drone permits. Fearful of the legal ramifications of unsanctioned flights, studios also halted their plans for drone use in the United States. Austin lost out on the Disney show and—along with every other commercial drone outfit in the country—essentially found himself the proprietor of an illegal business.
Cut to February 2019. It's Super Bowl LIII at Atlanta's Mercedes-Benz Stadium, and the sky is aflutter with drones. The halftime extravaganza features 150 Intel crafts—adorned with china balls—spelling out "One Love" above a crooning Adam Levine and Maroon 5. Also flying a drone as part of the game's coverage: Eric Austin. In the span of eight years, commercial drones had transformed from liability nightmares banished from the sky to an integral part of the biggest American entertainment event of the year. Today, drones have become a ubiquitous tool on sets, as commonplace as Technocranes and Steadicams.
According to the FAA, there were approximately 1,000 authorized commercial film and video drones in the United States in August 2015. By the end of 2018, there were around 277,000. Making certain these take to the sky in a safe and approved manner is the responsibility of both drone companies and location managers. Drone companies must ensure that its pilots have Remote Pilot Certificates from the FAA, its drones are all registered, proper insurance is in place and the crafts are authorized to fly in the production's desired airspace. 
The FAA divides US airspace into six categories, each with an alphabetic classification. Class G airspace is uncontrolled and needs no authorization from the FAA, while all other airspace falls under the designation of "controlled" and thus involves approval. Some permissions—such as those needed to fly in the restricted airspace of most airports—can be attained in a matter of hours through the FAA's automated Low Altitude Authorization and Notification Capability (LAANC) system. Others approvals—such as flying in a Temporary Flight Restriction zone (i.e., a major sporting event) or in a prohibited area (i.e., the National Mall in Washington, D.C.)—can take months, if permission can be attained at all. "I was scouting a job through Zion and Bryce Canyon National Park in Utah, and they wouldn't give permission at all to fly a drone," said location manager Brian O'Neill, whose credits include The Disaster Artist and Dunkirk. "Their stated concern was the buzzing of wild habitat."
It's also the drone company's responsibility to apply for any waivers needed to exceed the FAA's UAS rules, such as the 100 mile-per-hour speed limit or 400-foot altitude ceiling.
The locations team handles any necessary permits required from local film commissions or municipalities, as well as receiving permission for the use of the physical locations where the drone team will prep, take off and land. Locations must also work around the FAA's stipulation that drones not fly over nonparticipants.
"A few years ago, I was on a shoot that wanted to have a drone come down the Chicago River, rise up to one of the high rises and show an actor inside turning on a light switch," said O'Neill. "That would've meant shutting down all of the river boat tours and controlling all the traffic up and down Michigan Avenue. It became such an ordeal that we scrapped the drone idea and just shot from a building across the way."
Though the drone company is ultimately responsible for all airspace and FAA requirements, location manager John Latenser (Black Panther, Up in the Air) still does his own due diligence. "The location manager is often one of the first people hired onto a production, well before the drone company or pilot," said Latenser. "As soon as I hear about the possibility of drones, I will call the local film office. Then, I'll figure out who the FAA contact is for the area and call them. I might even call another location person who shot something nearby. I don't want to show a director a location that we ultimately won't be able to use."
Drones have begun to serve another purpose as well: bird's-eye views during location scouts. "I used to get asked, 'Hey, can you get up on the roof of that building and get some shots so we can see what it looks like?'" said Latenser. "I've climbed mountains and cliffs, sometimes just to see if there's a place up there to even put a camera. Now, I can hire a drone pilot to get those views or to scout areas that are just plain hard to get to."
O'Neill carries a DJI Spark with him on scouts on private property to do his own reconnaissance. "It's becoming a more regular part of our scouting kit," he said. "The camera on the Spark doesn't give you great quality footage, and if there's any substantial wind I can't send it up, but it will literally fold up to the size of a lens in my camera bag, and you just use an app on your phone as the controller."
O'Neill's pint-sized scouting accomplice is a far cry from the behemoths that Eric Austin first flew in the formative years of UAS. Austin was a camera and radio-controlled (RC) vehicle enthusiast in the late 1990s, but when he started a family he had little time for either hobby. His interest was renewed in 2009 when he came across a video on the internet shot from a single rotor helicopter kept aloft by five-foot fiberglass blades.
Austin thought he could do better. He devised a rig that strapped Canon's new 7D DSLR to a hobby shop RC copter, complete with pink pool noodles attached to the landing gear. The bright adornments made the copter easily visible from the ground and ensured it wouldn't sink should there be an unexpected aquatic landing.
Austin placed some of his aerial footage on an internet forum, which caught the attention of a camera blogger who asked him to create a short video detailing his rig. "It went completely viral," said Austin. "We were getting 30,000 or 40,000 views a day, and some magazines, like Wired and [website] Gizmodo, started calling wanting to interview the crazy guy who put a 7D on a helicopter. Once that happened, my phone started ringing. I wasn't even working in production at all at the time."
Austin's first paid gig came in early 2010 when a German company asked him to come to Toronto for a commercial shoot. By the following year, he'd quit his day job and was looking for housing in Hawaii to work on season one of the ABC show The River. That's when film offices began refusing drone permits and sent Austin into a panic. "People were telling me I was breaking the national airspace, but 99 percent of our shots at that time were at palm tree level or below," said Austin. "I was a small business. I'd quit my job. I had a family, and this was my huge break. So, I just kind of freaked out. I dialed the FAA. I sent emails. And they said, 'We can't exempt you because there's no rules to exempt you from.'"
It was the Hollywood studios that began the process of changing that. Eager to take advantage of this new camera platform that was both cheaper and safer than full-sized helicopters, the studios—through their lobbying arm, the Motion Picture Association of America (MPAA)—began discussions with the FAA about establishing the first regulations and safety standards regarding UAS operation. The MPAA commissioned six companies, including Austin's HeliVideo Productions, with creating those regulations. The process took nearly nine months, during which Austin and his fellow pioneers had little choice but to continue to fly unsanctioned jobs. 
"A bunch of us almost went bankrupt, but at the same time we were in this prestigious position of potentially being one of the first to get an exemption to fly legally," said Austin. "So, we couldn't just lift our middle finger up at the FAA while we were asking them to help us." Tony Carmean—then co-owner of Aerial MOB, another of the regulation-penning companies—faced a similar dilemma. "We were picking up jobs here and there, but we were taking a big risk," he recalled. "It was technically illegal to shoot with drones, so if anything happened or if anybody had gotten injured that would've hurt our chances to ever get legit."
In September 2014, the first authorized licenses—granted under what was called the 333 Exemption—were approved by the FAA. The initial six exemptions were given to Austin, Carmean and their fellow regulation writers. The response was immediate. "The next day, Universal was calling. Sony was calling. Disney was calling," said Carmean, now the executive producer at leading aerial photography company Cinema Partners Holdings. "With the stroke of a pen, all of a sudden we were legal."
The 333 Exemption finally gave drones legitimacy. However, this first set of regulations—based largely on the rules governing helicopter flight—were problematic. They required drone operators to hold a private pilot's license, which meant Carmean had to drop almost $40,000 to put his three drone pilots through flight school. The airspace authorizations were also less than expedient. "Initially, no matter what airspace you were in, you had to get a certificate of authorization from the FAA for every single location you were going to fly in," said Austin. "Typically, that was a three-month process. Productions were contacting us maybe two or three weeks out from the shoot—not three months—so, it was a huge battle."
Those barriers to entry crumbled in June 2016 when the FAA put its Part 107 rules, applying to drones less than 55 pounds, into effect. "That opened the door to anyone who wanted to do something commercially to be able to do it," said Austin. Part 107 merely requires that the drone be registered with the FAA and that the pilot earn a remote pilot certification by passing an online knowledge test.
Airspace access has continued to become easier and quicker to attain as well, but permission snafus do still occur. Carmean recently had to get creative for a Netflix shoot in downtown Dallas near the FBI building. "It was restricted airspace, and we only had about four days' notice," he said. "We filed for permission and tried to pull some strings with our contacts at the FAA, but it was too late. However, somebody with production dug up a guy in Dallas [who] already had a waiver for that location. So, we hired him for the shoot and paid him handsomely, basically because he had a piece of paper that said he was legal to fly a drone there."
Austin found himself in a quagmire of his own on a shoot in Texas. The address he was given by production fell in an unrestricted zone. However, that address was for basecamp. The actual shooting location—roughly a thousand yards away—was in a restricted space, preventing the drone from taking off. Austin had to quickly log on to the LAANC system and cross his fingers for a swift response. He was granted access in less than 45 minutes.
"Waiting to get that approval the day of the shoot is no fun at all. You're panicked because you never know how long it's going to take," said Austin. "And while you're waiting, the assistant directors are yelling at you because they're getting yelled at."
It's a perfect example of why Austin says preparation is the key for getting your drone in the air and achieving the shots production wants. "Sometimes, shows are like, 'Oh, drones can fly almost anywhere,' which is almost true, but not if you wait until the last minute," said Austin. "Production never chooses the location on the day of the shoot. It's planned well in advance. So, as long as we get accurate information in time, there should be no issue flying virtually anywhere in the country."