Back to selection
Critic's Notebook: The 2021 Camden International Film Festival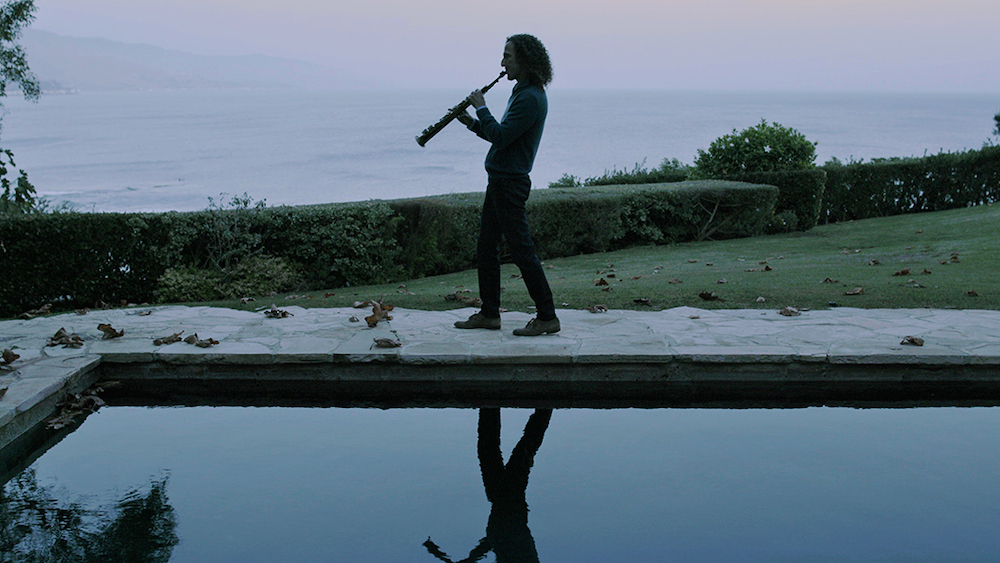 Listening to Kenny G
Nothing quite conjures good storytelling like a campfire (and maybe a bottle of whiskey to pass around). This knowledge is not lost on the Camden International Film Festival. Among its many strengths, which have carried the autumnal non-fiction showcase into its 17th year, is its homegrown conviviality and collegial informality. The vibe of "just a bunch of doc people sittin' around talkin'" survives even a second year of pandemic-necessitated precautions and mixed "real life" and virtual screenings. At the end of Penny Lane's stimulating and slyly hilarious Listening to Kenny G., the online screening of the movie segues into just such a scene. Lane – whose previous subjects have included Richard Nixon, contemporary Devil worshippers, and a legendary quack doctor – shared a warming flame and a lively chat with several unidentified guests. The encounter is less the conventional post-screening Q&A than a toasty conversation, made cozy by the festival's makeshift campsite vibe with a semi-circle of trailers and the dark woods beyond. Even without being in physical attendance, I immediately felt the crisp night air of Maine on the cusp of autumn. The discussion about Lane's film, a playful and stimulating interrogation on the makings of taste in popular culture, was as fun and thought-provoking as the topic itself. 
Attention to such thoughtful extra touches do a lot to ease hybrid burnout, the dread of how the homescreen democratizes whatever it displays, diminishing the last year-and-a-half of film festivals to the same flat data stream. It also helps scratch the itch to immediately jump into chatter about something as good as Lane's film, which pushes the buttons of its interview subjects and audience throughout its complete runtime. Commissioned by HBO as part of the Music Box series produced by Bill Simmons's The Ringer, Listening to Kenny G. is as much, or more, about the listening than the Kenny G. Although the musician, born Kenneth Gorelick, one of the best-selling recording artists of all time, has generous screen time in a one-on-one interview with Lane, supplemented with a richly annotated career arc breakdown, it's not a biographical portrait. Rather, the film explores the phenomenon of his music, which polarized America decades before Donald Trump moved into the White House. Gorelick, whose dewy instrumental saxophone melodies inspired the concept of "smooth jazz" and anointed probably thousands if not millions of weddings, is at once widely, obsessively loved and equally hated. 
God knows he's agreeable enough. And a perfectionist. As Lane mentions in the campfire chat, he even turned off his refrigerator in his Seattle home to ensure a lower ambient noise floor for their interview. The film finds its tension by introducing a Greek chorus of jazz critics and educators who weigh in, often with evident discomfort, on the meaning and matter of Kenny G. It's an easy layup, but can't be avoided: Watching each of their faces as Lane asks them to do what the title describes – listen to a passage of his music – is to take exquisite pleasure in others' vivid display of unease at easy listening. Did someone just fart? It turns out that there are worse things one can say about multi-format-crossing instrumental smashes like "Songbird" or "Silhouette" than calling them soporific, or saccharine. Ben Ratliff, former jazz critic for the New York Times and the author of a terrific biography of John Coltrane, responds to "Going Home," a tune that became a closing-time anthem for workers across China, by asking: "Is Kenny G.'s music a weapon of consent?"
Yet, by the end, we see the 65-year-old performer gamely adapting to the Instagram age, going viral with videos of his surprise anniversary serenade for Kim Kardashian (then husband Kanye West is a G-man), and cooking up witty Twitter posts with the help of a social media team. Suddenly, he's hip (again?), at least with a new generation fascinated with 1980s cultural phenomena. Never not entertaining, Lane's film cleverly persuades the viewer to examine and resituate their own feelings about Kenny G. Terrifying for a hater to consider, but thrilling as a pop-intellectual process.
The G doc was one of several higher-profile selections on this year's program, which also offered Maine audiences a look at favorites from other festivals such as Tribeca (Joshua Altman and Bing Liu's All These Sons, Angelo Madsen Minax's North by Current) and Sundance (Jesica Beshir's Faya Dayi, Jonas Poher Rasmussen's Flee). Robert Greene, a filmmaker who like Lane I consider part of a "home team" of folks whose artisanal features came to light in the early teens, with strong boosts from festivals like Camden's and others, was back with Procession, which Netflix is pushing during awards season. Most of Greene's documentaries employ some sort of "meta" device, whether the historical reenactments of Bisbee '17 or subject Brandy Burre's collaborative investigation of performance vs. real life in Actress. This time, Greene flexes those instincts to serve the stories of a group of middle-aged men who find healing for childhood sexual abuse by Catholic priests by each writing and directing a movie scene based on those traumas. It's very much a film about process, and processing, so the title is apt, and the raw candor of witnessing these souls turned inside out feels therapeutic for the audience while it appears to be cathartic for them. In its creative transparency, the film serves as a documentary of its own making while also advocating for its subjects ownership of their own narratives.
Perhaps because it springs from a coastal town in Maine, lobster-proud as it were, CIFF always seems to screen a wide and diverse selection of films related to a sense of flungness. They can be films about oceanic explorations: Liz Garbus's National Geographic production Becoming Cousteau, for instance, a biography of the French explorer who pioneered undersea cinematography (and is the reason Steve Zissou wears a red cap). They can also offer a kind of organic seeking of parallel realities around the world, turning up documentaries about other places – sometimes water-adjacent – which even in small ways share some aquatic or economic affinities or identifying marks with this little pocket of coastal Maine. Fishing sustains life in the endearing Ostrov – Lost Island, which won a special mention from the Harrell Award for Best Documentary jury, where the 50 remaining residents of an obscure speck in the Caspian Sea subsist on what they can take from the water that surrounds them, even if in doing so the Russian government treats them as illegal poachers. Abandoned to their own devices with the collapse of the Soviet Union, the islanders carry on a rugged existence without essential services, on a barren landscape where they might as well be the last people left alive after a zombie apocalypse. And yet, a culture abides, and Ivan, the island's determined patriarch, holds fast to the belief that Vladimir Putin will come through for them someday. He engineers war memorial celebrations and other public rituals that bolster spirits, even as everyone's mere existence in this place feels like an act of resistance against the irreversible flow of history. Co-directed by the Russian-Swiss team of Svetlana Rodina and Laurence Stoop, the film elicits real compassion for its subjects, who in turn appear to reveal their unguarded selves. 
If Ostrov is far off the radar, the coastal resort of Magaluf Ghost Town, on the Spanish island of Malaga, is a blazing hot spot for young British tourists to flood the streets, get blitzed out of their minds, and engage in all manner of obnoxious public misbehavior. The most notorious of these make the evening news when tourists die in acts of balconing, leaping from one hotel balcony to another, and engage in fellatio competitions. The local population feeds various service industries, including off-menu drug and sex offerings, essentially bystanders to a seasonal circus. Underneath the techno blare and sight of drunken couple humping in the surf, filmmaker Miguel Angel Blanca finds a collection of local characters whose stories intertwine. A queer student and model named Ruben. The Russian real estate agency Olga, with her dreams of taking Magaluf upscale. And, my favorite, the elderly widow Maria, who relies on oxygen but can't give up cigarettes. When she rents out a room to a Malian migrant named Cheickne, her efforts to act as a maternal figure for the young man create scenes of an awkward sweetness. 
"A cheap holiday in other peoples' misery" is how Johnny Rotten once characterized these sorts of destinations, but Blanca reveals instead a kind of surrealistic fantasy realm, at once outrageous and terrible.