Back to selection
Cave Dwellers: 127 Hours DPs Anthony Dod Mantle and Enrique Chediak
This piece was originally printed in the Fall 2010 issue. 127 Hours is nominated for Best Picture, Best Actor (James Franco), Best Adapted Screenplay (Danny Boyle & Simon Beaufoy), Best Editing (Jon Harris), Best Original Score (A.R. Rahman) and Best Original Song.
When director Danny Boyle first got in touch with d.p. Anthony Dod Mantle about 127 Hours, the film following their Academy Award-winning collaboration Slumdog Millionaire, Dod Mantle remembers him saying that "he was convinced that the only way to get through this [movie] would be to subject an actor to a pretty extraordinary physical experience in as intense a period of time as possible. His believed it would be necessary to build real canyon walls on a set and make them physically as impossibly difficult [to shoot in] as they are in real life. He told me briefly his plan was to 'go for the real thing' and to shoot as quickly as possible because he didn't think an actor or a cinematographer could handle [the shooting conditions] for too long."
That led to the second part of the conversation. Boyle had the idea to work with two d.p.s. He asked Dod Mantle, "Can you share this with someone else?" Reflects Dod Mantle, "We [cinematographers] are creatures of control. We have to be. Otherwise we'd be fired. So, to suddenly be put in a saucepan with another guy who you barely know — Enrique [Chediak, d.p. of such films as 28 Weeks Later and The Good Girl] and I had to iron out any potential problems of ego very quickly."
Agrees Chediak, "The first thing we had to do is drop our egos. You are working as a team, like in a rock band with two guitar players." Of Boyle's decision to split the job, Chediak says, "I think Danny wanted a little bit of chaos. He said after India he loved working in a chaotic environment, and bringing in another d.p. might have helped [create that for him]."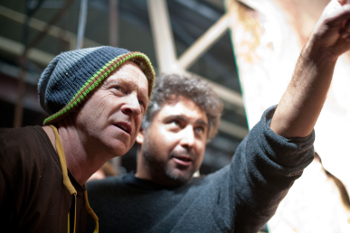 Boyle now says the impetus for his hiring decision was to inject variety and another point-of-view into the film's static shooting scenario. But Dod Mantle and Chediak knew immediately that they'd be shooting a single film together and would have to think of the whole, not just their own footage. "We never agreed, Danny, Enrique and I, that we'd do things as differently as possible," says Mantle, "That's an intellectual idea. And Danny knew that when intercutting scenes that [radically different material] would be a problem."
Both d.p.s initially worked five days a week on the film's seven-day schedule. Some days Boyle worked with both, with one d.p. wedged into the tight canyon set with James Franco while the other shot with a double on the other set, or was out in the desert. Says Chediak, "Some scenes were shot by Anthony, some by me and some scenes were mixed." Comments Dod Mantle, "Shooting in the real canyon was almost easier than shooting on the sets. The sets were tighter — two people couldn't go in side by side, and I could barely move the camera." It would take 45 minutes for the d.p. to get into shooting position, and once they were in, they were stuck while hair and makeup and props filed in and out.
The results of Boyle's experiment are certainly on screen — 127 Hours is a gorgeously shot movie bristling with visual invention — but anyone looking to find the seams between the two sets of footage will come away disappointed. Both men worked in the service of Aron Ralston's story and Boyle's film. "I compared the approach a little bit to Kieslowski's Dekalog. He used 10 different d.p.s, but everything was unified," says Chediak. Summarizes Dod Mantle, "I adore the man, and every time we do a new film we develop and encourage each other. We had just come off an Oscar film together, so when he asked me that question about [two d.p.s], it immediately put me in a position where I had to commit myself to something. And that was that the film is more important than anything else."