Back to selection
Emir Kusturica on City Building and a New Renaissance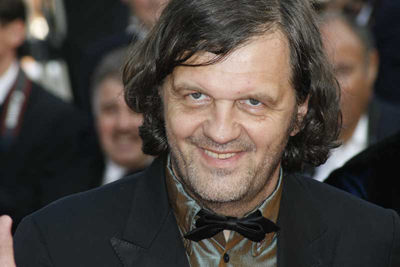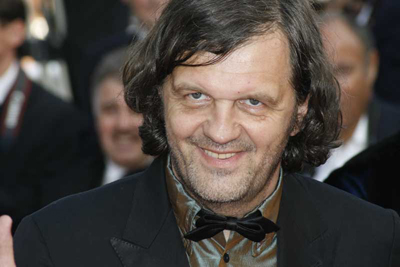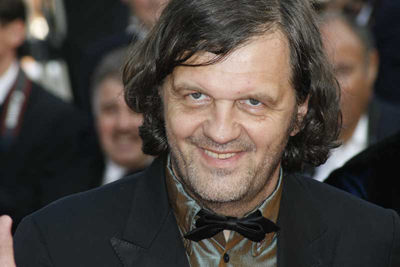 Fresh off an Ecuadorian tour with his No Smoking Orchestra, the twice-awarded Palme d'Or director Emir Kusturica flew to Morocco for the closest thing he can get to downtime. As President of the Jury of the 11th annual Marrakech International Film Festival, Kusturica got to enjoy one of his favorite pastimes, absorbing a dozen or so independent films from around the world in a week. His second time at the festival, the auteur was honored with the Golden Star award in 2009 for his outstanding career.
While he spent most of the festival behind the scenes, apart from presenting a new Golden Star to another like-minded conspirator, Terry Gilliam, Kusturica granted us a rare interview at La Mamounia in a dark intimate conference room. He detailed what he's up to when he's not busy being a professional Jury President, and it's a doozy. To call Kusturica a renaissance man is an understatement. It's more like a "fuck your renaissance man. I'll create my own renaissance" man. For starters, this coming January marks the 5th year of his annual Küstendorf Film and Music Festival in Mokra Gora, this year honoring directors Kim Ki-duk and Nuri Bilge Ceylan. As usual the fest will focus on young talent, with 20 student films from all over the world in competition.
He recently starred in and shot a 15-minute story about a Serbian Orthodox Monk, to be a part of Guillermo Arriaga's larger film on religion, Words With Gods, which will come out next year. Then there's the book he's writing, "The Book of Stories," a collection of stories that will be sure to grab you by the throat. And he just finished penning his next script, a film about the recent history of war in the Balkans. Stay tuned.
His hotly awaited Pancho Villa film is on, this time with a slightly truncated script. Benicio Del Toro, no stranger to playing Mexican revolutionaries, takes over the role from Arizona Dream star Johnny Depp, who dropped out due to scheduling conflicts. The new film focuses on the love story between a woman who wants to kill Pancho Villa, who rejects him almost up until the point of his death. Kusturica credits Villa for creating the first authentic social revolution in the 20th Century. "It's seven chapters about revolution," he says. "And I think it's time to make a movie about revolution, because you see around the world people are very eager to go into another one." But you'll still have to wait for his silver screen coup. He promises a release date in two years.
In many ways, Pancho Villa is the perfect subject for Kusturica. Villa was man of great paradoxes, a leader born from peasant beginnings. "I love the idea that somebody who was the governor of Chihuahua was also a bandit before," he says. And this guerrilla commander was arguably a man with a big heart, at least for his mistresses. "He was marrying every woman that he slept with when he enters the new city," says Kusturica of Villa's many ceremonial marriages, "because he didn't want them to be called prostitutes after sleeping with him."
But for Kusturica, a sprawling period film on the history of revolution is just a side project. Remember Drvengrad? Kusturica proved his architecture chops and more with the wooden village that continues to be a popular destination for visitors wishing to experience the fairytale panorama set far away from drab urban walls. Now he's embarking upon the biggest project of his life, Kamengrad, an entire stone city along the Drina River, built from the memories of the Balkans' greatest cultural achievements.
The Drina Bridge, a UNESCO Heritage site, is the setting for Nobel Prize winner Ivo Andric's tome The Bridge on the Drina, about centuries of conflict around the bridge's location in Višegrad, from its life under rule of the Ottoman Empire up until World War I. Located in what is now Republica Srpska in Bosnia and Herzegovina, Višegrad is a city marred with a dark history well past Andric's death in 1975, most recently the site of wide scale ethnic cleansing during the Bosnian War.
By creating a new city inside of a city, Kamengrad is not about erasing the past of Višegrad, but about building a future. It's a future geared toward celebrating artistic achievement while bringing in new visitors to the region. To Kusturica the Drina River is a fragile organism, the river that separates the East from the West. "Each time when you have a movement, big changes in Eastern Europe, depressions, and even earlier from the Roman Empire, the Drina River is the first to suffer," he says. "It's like an organism that distributes the blood to the fingers, far away from the heart. And when you don't feel it enough, it starts getting out of order."
"So I said, OK, let's make a city of peace and tolerance. Based on what was not possible to do in history, for many reasons," says Kusturica. This includes a visionary landscape, with highlights of Drina's rich architecture coexisting. Kusturica is building a main street with Byzantine-era design across the street from a Turkish-designed caravanserai. Visitors will relish in a multiplex and theater, a hotel, market, and marina. The project is ambitious, aiming to be the Balkans' answer to the Goethe-Institut, a strong cultural center for Slavic studies, culminating in the Andric Institute. In addition to building the city as a monument to Andric, Kamengrad will also serve as the set for parts of his upcoming adaptation of The Bridge on the Drina.
"I'm creating a city that will look like a 250-year old-city," says Kusturica, who is transporting stone houses from all over the Mediterrean region of Herzegona to build the fortress-like new landscape. "It's going to be a city of dreams." For the central point of the new city, Kusturica is building a large neoclassical square. "It's like as if it was made by the Kingdom of Yugoslavia, which existed in-between the two wars," he says. "At the very end, at the place where the small river connects to the big river, you have a kind of church that will be designed as if it was made in the Kosovo region 700 years ago." The city kicked off construction this past June, and is already a third complete.
Architecture for Kusturica is like the next level of directing a film, with the combination of picture, people, movement, sound and story. "I have a feeling that I'm doing a movie. It's harder. It's more realistic and you have to be cursing a lot more," he says on directing the many people working to build the city. "You have to be like pushing them, but it's fine." And when it's all done? Kusturica jokes on his future responsibilities ,"I will be the self-proclaimed mayor, yes."