Back to selection
Five Questions with Tiger Tail in Blue Director Frank V. Ross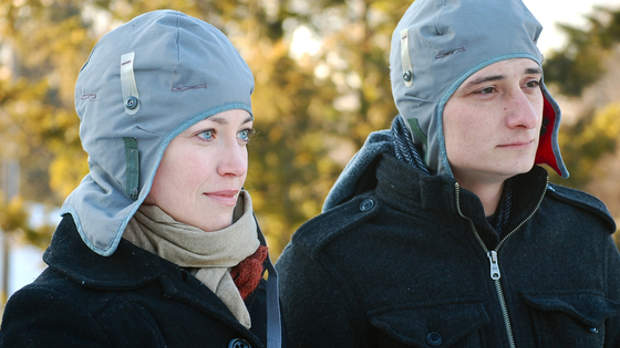 Right now on Kentucker Audley's No Budge website, it's Frank V. Ross week. If that name elicits a blank response, it's not an uncommon reaction. Though Chicago-based Ross is one of the original class of mumblecore directors, he never received the attention that was given to so many of his DIY peers, such as Andrew Bujalski, the Duplass brothers or Joe Swanberg (a fellow Chicagoan with whom Ross has collaborated numerous times). Nevertheless, his recent films Present Company (2008) and Audrey the Trainwreck (2010) have gained him a number of champions within the indie community, and those two films have been featured this week on No Budge, along with Tiger Tail in Blue, his sixth feature, which makes its debut online tonight on the site.
A low-key naturalistic drama, Tiger Tail focuses on a recently married couple, Chris (Ross himself), a writer who waits tables at night, and Melody (Rebecca Spence), a high school teacher, whose conflicting work schedules mean that they seldom see each other. Chris, meanwhile, finds a more palpable kinship with his sassy restaurant colleague Brandy (Megan Mercier). Shot by Mike Gibisser (director of Finally, Lillian and Dan, another No Budge title), this is a beautifully calibrated piece of observational cinema that is emotionally compelling without ever imposing itself upon the viewer. For anyone not familiar with Ross' work, it's a perfect place to start.
While acting in the latest Swanberg production, Ross took some time out of his day to briefly answer some of our questions.
Filmmaker: Tiger Tail in Blue is about the difficulties of balancing love, work and your own creativity. Is the film channeling your own personal feelings about making your work and the impact it has on other parts of your life?
Ross: Yes. But what seems more important is the "one works days, one works nights" and never seeing one another because of work. I've always run from having creative types in my films, so I went for it this time. The waiter/writer, here you go. Never wanted to do that, so I forced myself.
Filmmaker: This film has a feeling of genuine realism to it, but it's never too loose. How did you achieve this? How much did you improv?
Ross: There isn't any improv in the film. I get asked that often and I think the best way to explain is: One, it's a byproduct of how we work, fast and loose. Two, I don't stress out about how my lines are delivered, the rhetoric and order of the scene is maintained but I don't wanna fuck with someone's natural rhythm. And you have to consider that on my set there's no one hanging around. That's important.
Filmmaker: You've acted in most of your previous films, but this is the first time you've been the lead. Why did you choose to do this?
Ross: I wish I had a better answer than: Because I wanted to. But, I don't.
Filmmaker: You're based in Chicago, and are part of an indie community that includes Joe Swanberg and Mike Gibisser. How important are your filmmaking peers to you in terms of what your work is, and also how you make it?
Ross: At this point, I don't know what I would do without either of those fellas.
Filmmaker: Tiger Tail in Blue, just like your previous film Audrey the Trainwreck, has a cryptic title. What gives?
Ross: I already hate the way I sound, but here you go: "The obvious is that which is never seen until someone expresses it simply." Gibran'd! Audrey is a direct reference to the drunk dancing girl whose name Scott cannot remember; it's to explain why you'd watch a film about plain ol' Ron Hogan. My mistake was not to credit Allison Latta as Audrey, because I am a dick. Tiger Tail is what we always called twist donuts; it's a direct reference to the scene where Chris and Melody steal a little time with each other and eat a donut. The film makes many points about our time and what we have to choose to do with it. I figure it would enrich the experience of the film to point the title at something that could slip right by.