Back to selection
What's New on Our Curated Kickstarter Page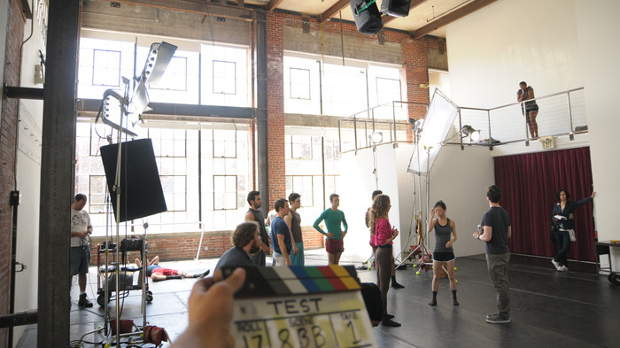 Filmmaker has a curated page on Kickstarter, where we point you towards projects that we think are worthy of your attention. Here are our recent additions, and to read more about them visit them via Filmmaker Magazine on Kickstarter.
Love Spasm: New York underground film icon Nick Zedd has just launched a campaign for what sounds like an ambitious feature set to shoot in Berlin. "The themes of this movie are love, sexual freedom, loyalty, human insecurity and the strategies people employ to survive and maintain relationships within the unnatural constraints imposed upon them by the economic pressures of capitalism, landlordism and a shrinking work force," Zedd writes on the page. Perks include an Executive Producer credit, original paintings by Zedd, and phone calls from the director.
Wakaliwood: The Documentary: Legendary producer Ben Barenholtz and film festival programmer Alan Hofmanis are teaming to make this doc about the Ugandan independent film industry and its most visible filmmaker, Isaac Godfrey Geoffrey Nabwana. Think American indies have it tough? From their project description:
Filmmaking is difficult in any environment, but life in a slum presents unique challenges including illiteracy, disease, and a struggle for basic utilities such as water, electricity, and plumbing.

In a way that harkens back to the early days of Hollywood, the team must invent all their equipment while relying on ingenuity and available materials. Their tripod is a modified car jack and props are typically welded from scrap metal and used car parts. Isaac personally built the computer he uses for editing, sound mixing, and special effects, though due to Uganda's climate it overheats regularly. The fact that Isaac's video camera has a busted viewfinder and his only battery is held together with string hasn't slowed him down one bit.

The only remuneration the cast and crew receive is a share of the profits from DVDs they sell at street corners and local markets. But distribution is a race against time as the films are quickly pirated. Revenue plummets after only a couple weeks.
Perks include Ugandan movie posters, consultations with Barenholtz and even a cameo in an upcoming Ugandan action film (shot in New York and digitally inserted in the final film).
The Illuminator 2.0: Like a Bat-signal in the night sky, the Illuminator is a "tactical media machine" — i.e., a projector in a van — that beams trenchant political commentary onto the monuments and buildings of New York. Help this mobile culture jamming unit extend its reign of illumination.
Awesome Asian Bad Guys: Our friends at the National Film Society, who covered Sundance for us this year before making it big with a PBS hosting gig, are launching a new web series inspired by the action comedies of their youth. From the page:
Awesome Asian Bad Guys is a 5-episode action comedy web series that's a cross between The Expendables and Dumb & Dumber.

The story follows two filmmakers who rush to assemble a volatile group of Asian bad guy actors to take down LA's most nefarious mobster. But in order to pull off their tricky mission, this unpredictable batch of misfits must do the one thing they hate most – work together.
There are lots of perks, including Skype calls, hoodies, visits to the edit room, and even appearances in their colleagues' web series.
Test. Chris Mason Johnson follows up his The New Twenty with Test (pictured above), a fiction feature set in San Francisco's dance scene during the AIDS crisis of the mid-'80s. The film is already in post, and it features dances from the San Francisco Ballet, the Joffrey Ballet, and various Bay-Area companies. Funds are being raised for post and festival expenses, and perks include thank-you's, Skype calls with members of the production, and Associate Producer credits.
The Whole Gritty City: Award-winning documentary producer and editor Richard Barber has teamed up with Argot Pictures head Jim Browne to make this documentary about New Orleans high-school marching bands in the wake of Katrina. They've already scored an impressive shout-out from Treme creator David Simon, who says, "African American music is the great American gift to the world and its origins are part of an improbable city. Yet in New Orleans, music is the gift that the city still gives to itself, every day. This beautiful film is the evidence." Perks include on-screen mentions, trips to the premiere and dinner with the director.