Back to selection
Seeing RED at Sundance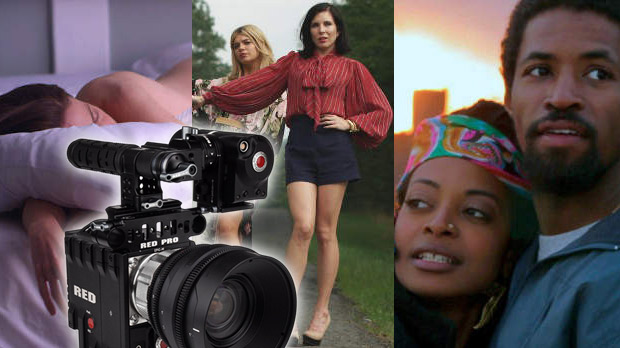 If you're shooting a full-length feature, the cost of purchasing, developing and transferring your film to digital can easily be more than the cost of a digital camera. (If your shooting ratio is 4:1, you'd spend over $10,000 for 16mm and $20,000 for 35mm.) And in some cases more than the total budget of your film. It's no wonder then, that digital cameras have become dominant in indie film production, and that RED, with its head start as an "affordable" digital cinema camera, has become dominant at Sundance.
Ted Schilowitz, co-founder of RED Digital Cinema, noted that "there are so many movies shot on RED this year at Sundance that it is impossible to keep track of them all."
RED was part of a seminar hosted by HP: 4K and Beyond: The Evolving Role of Technology in Digital Filmmaking. Moderated by Schilowitz, the panel featured a number of post software developers including Adobe, ASSIILATE and Autodesk. The seminar focused on the 4K workflow, with the message that "you can edit 4K now."
I sat in on a demo of the Sony F65 a couple of months ago and rather than demonstrating the camera the entire event focused on the 4K workflow. Clearly companies feel that what's holding a lot of people back is a fear of the 4K workflow.
RED points out that two Sundance features, We are What We Are and C.O.G., were both cut natively in R3D in Premiere Pro with no transcoding. Your experience may vary, and will depend upon what you're doing – effects vs. simple editing vs. color grading – as well as your hardware budget.
The following are just some of the movies at Sundance that were shot on RED cameras, with links to interviews Filmmaker Magazine has had with their directors and – in one case – DPs.
Ass Backward
An unusual road movie about two women who go back to their hometown for the anniversary of a beauty pageant.
Ass Backwards | Director Chris Nelson
"There was a point during production where the rest of the world seemed to actually drop away. People who weren't involved with the film looked and sounded like aliens to me. I had no sense of world news. I was very aware of the weather (but only the weather on set.)"
Big Sur
A biopic about Jack Kerouac's time at Big Sur.
Big Sur | Director Michael Polish
"I believe with every independent movie the sacrifice is always time versus money. We never have enough of either. However, you find creative solutions when faced with these constraints."
C.0.G.
An adaptation of a book by David Sedaris.
Five Questions with C.O.G Director Kyle Patrick Alvarez
"I storyboarded the whole thing, but I found that actually caged me too much on set and put the actors in uncomfortable positions. It's not to say that storyboarding isn't helpful, but when you're making a dialogue or performance driven film, the actors need to play a huge, if not primary part in deciding blocking and how a scene is going to play out."
Concussion
After being hit by a baseball a lesbian housewife decides life needs to be more than the house and the kids.
Five Questions with Concussion Director Stacie Passon &
DP David Kruta on Shooting the Movie Concussion
"I fought to shoot it on the Epic. I think something like an Alexa might have actually slowed us down because there was a lot of handheld shots. The movie was almost entirely handheld, so the small size and weight was really helpful."
Newlyweeds
Lyle and Nina are two young lovers with a shared passion for weed.
Five Questions with Newlyweeds Director Shaka King
"Part of the beauty of making this film on the cheap was that we were free to create our own space in the industry. We were only beholden to ourselves. When we did consider our position in the marketplace, it was only favorably."
Sound City
Dave Grohl acquired the Nieve console from LA's Sound City Studios when the studio closed, and ended up making a documentary about the studio. Kenny Stoff, the DP of Sound City, shot over 1700 hours of footage for the documentary.
Dave Grohl on Directing Sound City
"…my friend [co-producer] Jim Rota brought a camera and I sat down with Tom Skeeter, the owner of the studio, and in 15 minutes he blazed through some of the most epic rock & roll stories I've ever heard. Shit that would just make your jaw drop. And I thought, "Wow, Okay. I want to talk to everyone. Give me a list of all the records that have been made here."