Back to selection
Five Questions with Touba Director Elizabeth Chai Vasarhelyi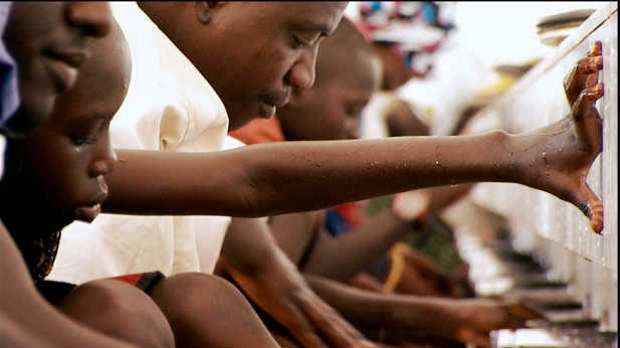 Elizabeth Chai Vasarhelyi's Touba was seven years in the making: five of shooting, two of post-production. It grew out of her second documentary — 2008's Youssou N'Dour: I Bring What I Love — which followed the legendary Senegalese musician before and after 2004's Egypt album, whose religious themes raised the ire of the country's religious argument. Her newest film began life on vibrantly grainy 16mm, following an annual Senegal trek undertaken by hundreds to the city of Touba to visit the home of Sheikh Amadou Bamba, founder of the Mouride Brotherhood. Like her last film, Vasarhelyi's newest focuses on Islam as a religion of peace, taking in religion and devotion in anthropological detail. It makes its world premiere at SXSW tomorrow.
Filmmaker: When did you decide to shoot on 16mm, what were some of the challenges involved in shooting on 16mm and will this be the last time you shoot on film?
Vasarhelyi: Touba has been seven years in the making. We decided to shoot on 16mm at the very beginning. Technology has evolved so that digital cinematography is now an industry standard, however seven years ago it wasn't as unheard of to shoot a documentary on 16mm film as it is now. Our director of photography, Scott Duncan, is a remarkable cinematographer who also owns several 16mm cameras. The real challenge was the environment we were filming in. The dust and heat are not only taxing on the crew, but make maintaining the equipment that much harder, particularly when working with celluloid. It was certainly difficult, but Scott and I felt that it was worth the challenge because the pilgrimage is full of rich and vibrant colors that we felt would be best caught on film. Toward the end of production we began using the Red more often because of increasingly tight budgets and the technological advances that give these cameras remarkable breadth and potential, albeit with its own texture.
Filmmaker: Your previous film, Youssou N'Dour: I Bring What I Love, also considered Sufi Muslim practices in Senegal. What led to your second film on this topic?
Vasarhelyi: I was first exposed to Touba through Youssou N'Dour when he went on the pilgrimage. Youssou N'Dour: I Bring What I Love is about the controversy surrounding Youssou's release of an album he created [2004's Egypt] that celebrates the Mouride religion and Sufism. Mouridism is a very tolerant form of Sufism, but the religious institutions in Senegal didn't understand his album at first. The film chronicles the controversy and how people eventually appreciated what Youssou was trying to do through his music. While creating that film, I became familiar with the religious organization, and enchanted by the annual pilgrimage to Touba in particular.
During the Grand Magaal to Touba, I witnessed many contradictions — I would see people on their iPads outside the mosque, and women being treated and behaving very differently from how we think about gender in the Muslim world. I felt compelled to document this story to expose outsiders to another face of Islam. It's an observational film about a topic we don't know very much about. As a filmmaker, I think we often approach subjects we are interested in, but I have a solid background in Senegal and West Africa, so being able to go deeper and get more educated on the topic was particularly meaningful for me artistically. Actually my next film, which is in post-production now, takes my exploration of Senegal full circle. It is about politics in West Africa.
Filmmaker: What were some of the challenges in gaining access to the pilgrimage?
Vasarhelyi: I think subjects were definitely wary of us in the beginning, but we embarked on the pilgrimage five times. By the second year I went on the pilgrimage, a year after my first trip, we had established ourselves as serious and willing to take a deeper look. There were two Caliphs (spiritual leader of the Mourides) who passed away in the time we were making this film, so there was that challenge in re-establishing a connection with the head of the organization. It was just a remarkable experience because people eventually learned to trust us. People showed us some of Cheikh Amadou Bamba's artifacts and relics that are never seen by the public, even our Senegalese crew was amazed at the access we gained.
It's terribly hot and dusty and there's not much water. The hardest part was the logistical situation as opposed to the cultural or religious challenges. All in all, people were very welcoming and eager to share those stories. You know, it was difficult at times being a female walking through the men's section of a mosque, but we all dressed in traditional garb and tried to be respectful at all times. I think people appreciated that.
Filmmaker: When you're shooting massive crowd scenes, is it hard to stay oriented and organized?
Vasarhelyi: I think it's about a patient approach to filmmaking. Touba was filmed over five different pilgrimages, within a period of seven years. Every pilgrimage lasted about three days, with two extra days in the back and two in the front. That's why we took so long to make the film, because our limited resources required us to focus on specific aspects of the Grand Magaal pilgrimage during each shoot. The last scene in the mosque at the end is shot over three different years, so we had to pick our approach every time and make a shooting plan. At the same time, you have to be open to life happening. For example, we learned about the Baye Falls [a disciplinarian sect that concentrates on hard work rather than prayer], when we saw 200 people marching across a field. We were like "What's happening?" We jumped out and ran across the field, and it turned out to be one of the most interesting parts of the film.
Filmmaker: Was it hard to shoot the bull slaughtering scene in the film, or are you inured?
Vasarhelyi: It was definitely a tough scene to shoot. Just because of my own experiences working in Africa and around the world, I've seen many people slaughter animals. It's just a cultural thing, but it's always tough. I guess there's some consolation that there's a belief that these animals are supposed to go straight to heaven and their meat goes to feed a lot of people. In my previous film I had another slaughter scene with sheep. I personally found the sounds the hardest part to endure.