Back to selection
Shooting in Snow and Ice with the Canon C100: Interview with Ben Pender-Cudlip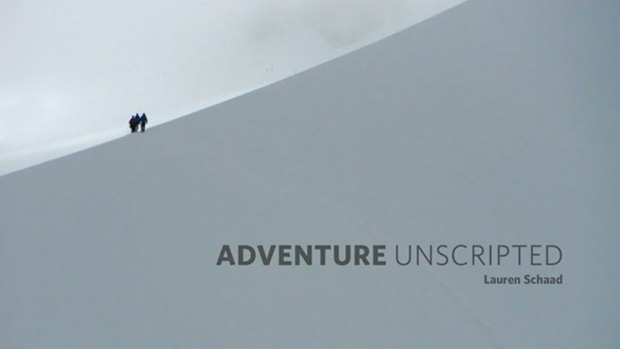 Ben Pender-Cudlip is a Boston-based documentary filmmaker who recently switched from shooting with a DSLR to the Canon C100. His first project shot on the C100 was a short that included a segment on ice climbing.
In this second part of our interview with him about switching to the C100, Pender-Cudlip talks about the project and what it was like to use the camera in these conditions.
Filmmaker: How did this project come about?
Pender-Cudlip: It's a film for a woman named Lauren Schaad. She approached me about shooting a TV pilot. She was looking to get into reality TV as an adventure travel personality. She came to me with a script to shoot and my response was, "You've got the wrong guy, I'm not very good at working from scripts."
But we kept talking, and we came up with the idea of shooting a documentary about what she does and what she wants to do, and how she wants to share her love of travel. The main narrative arc of the documentary is when she takes a trip up to New Hampshire where she went ice climbing for the first time.
Filmmaker: Did either of you have any ice climbing experience?
Pender-Cudlip: We hired two guides, one to teach her how to climb. Because I have no ice climbing experience, the guide that was rigging for me also knocked off a couple of shots overhead as he's actually an incredibly talented adventure cameraperson. Then we lowered me down from the top of the ice face that they were climbing. I rappelled down with the camera on my back and shoot some of that. We spent the entire day shooting.
We also shot an extended interview with her the day before. We shot that on two C100's.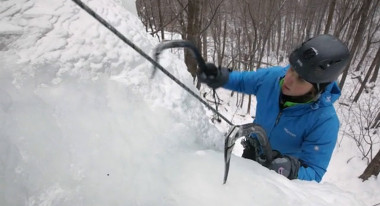 Filmmaker: What precautions did you take with the camera, if any?
Pender-Cudlip: It was pretty rough. We were shooting in the cold, and I knew that it could be trippy on the ice and also there was going to be snow. So I actually decided to stress test the camera.
One of the first things I shot with the camera, I went out in a snow storm at midnight on an island in Maine and shot without any protection on the camera whatsoever. In doing that, I learned what type of protective gear I was going to need for it. I bought a plastic case by Kata designed for mid-size cameras. You wrap it around the camera and it has Velcro you can adjust. It kept the camera nice and dry, and I could sneak my hand in the bottom to hold it.
I did a lot of stuff shooting with my eye up to the viewfinder just because it was easier to stabilize and easier to see the image. I switched out lenses a bunch of times in the snow, and it was no problem. I did a little bit of shooting on sticks, which is fine; it just gets really cold standing in one place for a while. It was pretty easy to monitor levels on the camera. It's a revelation for me to have onscreen levels display and all that stuff.
Filmmaker: How did you deal with image exposure shooting in the snow?
Pender-Cudlip: At first I pushed it a little bit high, so the first 25 or 30 minutes of shooting I didn't quite realize how hot I was shooting. Then I dialed it down and it was pretty good.
Like the C300, [the C100] shoots Log, but it also has this wide DR gamma mode. It has an extended dynamic range where it shoots like Log, with a baked in S-Curve, so you get a couple more stops of dynamic range, and that was really, really nice. I shot that the entire day and there's a lot of detail in the lows and in the highs, and it wasn't blowing out the snow. So that worked out really well in terms of getting good exposure.
Exposure even in bright sunlight was fine and the built-in ND filters are just phenomenal. I can drop down to ND 2 or 4 or 6 and keep my aperture where I want it to be, so that really helps shooting outside in sunlight.
Filmmaker: What aperture were you typically shooting at?
Pender-Cudlip: I tend to shoot wide open so most of the time I was probably at 2.8. There are some times when I'd be shooting a wide shot or I wanted to get a deeper field where I would close down. I was probably shooting with an ND2 most of the day, but I would switch it around depending upon what I needed.
Filmmaker: What did you use to edit the piece?
Pender-Cudlip: This project I'm editing in Premiere Pro, but depending upon the project we edit either in Final Cut Pro 7, Premiere Pro, and occasionally Final Cut X.
Filmmaker: Broadly speaking, why use one vs. the other?
Pender-Cudlip: We just migrated to the full Adobe suite for all projects because Final Cut 7 is ancient and I wanted to play with the native AVCHD editing in Premiere Pro. I wanted to see what it was like to edit without transcoding, and it works pretty well. It's no problem to have AVCHD in the timeline, but there are other workflow issues it's causing which I'm sort of less happy about. The fact that every single card has clips called 0000, 0001, 00002…, makes managing media really a pain in the ass. And going out to a proper grading program kind of difficult.
Filmmaker: What are you color grading in?
Pender-Cudlip: Up until now I've been using Apple Color. For this project I'm using DaVinci Resolve because Apple Color is also really old. This was my first adventure with Resolve. The Premiere Pro to Resolve round trip was workable, but not ultra-smooth.
Filmmaker: For audio, what are you doing?
Pender-Cudlip: On this project I had a Sennheiser ME 66 on the camera, a long shotgun. I often switch between the ME 66 and the ME 64, a cardioid mic that's a little bit shorter for a lower profile mic on the camera when I don't want something hanging a couple of inches off the front. On the other channel I was using a Sennheiser G3 lavaliere microphone on Lauren.
See also: Switching from a DSLR to the Canon C100: Interview with Ben Pender-Cudlip
Ben Pender-Cudlip : Unrendered Films