Back to selection
Five Questions with Go For Sisters Director John Sayles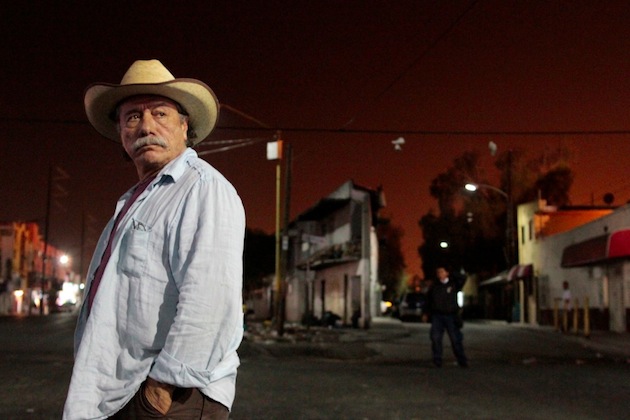 Go For Sisters
Childhood friends Bernice (LisaGay Hamilton) and Fontayne (Yolanda Ross) have been out of touch for a few years. When they reconnect, during an early sequence in John Sayles' 18th feature film Go For Sisters, it is over a desk. Bernice, a parole officer, sits before folders of rap sheets to one side; Fontayne, a former junkie and criminal, fidgets on the other.  It doesn't take long, however, for the circumstance to turn from professional to personal. When Bernice's drug running son vanishes near the Mexican border, she calls on Fontayne to help track him down. The two women head South, enlisting the prowess of wayward Detective Freddy Suarez (Edward James Olmos) for extra measure. Filmmaker spoke with Sayles about the evolution of the independent film industry, and how he melded tropes to create his most critically lauded feature in years. Go For Sisters, which world premiered at SXSW, opens in New York today.
Filmmaker: Go For Sisters fuses the unlikely tropes of a two-hander character drama with a bootstraps detective procedural. Did you begin the narrative with Bernice and Fontayne, and organically immerse them in borderland drug running, or was that something you set out to address from the start?
John Sayles: The idea was [originally] two separate ideas: one, a movie about two best friends reunited after time and circumstance had put them in very different statuses, and another, about a de-frocked LAPD detective.  When I decided to put them together, I needed a reason for the woman in power (Bernice, the parole officer) to suddenly need the help of someone on the dark side of the law — so she turns to her ex-con, ex-best-friend [Fontayne].  For the detective, I wanted him to have certain kinds of experience that would be helpful (years on the force, ability to speak Spanish) but also have to take a risk into unknown territory ("La Chinesca," or Chinatown). These things tend to start with characters in tight spots and then I have to figure how to get them out — or not.
Filmmaker: Suarez is a bit of anomaly: as an ex-cop, he's far more versed in the nature of the game, but he's incredibly inclusive and accommodating of the two women, and never scolds or condescends. Why was it important to establish this characterization and triangular dynamic?
Sayles: I didn't want Detective Suarez, despite his experience and street smarts, to be a savior on a white horse, which is why he hasn't only lost his badge (and the power it conveys) but is starting to lose his sight.  He needs Bernice and Fontayne to function as much as they need him.  Also, though he is pretty hard-bitten from years on the force, he's made a deal to get Bernice resolution — dead or alive — in the disappearance of her son.  Detectives hate to leave cases open, and once he's on the trail, Suarez goes back to being "the Terminator." He's a guy who has lived by a very tight personal code, and the search for Bernice's son gives him a much-needed chance to live up to it.
Filmmaker: This is your 18th film. What's changed for you as a filmmaker since you made Return of the Secaucus 7 in 1980?
Sayles: I'm certainly better at getting a lot out of a 19-day shoot than I was when I started out.  I think the biggest difference, and the biggest compliment that I get, is that well-known, even famous, actors often say yes to working on one of our movies, even though everybody is getting paid low-budget scale.
Filmmaker: You recently gave an interview to Newsday in which you admitted to self-financing the film, given that raising money is "pretty much impossible" these days. Is that the case for any independent script, or do you feel that yours might contain elements that are less marketable and appealing to deep pockets?
Sayles: In a way it may be our track record as much as the particular story in the screenplay.  If you've made 18 features and none [of them go] platinum, investors and distributors tend to assume that's proof that it will never happen.  It also may have to do with the fact that they know we retain final cut, and might not be as easy to pressure as somebody new.  Mostly it's just the economics — you'd do better going to the track and betting on horse number three in every race than investing in movies.
Filmmaker: Variance is planning to distribute your film digitally in 2014, something they haven't done in about five years. Were you behind this decision? Your thoughts on VOD?
Sayles: The manner in which people watch movies is changing rapidly — getting any money back from each viewing has not kept up with it. VOD will be terrific eventually — right now it's very promising. Go For Sisters recently played to a full house at the Morelia Film Festival in Mexico, and part of the experience was the audience getting off on each other getting off on the movie —  but that may be a rarer and rarer experience.