Back to selection
Thoughts Towards the Killer App of Indie Film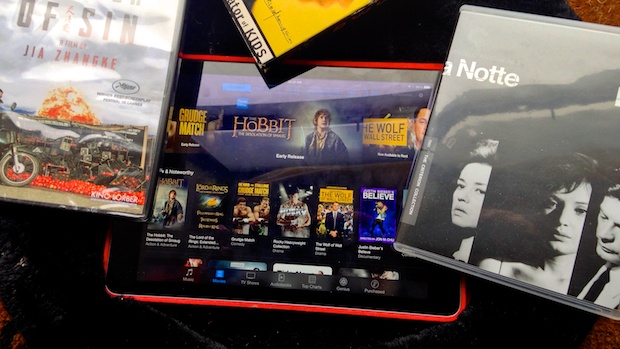 I'm a writer-director/producer with a couple of features under my belt. Since the last one was released (Burning Annie), the world's economy collapsed, half of the studios' arthouse labels folded, and the audiences for music, books, and film splintered into a million fragments. At the same time, smartphones and app-culture rose to dominance.
My new film Laundry Day is in post. As I warily eye the world that I will be releasing my baby into, I'm somewhat alarmed by the large and growing divide between modern audiences and modern distributors, and how inadequate the trends of the moment are for the problem (looking at you, crowdfunding).
Someone needs to point the way toward a solution that combines our growing database resources with our growing social media resources, so I took a stab. I'm not a techie, I just want to have a tool that'll let me know about films I'll likely love and that'll help audiences find the films I make.
THE ISSUE
For the industry, 2014's problems are unprecedented: ever-rising quantity of releases, distributors with obsolete marketing, increasingly fickle audiences who miss films they'd love, nobody in the middle to sort it out. Carpet-bombing marketing doesn't work for indies; people tune out expensive media saturation. As an audience, it is frustrating to hear about little gems that you somehow missed. It's cinematic FOMO — to hear about a film long after its theatrical release is to be out of the loop and feel like the good stuff is passing you by. I'm an avid filmgoer, and I want to support both indie artists and the companies that take chances on them. Audiences and films: what's going to matchmake them?
THE CONVENTIONAL WISDOM
Lots of the talk is about "curation" as the solution. But top-down curation—an "expert" tastemaker making judgements and passing along lists of approved contents—is also an obsolete model. Today, community is king and not even big personalities like the late Roger Ebert, Harry Knowles, or Kevin Smith have the same curation power as your friends, family and colleagues. Critics, pundits and tastemakers will always have their place, but the fact is nobody can cover it all; the breadth and depth of cinema is too deep, the audiences too complex and fickle.
FEATURE #1: Community Curation
However, community curation can be everywhere and nowhere, as immediate as the present, as deep as history, and inherently tailored to your unique tastes. The Killer App will use your social network to cross-index your friends' film ratings then filter the results through a tagging system for searchability. You'll be able to either search via tag (eg. movie star, subject matter, milieu, etc.) or via friend or network. The result would be the most meaningful recommendations possible.
WHY #1 IS VITAL
You know your friends, your friends know you; no critic or pundit can come close to the deep specificity of a real relationship. If Jane loves samurai films but hates mumblecore and she rates Funny Ha Ha highly, this means a lot more than if she adores Yojimbo.
OkCupid has an inspired metric that looks at your stated preferences and compares potential matches to them: "Fred might be: -more passionate -more old-fashioned -less fun-loving -less conscientious." By comparing your taste in films with a friend's, the Killer App can give you insight into any film they recommend or pan, using the tagging system and ratings you've both contributed to the database (see below).
FEATURE #2: Access to Ratings
Between IMDB, Netflix, Google and Facebook, there are billions of film ratings to be mined. Note that those are four major sources and there are many more. The Killer App will have to work with opt-ins, similar to when you join a message board using Instagram or allowing various sites to access Twitter for easy sharing: you sign up and give the app access to your IMDB/Amazon, Netflix, Google, etc. It then scrapes your data and adds it to the Killer App database (a meta-database of all possible online ratings). When you look up a friend, the app pulls their ratings from the database; when you look up a film, the app populates a tab with your friends' ratings using various metrics. Obviously good user interface (UI) design and search are essential.
WHY #2 IS VITAL
We're rating fatigued. When Facebook asked me to list my fave films, I spent three minutes to pimp some great titles, but when they asked me to rate them all? I already did that. At Amazon. At IMDB. At Netflix. Et al. Any recommendation engine that requires redundant manual entry of data by its users is a nonstarter.
FEATURE #3: Tags
Every attribute of a film is a tag; a comprehensive database of tags will let a person search for (or filter out) any aspect they want. All films will need to be re-, cross-, and sub-categorized into as many meaningful ways as possible. This is already a trend and two companies excel at this and are having runaway success.
Netflix has done a great job of deconstructing films with its recommendations, e.g. "award-winning crime comedies based on a book featuring strong women," and it more accurately reflects the aspects of a film that are meaningful to audiences. The Black List has a wonderful, comprehensive set of tags designed for screenplays but which are easily transferable to films; the tags are the basis of matchmaking between writer and producer (almost a tag-based OkCupid for screenplays).
WHY #3 IS VITAL
Genre is an obsolete concept. Even niche is a broad generalization. Audiences' expectations are moving asymptotically towards recommendations for them and them alone. We are all niches of one. No wonder distributors are exhausted and indie hits seem like the work of magic.
Here's a great recent piece on the power of tagging.
For maximum robustness, users would be able to rate tags and have a taste profile based on their tag and film preferences. If you hate Tom Cruise but recommend Magnolia to me, I'd see this fact. I could click the "Tom Cruise" tag and it'd show me that you hate TC as a hero but like him as a bad guy (or can tolerate him as a supporting player, or whatever). Recommendations can be "push" (friends send to each other) or "passive" (browsing the database, cross-indexed by tags & users). The Killer App will have settings to omit tags that spoil (eg. "happy ending," "death of child" etc.) and prioritize tags that may be extra meaningful to you (e.g. "brothers," "spiritual themes," "workplace" etc.).
And that's it. Get those three things into a slick UI with great search and you've won cinema for the new millennium.
The Killer App works for theatrical and VOD, not just for home video and everything else. It will be vital to new releases: distributors would provide already-tagged entries for their upcoming films to Killer App, and they will immediately show up in your searches and browses. New releases will come with links to trailers, local theaters and so on, just as home video titles will have links to various outlets selling/renting/streaming them.
Because the Killer App is windows agnostic, it will make a huge difference in filmgoing habits by moving the discovery phase of niche films from home video and VOD forward to the theatrical window. It will be the perfect matchmaker between the millions of people and millions of titles, simply by amplifying the speed, accuracy, and precision of old fashioned word-of-mouth.
OBJECTIONS
The most daunting part is probably the tagging: potentially hundreds of tags multiplied by every film ever made equals millions of actions. Solution: crowdsource it. On a wiki-style forum, let people evaluate tags, using +/-1 votes, with perhaps rewards for highest rated tags or contests to keep participation high. This would have to be black-boxed on the web, not in the app itself (although the app would reflect the best tags generated in the open wiki). Crowdsourcing has its dangers, of course, but it seems faster and cheaper than paying for the millions of man-hours required. Perhaps a game could be made of it, a la the "Solve Puzzles for Science" site Foldit.
Another big one: why would a corporation like Netflix or Amazon let anyone harvest their data for their own good? Two reasons: 1) enlightened self-interest, as they are both exhibitors in their own way, and the Killer App is an audience-builder. But 2) they don't have to let anyone access their info if they're building the KA themselves. Which they should! Whoever's there first will likely be winner-take-all. Maybe it's one of Google's moon-shot projects, I dunno, I don't really care who does it, as long as someone's doing it.
Now, someone go make this thing real. Build that bridge! Filmmakers are tired of standing on both sides of the abyss.
Or, most realistically, tear it apart in the comments. I'm throwing the idea out there for discussion. Brainstorm a name for it, while you're at it; best I've got is "MEGAFILM," like megaphone, the original amplifier of word-of-mouth.
Randy Mack was born in Brazil and lives in New Orleans. Formerly an award-winning journalist and musician, he's produced the award-winning feature Burning Annie (2007, LightYear/WarnerBros) and wrote/directed One Week to Bill's Thing (2010). His current project is the feature Laundry Day, currently in post-production in New Orleans.