Back to selection
Tribeca Film Festival XIII #2: Survey Says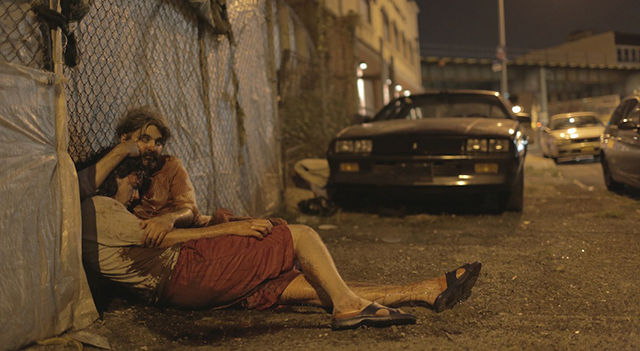 Onur Tukel's Summer Of Blood
Perhaps it's just a coincidence (don't strain yourself trying to find out) that the same year the Tribeca Film Festival was partially acquired by Knicks owner James Dolan's Madison Square Garden Company, the ESPN-sponsored sports film sidebar — a reliable showcase of "30 For 30"-esque jock docs destined for the network — kicked off with a gala screening of actor Michael Rappaport's When the Garden Was Eden, a documentary about the Knicks' late '60s and early '70s glory years. Here, the director of the well-regarded A Tribe Called Quest doc Beats, Rhymes & Life (which I wrote about here) relies on standard-fare interviews and archival footage instead of the intimate vérité that made his earlier film a standout.
Hall-of-famers Willis Reed, Walt "Clyde" Frazier, Earl Monroe, Dave DeBusschere, ex-Senator/Presidential candidate Bill Bradley and current Knicks president and 11-time NBA championship-winning coach Phil Jackson made up the magic team that brought a pair of championships to New York, increasing the NBA's popularity exponentially during an era when players went from barely receiving middle-class wages to becoming rich men. Except the deceased DeBusschere, all of the above-named are interviewed, but Rappaport doesn't make a convincing case for why anyone but a casual Knicks fan or an NBA historian should care. The movie's attempts to tie the team's rise to the rebellions of the era are porous at best; Walt Frazier sure could dress though.
Kevin Gordon's True Son, a special screening also participating in Tribeca's Online Competition, doesn't have to reach for relevance. Barely out of Stanford, in 2012 Michael Tubbs won a city council seat in the bankrupt city of Stockton, CA. A black kid from the wrong side of the tracks, he's persevered and taken on a community leadership role at a remarkably tender age. The movie talks about Stockton's fiscal crisis (it was the country's largest municipal bankruptcy filing until Detroit last year), profiles several of Tubbs' volunteers, shines a light on his seemingly unforced yet remarkable fundraising prowess (he garnered support from Oprah Winfrey and MC Hammer), and watches him work tirelessly at his campaign and a day job. He's a wunderkind, beating a white man twice his age for a seat on the council, struggling against an election system left over from less harmonious days designed to maintain black under-representation in the city's governing body. Nothing about the movie's aesthetics are worth recalling and the whole thing plays a bit too much like hagiography for my taste, but Tubbs is surely a young man the movie makes you want to root for, even if one is left wondering what (if anything) he or anyone else can do to save a town like Stockton.
A Tribeca Film Institute-supported project playing in the World Documentary Competition, Garnet's Gold has a style worth recalling. Shot by director Ed Perkins, this delicate slice of impressionistic portraiture follows aging Brit Garnet Frost, a vibrant mind with few accomplishments to speak of. Twenty years ago, he almost perished during a hiking trip in the mountains near Loch Arkaig, a remote Scottish body of water. Just before he was rescued, Garnet found a staff; after years of research, he's determined it's the key to solving what happened to a long missing fortune hidden in the Scottish Highlands nearly 300 years ago. Is he deluded or onto something? Most likely the latter, although the film uses his expedition back to the mountains to ruminate on existential questions.
Garnet's ailing but still lucid mother isn't going to be around much longer and maybe he won't either; he'd desperately like to impress her, or at least be less financially dependent on her. Will he have one last shot a love with a woman he's long fancied, one who admits to Perkins she once wanted his children? The movie juxtaposes vérité moments with snippets of highly stylized interviews displaying the caution those around Garnet treat him with. His buoyant optimism and active mind keep you engaged with his struggle for meanin. Mid-way through the picture I feared the bluesy gloominess at its edges would likely win the day at the end. I was glad the upbeat finale proved me wrong.
…
Is it hard to distinguish what makes various sidebars unique at a large festival with an ever-shifting identity like Tribeca? Based on the long track records and significant name recognition of the stars involved, I can understand the Spotlight section inclusion of a Dito Montiel picture with Robin Williams, or Jon Favreau's return to indies, or even a drama with Frank Langella and Glenn Close. Midnight is reserved for the sorts of genre pictures best watched after dark, perhaps long after. But why do certain films end up in competition while others find themselves in Viewpoints, a section whose submission rules state it's for "distinctive visions from innovative voices"? If a small sample size is any indication, the latter slate seems to be as strong as the World Narrative Competition when it comes to American films.
Aron Gaudet and Gita Pullapilly's Beneath the Harvest Sky follows a pair of Maine teenagers through the ups and downs of a dangerous coming of age stretch; the film had its New York premiere at the festival after bowing at Toronto in the fall. Certainly not the only movie about a young drug pusher at this year's festival, it's likely the whitest. The consequences are potentially all the same for young Casper (no joke, that's his name, just like the friendly ghost or the character from Kids), whose potato harvesting friend Dominic has problems of his own: he's gone and knocked up his girlfriend (or at least so she leads him to believe). Emory Cohen and Callan McAuliffe are strong leads and Steven Capitano Calitri's cinematography is clear and true, but at 116 minutes the movie begins to sag under its own weight. Despite the milieu's freshness, Beneath the Harvest Sky overstays its welcome long enough to make you remember that you've seen a lot of these situations before, however well executed this rendition is.
I can't say the same for Onur Tukel's screamingly funny Bushwick vampire bumblecore Summer of Blood: you ain't never seen anything like this before. As in his previous film Richard's Wedding, the director stars as Erik, a fast-talking bon vivant whose acerbic, self-indulgent stream-of-consciousness conversational style constantly embroils him in hot water. After turning down a marriage proposal from on-again/off-again girlfriend Judy (White Reindeer's Anna Margaret Hollyman), the serial dater is walking near the Williamsburg Bridge when he discovers a bloodied man. Before he can call for help, Erik's approached by a nameless stranger (director Dustin Guy Defa) with some rather strange-looking eyes. No sooner than Erik confesses, half jokingly, that dying "would alleviate a lot of responsibilities," the man bites him, turning him into a vampire. As in the best vampire films, the word is never used in this madcap romp, which makes great comedic hay out of the odd rules of the genre; the allergic-to-the-sun bit is especially good. Ably supported by Dakota Goldhor, Keith Poulson, Alex Karpovsky, Zach Clark and Melodie Sisk, Tukel's character transformation into a newly sex-crazed member of the undead will keep you laughing until the movie's genuinely unexpected ending.
I really wanted to like Garrett Bradley's Below Dreams, one of those triptych films following three desperate souls trying to make a way for themselves in an unforgiving city: in this case post-Katrina, first wave gentrification-era New Orleans. Mercifully brief at a paltry 72 minutes, the movie has a dreamy, half-remembered quality as refreshing as it is jarring. The movie doesn't supply any connective tissue to its subjects: an unemployed black man with a growing child who's desperately searching for a job, a young white male drifter from New York who travels to the Crescent City and back searching for something that remains unclear, and a single mother with multiple kids whose troubles with men and stability are obvious but remain at arms length.
Despite oddball, Gummo-esque digressions into the wild musings of street dwellers and various other vagabonds, the city doesn't become enough of a character in and of itself for Below Dreams to get away with not having a more focused point. Still, it contains the type of faces yielded only by truly committed excursions into places American cinema rarely visits. One lead is introduced during a conversation with a local who laments how "apartments that were $500 before Katrina going for $1,100 now." Bradley's onto something; here's hoping that next time out, she gives us a Christmas tree to hang her gorgeous ornaments on.