Back to selection
Distributing the Cause of Dam Removal: Patagonia's Push for DamNation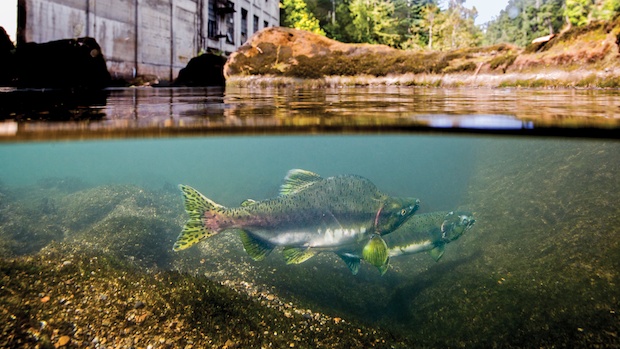 DamNation. (Photo: Matt Stoecker)
Arriving in theaters this weekend following its SXSW premiere is DamNation, Ben Knight and Travis Rummel's ecological advocacy documentary supporting the removal of obsolete dams. Funded and distributed by Patagonia — and the winner of SXSW's Documentary Spotlight Audience Award — DamNation and its release are a study, says Sub-Genre's Brian Newman, in "how a brand can use film to create impact." Newman is the film's marketing and distribution consultant, and along with the company and other partners he's implementing an innovative campaign employing Patagonia's customer base, collapsed release windows, partnerships with affinity groups and the old-fashioned hustling of DVDs.
Newman explains how the project originated: "Yvon Chouinard, the founder of Patagonia, and his friend Matt Stoecker, a scientist who does underwater cinematography, were wondering how to get people to care about the issue of dam removal. They thought a film would make the biggest impact, and they had seen Red Gold, the directors' previous film. So, they went to them and said, 'We want to give you the money to make a movie, and we'll tell you people we know from our careers who you can talk to.' They gave them complete creative control and final cut, and then Patagonia picked up again for the marketing and distribution."
Newman got involved in December, when he received a call from Joy Howard, Patagonia's V.P. of Marketing, asking him to develop a marketing and distribution campaign alongside the company's PR partners and designers. For Newman, that release campaign combines the old and the new. For example, "we worked out a deal with Vimeo where we bring attention to other environmental movies by being one of their first curated collections," he says. Conventional release windows have been tweaked. With distributors and independent film fans debating the wisdom of day-and-date releases vs. conventional theatrical windows, DamNation has split the difference, offering the picture through Vimeo as a pre-buy to fans on the day of its SXSW premiere. "People pay now but get it later," says Newman, who says Vimeo will be offering the film exclusively for 30 days, to buy or to rent, beginning June 6. "We'll be on Cable on Demand during that same window, and then on July 8 are available on iTunes and all other sell/rent. Netflix will be later — we're not sure yet of the precise date. iTunes will begin pre-sales as well in a few weeks." Newman arranged the digital/cable/VOD releases through an aggregator, Brainstorm Media, and went to Vimeo directly.
DamNation's campaign is receiving robust support from Patagonia. Says Newman, "Every Patagonia store will be printing a discount code on their receipts for 15% off the Vimeo download starting this week, and every store in the country is displaying marketing for the film and our action campaign. We also send out emails to two million customers regularly about the film and had a four-page insert about the film/campaign in the April catalogue."
The film will be screened in Patagonia stores across the country on June 5, with the DVD available for purchase that same night. Stores will also be handing out Vimeo discount codes following the screenings. "Patagonia Books is getting the DVD to retail in Barnes & Noble, Urban Outfitters and 20 or so other stores," Newman adds. "We are going to sell millions of dads because we can put them in the store and the Patagonia catalogue. Sometimes filmmakers don't even think of dvd as a revenue generator, but it will be one here."
Before its digital release, there will be further theatrical dates. DamNation is touring cities outside New York and Portland, where it played last month. "We are not trying to do a big theatrical run," says Newman. "We are qualifying for the Academy Awards, and it just happens that IFC and Laemmle like our strategy. There will be one-night only screenings in nine or ten cities, like a tour, and filmmakers will go to all those theaters. After the tour Film Sprout will do 300 community screenings. Patagonia has an entire department that works with the Sierra clubs and other non-profits." Tugg will also be employed for other non-theatrical screenings.
Of the battles between theater owners and on-demand platforms, with many theaters not booking films already or soon-to-be available in homes, Newman says that's where Vimeo becomes a differentiator. "By not having it on iTunes in the beginning, we give an extra cushion to theaters. Patagonia will send an email to its one million subscribers [announcing the Vimeo availability]. That's where Patagonia customers will buy it, with regular consumers having to wait for iTunes, So that's how we're holding back."
With the film an Audience Award winner, why didn't Patagonia seek to sell to a larger distributor and use others for all this work? The answer, says Newman, is control. He explains that, for Patagonia, advancing the film's cause takes precedence over adhering to industry-standard business models and marketing techniques. Plus, the company has its own ideas. "The film can take over the home page of Patagonia's site" to promote various release windows, Newman says. In Austin, the Patagonia store featured floor-to-ceiling images focused on DamNation, a promotion that will unfold in other stores. A giant display area with a 20-ft poster is transformed in an "action center," including a Change.org petition urging a White House repose. "The action campaign runs alongside the theatrical," says Newman. And the day before the film's theatrical opening, Chouinard spiked awareness with an op-ed in the New York Times, "Tear Down Deadbeat Dams." After the Times piece, that Change.org petition rose to 23,000 signatures, and a social media campaign urges users to, somewhat ironically, post beautiful photos of deadbeat dams and tag them @thatdamcontest of Instagram and Facebook. ("Fuck that dam," is captioned one photo with a particularly elegant black-and-white filter.)
"Most distributors would want this publicity," Newman admits, "but they wouldn't want to work with 20 different people on the Patagonia team. They'd want the poster they wanted, and they'd want to craft the message the way they would want to." They also wouldn't be down with the distribution of free DVDs to NGOs working on this cause, something else Patagonia plans to do.
But while Patagonia's presence is all over the campaign, Newman says it's not about selling clothes. "If it helps the brand with consumers, that's a good thing, but Patagonia wants people to take action [around this issue]."