Back to selection
Cannes News, Weekend Round-Up: Controversy Over Kisses and Dominique Strauss-Kahn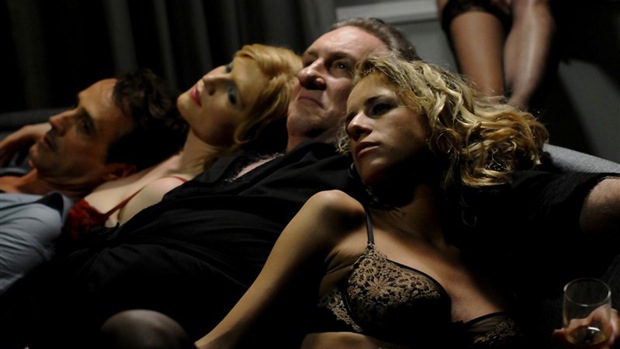 Welcome To New York
While we took the weekend off from keeping tabs on news in and around Cannes, here are some highlights we missed:
• Over at the Montreal Gazette, Liz Ferguson rounds up photos of red carpet activism, ranging from nearly the entire cast of The Expendables 3 holding papers reading "Bring our girls back" (after riding down the streets in two tanks) to Jauja director Lisandro Alonso, star Viggo Mortensen, screenwriter Fabian Casas and other cast members bearing a sign reading "We want the trophy" in Spanish — a message of support for Buenos Aires' Club Atlético San Lorenzo de Almagro, a soccer team. As Ferguson notes, Pope Francis is also a fan.
• At a press conference today, Jia Zhangke discussed plans for his next film, Mountains May Depart, a three-part story that starts in 1990s China and ends in 2025 Australia. As Variety's Patrick Frater reports, Jia also discussed the status of the Chinese release of his last film, the controversial A Touch Of Sin. It still hasn't been released at home, but Jia is heartened that any kind of conversation is still taking place with the government about a possible release: "The fact that we are still talking is progress. Earlier in my career there was no discussion."
• Related: as Clifford Coonan and Patrick Brzeski report in The Hollywood Reporter, while China's invested a lot in this year's festival, the country has gotten little tangible business for its efforts. "There have been a lot of parties, a lot of black ties and a lot of yachts," says an anonymous Hollywood exec. Actress Gong Li is quoted decrying the fact that vast Chinese audiences means that films made in the country don't need to appeal to those outside, thereby lowering standards.
• Iranian actress/jury member Leila Hatami is in hot water at home because of a photo of her kissing festival director Gilles Jacob on the cheek. "Those who attend intentional events should take heed of the credibility and chastity of Iranians, so that a bad image of Iranian women will not be demonstrated to the world," fumed Hossein Noushabadi, Iran's deputy culture minister. Jacob took to Twitter to try to defuse the controversy. "I kissed Mrs. Hatami on the cheek," he wrote. "At that moment, for me she represented all Iranian cinema, then she became herself again. This controversy over a usual custom in the West has therefore no reason to be."
• After the premiere of Abel Ferrara's Dominique Strauss-Kahn inspired drama Welcome To New York, a midnight beach party gave guests a "Dirty Sex Kit" (DSK, as it were), plus water guns filled with fake sperm. Controversy was, predictably, instant: Strauss-Kahn plans to sue, while his ex-wife accused the film of being anti-Semitic. Director Abel Ferrera's response: "I hope not. I was brought up by Jewish women."
• To close on a lighter note: Kornél Mundruczó's White Dog, which features 200 dog extras, also premiered out of competition. Here's a slideshow of some of the film's canine stars (and, less interestingly, its human players) wearing bow ties and getting photographed on the red carpet.