Back to selection
Lauren Wolkstein Talks Stony Brook Southampton and Killer Films' 20/20/20 Filmmaking Intensive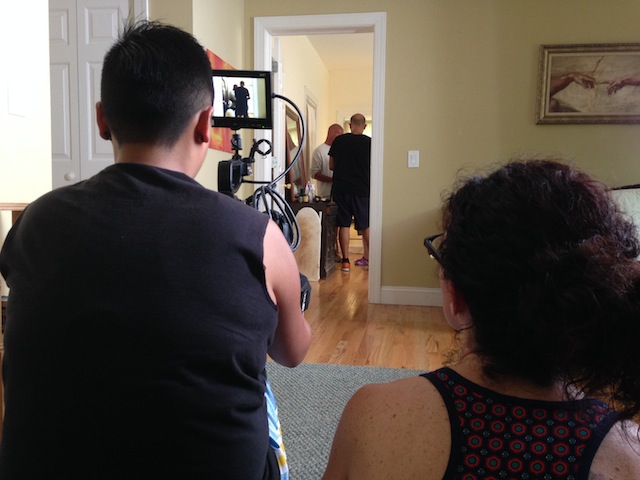 Stony Brook Southampton's 20/20/20 intensive filmmaking course offers participating students an opportunity to learn the practical and technical tricks of the trade from Killer Films' Christine Vachon and Pamela Koffler. Over the course of 20 weeks, the graduate-level program pairs lecture-style master classes from Killer and visiting filmmakers like Todd Haynes with development and production workshops so that each writer-director walks away with her own completed short at the end of a 20-day boot camp. Lauren Wolkstein, one of our 2013 25 New Faces of Film, reprises her role this summer as a 20/20/20 mentor for the workshop phase, and spoke to Filmmaker about the significance of pedagogy in filmmaking. The next workshop begins August 27, and applications close August 15.
Filmmaker: Who is the workshop for? Post grads, newbies, both?
Lauren Wolkstein: The workshop is for any emerging, nascent filmmakers who want an intensive production experience in a three-week span of time after receiving a semester's worth of master classes from Christine Vachon and Killer Films. It's also for anybody from different industries or backgrounds, such as novelists or editors, who want to learn filmmaking from the ground up and direct their own films.
Filmmaker: How did you get involved in it, and what is your exact role?
Wolkstein: My role is to mentor the students through pre-production, production, and post-production in three weeks during the summer working side by side with Christine and two very experienced production specialists, Jennie Allen (a Columbia film colleague of mine) and Kevin Kuo (who was a student of mine in the program last year). I was brought on by Magdalene Brandeis and Killer Films, who run the semester-long program, which preps students for the summer workshop.
Filmmaker: What are your students working on currently? Does troubleshooting frequently arise given that many are new to the trade?
Wolkstein: This week, the students are all crewing up on each other's short films, and then they will each edit their own film next week. They are shooting one short film a day, and they all switch roles on one another's crews. The students are really strong in collaboration and learning from one another about how to do all of the different jobs that it takes to make a film. They are newcomers to film shoots and don't know all the roles yet, but they are eager to learn, so this weakness becomes their strength over this three-week boot camp. By the end of the boot camp, they will know every role on a film shoot very well, which in turn will make them better directors.
Filmmaker: Teaching film is not the same thing as teaching, say, law. You can equip your students with the tools and knowledge they need to succeed, but there's still no guarantee they'll go on to have a career as a filmmaker. How do you best prepare them to navigate the industry?
Wolkstein: This is where Christine's master classes are very effective for the students. She brings in working professionals from the film industry every week who share their experiences with the students. There is no guarantee in life, but if you are passionate enough and want to make films, you will find a way to do it. And you need to learn how to take rejection and failure, because those things happen on the path to success.
Filmmaker: In the higher education of film, it seems that some professors are heralded filmmakers without an academic background in the subject. Do you think it's necessary to go to school for film — or get an MFA — to teach it? Why did you get your MFA?
Wolkstein: I think it's different for everyone. Some filmmakers don't need [school] and others do. I'm a product of Columbia's graduate film program, and it really helped me learn the craft. I think the best film programs are ones that have working professional filmmakers, who also love to teach. That is my ideal career trajectory: to create and tell stories, and survive to tell it and teach to others. I got my MFA so that I could do this.
Filmmaker: You'll be starting as a tenure-track Assistant Professor of Film and Media Arts at Temple in the fall. What will you teach?
Wolkstein: I'm so excited to start teaching there, especially since the Temple faculty needs to keep creating and making films in order to continue teaching. I'm teaching scene analysis and senior projects in the fall. I'm really looking forward to helping students with script development and learning how to visualize their writing through shots.
Applications for the Fall program are being accepted now. To learn more and to apply, visit the website.