Back to selection
Ten Oscar-Worthy 2014 Documentary Favorites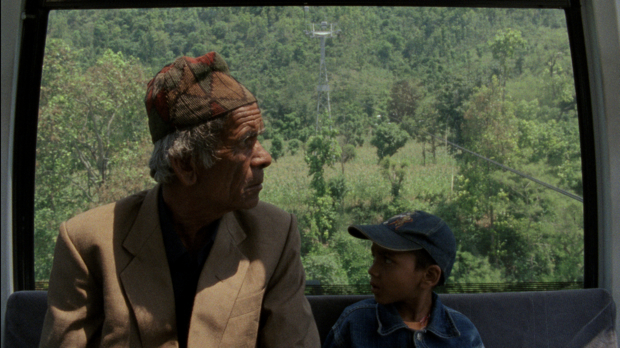 Manakamana
Serving as the director of programming for this year's Hot Springs Documentary Film Festival meant I watched way too many nonfiction films in 2014, some filled with stunning artistry, others with cringe-worthy talking heads. And since the Academy doc committee's shortlist had me both cheering (Last Days in Vietnam! Tales of the Grim Sleeper!) and scratching my head (Citizen Koch? Really?) I thought I'd compile my own wish-it-were-this list for Oscar 2015. So here, in alphabetical order, are my 10 Doc Picks — only two of which overlap with the Oscar documentary shortlist — from the 134 submitted for Oscar consideration.
The Dog. Pacino may be known for his over-the-top portrayals, but nothing in his filmography comes close to the excesses of the real-life character he played in Dog Day Afternoon. Now John Wojtowicz – forever known as the guy who robbed a Brooklyn bank to finance his lover's sex change operation in 1972 – tells (and tells and tells) his side of the story. Against the backdrop of archival news accounts emerges a portrait of a Peter Pan figure so shockingly guileless as to be stranger than any Hollywood fiction.
Evolution of A Criminal. Executive produced by Spike Lee, this one-of-a-kind work traces the director's journey from honors student to convicted felon by the age of 16. A probing look at how one teenager's terrible decision can have lifetime consequences for both perpetrator and victims alike.
The Galapagos Affair: Satan Came to Eden. Set on the paradise island of Floreana in the Galapagos in the 1930s, this tale of small-town feuding and Tinseltown aspirations (turned deadly) features voiceovers by the likes of Cate Blanchett and Diane Kruger. And with its colorful cast of characters – from a Nietzsche-reading hermit doctor to a limelight-loving, faux baroness – it practically screams to be given the Hollywood treatment.
The Green Prince. From the Oscar-winning producers of Searching for Sugar Man and Man on Wire, this real-life spy thriller (which nabbed the Audience Award for World Documentary at Sundance) stars the son of a top Hamas leader – who also happened to be the number one source for Israel's secret security service for over a decade. Through archival footage and back-and-forth interviews with the man codenamed "The Green Prince" and his Shin Bet handler, a riveting, nearly existential, cat and mouse game unfolds onscreen.
Last Days in Vietnam. Rory Kennedy's latest doc proves that there's still a treasure trove to be mined from the Vietnam War. Through historical footage and interviews with those that were there, Kennedy crafts a thrilling, minute-by-minute study of what went on during the 1975 military evacuation of Saigon in the final chaotic days of the war. More importantly, it also serves as a loving tribute to the many heroes on the ground that just said no to White House orders (to remove only U.S. citizens) – who bypassed those in power in order to do the right thing.
Manakamana. This gorgeous doc weds the simplest of premises to risk-taking artistry. A cable car high in the Nepalese mountains carries various passengers to the temple of a Hindu goddess and back. What the (fixed) camera reveals is a sort of art house answer to reality TV – complete with everything from a musical number to bleating goats.
Rich Hill. With stellar cinematography and a poignant soundtrack this heartbreaking, coming-of-age portrait of three teens in Rich Hill, Missouri contains echoes of Terence Malick in its poetic filmmaking – including in the respect shown for small-town life and the struggling inhabitants just trying to keep their heads above water. It's also an ethnographic study of a place where the most humble of dreams are unattainable, a cinematic treatise on the art of survival.
Tales of the Grim Sleeper. Beyond delving into the true crime story of the serial killer who terrorized South Central L.A. for literally decades, veteran documentarian Nick Broomfield crafts a surprisingly nuanced, sociological inquiry into the perfect storm that allowed such a killer to reign. This revelatory indictment of society at large could very well be Broomfield's masterpiece.
Waiting for August. Nabbing best international feature at Hot Docs, this subtle stunner follows a small town Romanian family headed by 15-year-old Georgiana, who acts as fulltime caregiver to her six siblings while their single mother works in Italy to provide for them. Without moralizing or providing easy answers, the film gives us a glimpse into the complicated everyday reality of a remarkable child forced to take on adult responsibilities even while she blossoms into a teenager.
 
Watchers of the Sky. Winning two awards at Sundance, this eye-opening doc itself was inspired by another award winner – Samantha Power's Pulitzer-nabbing A Problem from Hell. The film follows four living, human rights heavyweights – in addition to Power, the U.S. Ambassador to the UN, there's ICC chief prosecutor Luis Moreno Ocampo, UN refugee officer Emmanuel Uwurukundo, and nonagenarian Nuremberg prosecutor Benjamin Ferencz – as they fight to continue the mission begun by the late Raphael Lemkin, a lawyer and Polish Jew who not only invented the word genocide but the very idea of the International Criminal Court.