Back to selection
Five Questions for She Does Podcast's Elaine Sheldon and Sarah Ginsburg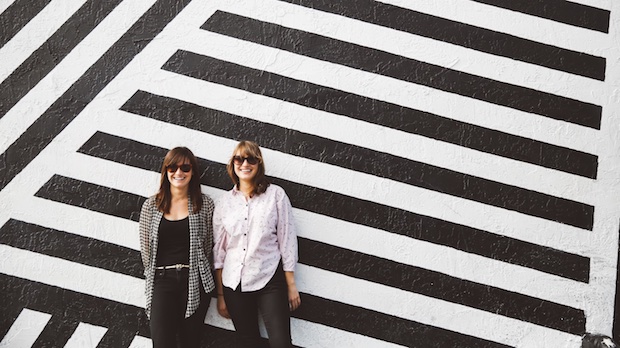 Elaine Sheldon and Sarah Ginsburg. (Photo: Kerrin Sheldon)
Premiering on Wednesday, January 14 is She Does, a podcast focusing on the creative lives of women working in the media created by filmmakers Elaine Sheldon and Sarah Ginsburg. As the podcast's mission statement explains, "Going beyond their current career status, we explore each woman's past to understand how their personality, background and philosophy informs their work." Interestingly, the podcast is not discipline-specific, including not just filmmakers but technologists, designers, journalists, musicians and more. In addition — and impressively, given the purely independent, DIY nature of this series — Sheldon and Ginsburg are bringing an artistic polish to She Does, carefully editing and mixing the half-hour episodes, adding sound design and even hosting a week-after Google Hangout, where listeners can ask guests their own questions.
Filmmaker readers will recognize Sheldon's name — she was a 25 New Face in 2013 for her web series Hollow — as well as Ginsburg's (she was story editor on Hollow and is currently at work on her own feature doc) and many of the guests.) Upcoming episodes include fellow 25 New Face's Lyric Cabral and Katja Blichfeld as well as Tribeca's Ingrid Kopp.
Filmmaker is happy to be a partner with She Does on these podcasts, a credit that mostly means we'll be popping into the Google Hangouts and doing our best to drive you to Sheldon and Ginsburg's great work. Below, we ask the creators five questions and end with a preview embed of the podcast. And, check back on Wednesday for highlights from the first episode with Katja Blichfeld.
Filmmaker: This could have been a print series or a series of video interviews. Why a podcast? What attracts you to the form, and what does the form bring to these people and this subject matter?
Sheldon: I'm attracted to the podcast form because of two reasons: the level of intimacy in voice alone and the portability of audio.
I was craving this show. I emailed some friends and asked if they knew of a show that focuses on sharing stories of creative women — or if I just was just not looking in the right places — and it turns out, the show that I craved wasn't being produced in the podcast world. So we decided to make it ourselves.
There are plenty of video and written series about women's contribution to this field, but we wanted to make something that allows you to escape from that screen or page. We want to encourage people to take a break, go on a walk and just listen. We want people to take the time to learn about these women's stories in a very low-tech and intimate way. We want people to listen as these women think out loud and hear them breathe between words as they speak of something a little more difficult. We wanted to create something for people on-the-go. Not something that requires you to put all things down and concentrate on, but something you can learn from on your commute, on a walk, while cooking or answering emails.
I'm also able to connect with the people I am interviewing a bit more with just a microphone. It's less intimidating than my typical camera setup. It feels more like a conversation than any film interview I have ever done.
Ginsburg: I will always love film and visual storytelling, but more recently I've fallen hard for sound. I live in a neighborhood right outside of Boston and the closest train stations are each about a mile away. So I do a lot of walking, and while I walk I listen to tons and tons of podcasts. There's a warmth that the voices and stories provide, and it's become comforting. They keep me company. There's something different that surfaces when you strip away the picture and are left with just sound. I pay attention in a different way and, based on the different elements provided, start to build my own picture. It's kind of like what happens when you get into a good book. You pick it up, take in the details, become invested and create in your mind this very specific world that the story takes place in. It's bigger and sometimes even better than what any given picture could provide. And so with podcasts and radio, I love getting lost in that world while walking around or cooking or doing whatever I do. Even with interview-only shows, I like to think about the set up of where the guest and host are, what it looks like when they are uncontrollably laughing or when somebody brings up something that causes tension. You can feel that change of tone and picture it and it's just so powerful.
I feel like I'm in my own little secret world, separate from everybody around me. It's crazy to think about but it's almost like you're existing in two worlds at once. When I'm walking around and engaged in a podcast world, I look at people in the actual world in front of me differently. I consider them in a new way based on what I'm hearing — Roman Mars or Ira Glass, for example — in my ears. It's weird, and now I'm just geeking and tripping out on podcast talk.
In film, I've often heard the phrase "make what you want to see," so it's been fun to experiment with that idea in podcast form. There are so many radio stories and podcasts that have opened my mind to think of things in a different way, and that's what we hope to do by helping to tell the stories of the women we feature in this project.
Filmmaker: You're collecting a wide group of women to feature in the podcast. What guides your selection, and what types of viewpoints are you hoping to bring to the this collective project?
Sheldon: From this point forward, I have been choosing guests based their personalities, achievements and personal connections. We're looking to feature women who put their heart and soul into what they do. The women who have been hustling for years to make it where they are. Women who are pushing the boundaries and challenging themselves. Women who love being out of typical comfort zones.
We have a mix of writers, directors, producers, cinematographers, editors, documentarians, journalists, art directors, designers, developers, photographers, strategists, funders and many more. We are interested in drawing parallels between these many fields.
We hope to provide an equal balance of personal storytelling with actionable advice. A listener can glean a lot from learning about our guest's journeys and then walk away with a piece of advice to think about. Additionally, we want to allow our listeners to be part of the experience by chatting with our guests the week after the show airs. Listeners can tweet in their questions to our guests and during a live Google Hangout—held at 3 PM (EST) one week after their episode premieres — we will ask them your questions.
Filmmaker: How have your own experiences as creators informed this project? What are you hoping this podcast gives you personally?
Sheldon: I have been riding the wave of Hollow since we launched in June 2013. As a brief description, Hollow is an interactive documentary about small town America; I was the filmmaker and director of the project. The documentary was a three-year passion project. I put my heart, soul, money and countless hours of time into it — along with my amazing team — and, lucky enough, it has been well received.
I'm fortunate that the project has been nominated for an Emmy and won a Peabody and recognition from World Press Photo and other organizations, but after all this I found myself in that moment where you don't know what your next step should be. After traveling with Hollow to over 60 screenings, I felt a bit paralyzed. Everyone was asking me, "What's next?" But I really didn't know. Yes, I was working on smaller projects, but I wasn't sure how long it would take before I could emotionally invest in a project like I did with Hollow. But in these moments, I was meeting some of the most talented women I have ever met. People who have helped pull me out of that paralyzing fear.
Personally, I'm interested in exploring:
· How do makers choose the stories they work on?
· What responsibility do they feel to their subjects and audience?
· How much of themselves is in their work?
· How do they sustain their life as a creative?
· What do their teams looks like?
· How are they reacting to changes in the industry and new forms of technology?
· And as a newlywed how to balance work and life, especially when collaborating with your partner?
I, like our listeners, am looking for inspiration. I seek to learn from others to help guide my path. I hope that these stories can help get people out of a creative rut, or maybe just open their eyes to a new idea or concept they weren't previously aware of. I also hope to create a strong community of diverse and creative women around the project. Many of which, I'm lucky enough to call my friends.
Ginsburg: I'm finally confident enough in my skills to, without much hesitation, call myself a documentary filmmaker. I love shooting and editing. I like pulling a story out of a bunch of raw footage. It's hard, but it's so much fun, especially when you've been digging and digging and come across a magical little nugget that could have gone overlooked. That's what makes a good story. Those little bits that are so telling of a character or place. It makes them unique and therefore worth watching or listening to. So that's what I feel like I'm bringing to this project, the ability to take these raw interviews and sculpt them into this entertaining, enlightening little piece.
I'm a very curious person and learn from observing how others work. I want to know how those that I admire got to where they are, what stumbling blocks they encountered, when and what their breakthroughs were. It gives me hope to find these things out. Sometimes, seeing the success of others is intimidating and it can be easy to get discouraged about your own position, but we have to keep in mind that nothing comes easy, there's not just ONE way of doing things, and everybody takes strange and different routes before landing somewhere. And so talking with these women and going through their interviews has been cathartic and has made me feel better about where I'm at right now in my own career. There's a tiny little soundbite that will always stick with me in the interview Elaine did with Anna Sale where Anna says in the most wonderful way, "We're all okay, but we're all figuring this out."
It's fascinating to find out what people were like growing up and how their upbringing or childhood interests influenced their current state, even if they are doing something they never expected to be doing. I like to think about where I'll be in 10 years and how what I'm doing now or what I did before will lead me there. It's scary but exciting and I hope we can ignite this idea in our listeners.
Filmmaker: Even as there's a podcast boom, it seems that every creator is coming up with their own workflows. What are yours? What equipment are using to record, edit and distribution the podcast?
Sheldon: We interview all guests in-person, and this was a decision we made early on. We wanted high-quality recordings, which is tricky because we aren't full-time radio producers with sound booths, mixers and studios. Instead we improvise and collect the best possible recordings from hotel rooms, living rooms, offices and closets… yes, I'm serious. For interviews that have been done remotely (and there are a few) each person has recorded a high-quality file on their end. We reach out to the guests via email, schedule a time in a quiet location but I do not send questions. I do not want our guests to give canned answers. I want this to be a conversation where they take long pauses and think about what their gut is telling them to say. I want our audience to hear our guests thinking. This is not a podcast where we ask every single guest the same question. And it's not a show where we ask a question, get a response and then ask another question. We try to let the person wander and think a bit more.
Interviews have ranged from 30 minutes to two hours. I mic myself with a wireless lav mic so I can keep my focus on them. I use an Audio Technica 8035 shotgun mic that I have been using since 2009 on all my films. I pair my two mics with a Tascam 60d, which I am a huge fan of. Because we're filmmakers, we are using Premiere Pro CC to edit, but that's kind of silly and we might make a change soon. We have an awesome sound designer (Kato Arts) who mixes all of our episodes. Our illustrator, Christine Cover, sketches each guest in order of their release; we provide photos of the guests to go off of.
So far, I have interviewed all the guests (with the exception of having Sarah's sweet voice over Skype), and Sarah transcribes and creates notes for potential script ideas. Then we split the work and divide the editing. We do a paper edit at least twice before editing the actual audio files. We look for music inspiration that fits the tone of the interview before editing. We write and record our voice-over, sometimes together, sometimes over Google Hangout.
I'm working from Miami and Sarah is based in Boston. We have made trips to collaborate and hunkered in my "sound booth" aka my closet to record.
We're pretty low key and we're still refining our process. The first three episodes took us nearly two months to get down right. We're feeling out where we should come in, the tone, the music, the sound effects. And we're open to the show changing and growing as our tastes change.
We're using Squarespace to host and distribute to iTunes. Our RSS feed is through FeedPress. We're also on Stitcher and Sound Cloud.
Ginsburg: I think Elaine covered everything here but I'd like to add my thoughts on working with a partner. This part of it has been so important and so much fun. I love going through the interview and jotting down notes on the parts that hit me right off the bat. Because Elaine is the one doing most of these interviews on her own, she might overlook some of the tiny details that I find very sweet or funny or telling. When it comes time to edit and refine, I like to go back to these initial notes and see how we can work them in, because those were proven emotionally effective from the beginning. So it's good to have another set of ears to come at things from a different perspective.
That's also important when it comes time to take things away. It's easy to get attached to your own work, things you've edited and created, but a lot of times you have to cut those pieces loose and let them fall to the floor or else each episode would be two hours long and nobody would listen.
I'm also editing a feature documentary right now and so many of my film editing principles can be applied to editing an episode of She Does. So while doing both, I've been thinking a lot about the idea of indulgence. I sometimes ask myself, do we actually need this here? Am I being over indulgent and cramming something in that just doesn't fit? It becomes a bit of a selfish act. I clutch onto an idea so hard, when really, the piece would be a lot stronger without it. The best parts of the story become stronger when they aren't lost in the middle of excess crap. So, Elaine and I help each other through those times and it always turns out better.
I really love the process of editing with another editor. Elaine and I first realized we enjoyed working together when I was a story editor on her project, Hollow. We each have different strengths and see things in different ways and when we come together and discuss and modify, it results in a well-rounded story.
Filmmaker: Finally, what podcasts do you yourselves listen to and love? Which ones have you been inspired by and why?
Sheldon: I love 99% Invisible, Love & Radio, Longform, Radio Diaries, Reply All, Serial, Here Be Monsters, Radiolab, This American Life and Death, Sex and Money. I would say our show is most inspired by Death, Sex and Money, and actually Anna (Sale, the host) is a friend of mine and a guest on She Does. She has the best pacing and narrative flow. She doesn't overwhelm you with facts. She doesn't lead you to random places. Everything feels very intentional and super sincere. She is a great interviewer and you can tell she really cares about what her guests are saying.
Ginsburg: It can probably go without being said that This American Life is an inspiration to a lot of people in the radio and podcasting world. Ira and his team are pioneers and continue to push new ideas of what you can do with the medium. That show has taught me that you can make up your own rules and just go from there.
There are so many genres in the podcasting world and I love them all. What I choose to listen to depends on what mood I'm in. Sometimes I just want to hear Marc Maron or Pete Holmes dig deep into someone's life with a long, uncut interview. Other times, I crave something more constructed with music and soundbites, like 99% Invisible or Love + Radio. But I'd say Death, Sex, and Money has been one of our biggest influences in making She Does. In this show, Anna Sale gets into personal matter with both celebrities and common folk, but what she pulls out of these interviews is just incredible. She is willing to step into territory that may be a little uncomfortable but in doing so, is gentle and sensitive to her guests that have shared these tender moments with her. It's rare to hear interviews like these, and I think that's why I look forward to each episode no matter who or what it features. Anna is actually our third guest, so yeah, we're pretty big fans of her and her work.
I'm also an avid listener of UnFictional, Strangers, Serial, StartUp, The Talkhouse, Reply All, Savage Love, Fresh Air, Filmwax, By The Way with Jeff Garlin, Pizza Party, Longform, Radiolab, and The Moth.