Back to selection
"I Believe the Most Important Changes Will Come from Women Lifting Up Other Women": Sarah Hack on Business and Legal Affairs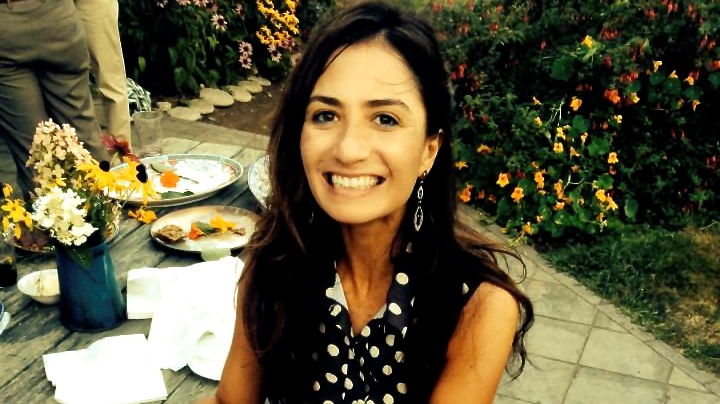 I'm with a small group of friends for our inaugural weekly movie night. Thinking that a club name will beget commitment, we arbitrarily choose "Zeitgeist." It's the first word we see, frozen on the makeshift projector screen. Zeitgeist Films is the distribution company for our opening film, the first in Laura Poitras' post-9/11 trilogy and a 2007 Academy Award nominee for Best Documentary, My Country, My Country. For her film Citizenfour, Poitras is one of two female directors nominated for Best Documentary in the 2015 Oscar race. None have been nominated this year for Achievement in Directing. None have been nominated for Best Foreign Language Film. None have been nominated for Best Animated Feature Film. No women have been nominated for Original Screenplay, Adapted Screenplay, Original Score, Achievement in Cinematography — you get it.
Many write off the Oscars as a Hollywood circus, political campaign, or as Joaquin Phoenix says, "Total utter bullshit." The celebration is just as often ridiculed as it is glorified. While some culture snobs genuinely trivialize Oscar night, most of us are suckers for it, openly or secretly. The hype is not surprising. We Americans are not culturally allergic to spectacle.
A spectacle, an old white boy's club — be that as it may — the Oscars represent the film industry's attempt to celebrate peers. And the power of celebrating peers, especially in such a public way, makes the gender disparity all the more frustrating. Because if women aren't being celebrated on Oscar night, then when? That said, it isn't necessarily the unwillingness of the Academy to celebrate women. The deeper issue in American cinema is the general lack of female filmmakers. But from my standpoint, as absence defines the presence of diverse voices, the film industry exacerbates the problem by shining the brightest celebratory spotlight on gossip, like Amal Alamuddin's marriage to George Clooney.
In thinking back on Zeitgeist, I love that it's the name of my new movie club, and not just because it's a sophisticated German word, which it is, but because it describes the amorphous cultural "spirit of the time." Poitras' work as a filmmaker and journalist offers haunting insight into today's social and political Zeitgeist, so it's fitting that it's also the name of the company that has distributed several of her films. As a relatively closeted Oscar enthusiast myself, I know who I will be celebrating on February 22nd. As we consider the Zeitgeist of today's film industry, the shift to celebrate the work of more women like Poitras (or Amal, for her accomplishments outside of being Mrs. Clooney) doesn't start or end with the Oscars.
Sarah Hack describes how a shift starts small. She recalls having received a flower delivery from her best friend. She had just graduated from Cornell Law School, about to start work as in-house legal counsel for Magnolia Pictures. She tells me, "Let's celebrate when someone graduates or gets a promotion just as much as we celebrate when someone gets engaged. Let's celebrate our girlfriends for the things that are about having more agency."
Today, Hack is Magnolia's Director of Business and Legal Affairs. In my first moments meeting Hack, we talk about, well, hacking. She's in the midst of dealing with a company cyber attack, ruminating over the familiar, "What's private, what's public? Who are we as corporations? What's appropriate for journalists to report?" I wonder how Laura Poitras would respond to this last one.
A New York native, Hack began her career in production and has spent the majority of her professional life with the group of media companies co-owned by Mark Cuban and Todd Wagner. She worked in Japan for half a year, and then transitioned to international and broadcast sales at Magnolia Pictures. After earning her law degree from Cornell University, she returned to Magnolia. Hack is a teacher and volunteer with the Ghetto Film School and a mentor with Dogfish Accelerator. She is a graduate of Williams College.
What did you study at Williams?
I ended up majoring in Comparative Literature and Studio Art. In the studio, I made a lot of bad paintings before I got into video art and film production.
Why did you decide to go into film?
The industry has plenty of shortcomings — systemic sexism, racism, and also the superficialities. But it's one of our greatest exports to the world. The Hollywood machine, independent cinema and all the new media content…. These are arenas for the massively powerful intersections of creativity and entrepreneurialism. It's an industry that can change the way we think about everything.
You are currently the Director of Business and Legal Affairs at Magnolia Pictures. What's the difference between practicing at a legal firm and working in-house?
I'm not just practicing entertainment law, which is what an entertainment lawyer does at a firm. My job touches on tons of legal issues, such as this week's cyber crime, and fraud. Also working in-house is unique because it's proactive, rather than reactive. In-house lawyers help shape the company on an operational level. Plus I'm part of a deal's life cycles, witness to how the contractual language plays out in real time.
How are you involved with negotiating deals?
I spend a lot of time with my colleagues advising on the legal implications of a deal point or helping structure offers and counter-offers. Once a deal closes, and we are just negotiating a written contract, my work is typically directly with the attorney representing the other side, for example the attorney for filmmakers or investors, or a new vendor or licensee.
Tell me more about the negotiation process.
When you are negotiating on behalf of an organization, you have to really know what the organization cares about to know when to fight. I don't just consider if something is legally contentious from a formal perspective, I consider the big picture goals and risks specific to Magnolia Pictures.
Is there a fast turnaround between closing a deal and getting the contract signed?
You should ask my colleagues…They get frustrated if it seems like I'm stalling something. Their main complaint, which I think usually comes with the territory of being an in-house lawyer, is that legal is not quite as fast or simple as it should be. And I'm fast! But the point of a contract is to allocate future risk, so it takes time to assess everything, to imagine what may happen and to protect accordingly.
Do you have any negotiation tactics?
There are so many fascinating theories on negotiation. One of my tactics has to do with simply being in touch with and very responsive to the lawyer on the other side. And I think because I'm younger, lawyers negotiating against me are less intimated to reach out to me, so I end up having a large number of contact points with the other side, which has its advantages. But I won't give away all my tactics!
Are you typically the youngest in the room?
I have not sat on the other side of a table from a lawyer my age yet. It was intimidating at first to be the youngest, but now it's fun. I used to think of it as a detriment, but I've changed my perception. I can learn and achieve a lot in negotiations by embracing my status as the novice. By asking for explanations, I can understand the motivations of the other side, the "interests behind the positions," as it's explained in the famous negotiation guidebook, Getting to Yes.
What advice do you have for those who are younger than you?
Especially for junior people in an organization, there's an orientation up. Understandably, those at the bottom of the totem pole are eager to please the boss or the studio head or the director. A lot of young people therefore neglect co-workers at their level or below. But if you treat everyone with the same respect you show your superiors, you'll be better off. Don't just network up. Network sideways and down. I love this idea.
What led you to a legal career?
While working on international deals in sales, I got to know Magnolia's lawyers and learned about the complexity of production legal, and rights acquired versus ones licensed out. They encouraged me to go to law school. Once I was in law school at Cornell, though, the career counselors told me it was impossible to go directly into an in-house job, because it is such a coveted job among entertainment lawyers. But I believed in myself and strongly did not want to take the circuitous route (big firm to boutique firm to maybe someday the in-house job). And I was right. Magnolia offered me a job during my final semester of law school.
Do you attribute this to lucky timing?
Nobody was standing around waiting for me to graduate or handing me a job on a platter. It was a lot of hustling on top of years of hard work. I had made a good impression on people who mattered. And they trusted me and wanted to work with me again.
What makes you trustworthy?
I tell it as it is. It's surprising to me that this isn't emphasized more. I don't beat around the bush or sugarcoat things. If I'm running late for work, I don't make up excuses. I say I'm running late. Also, I'm not a babbler. Referring back to negotiation skills, stonewalling and filibustering or simply deflecting are some lawyers' strategies — they're just not mine.
Do you have any work philosophies?
One of my work philosophies is somewhat controversial in our industry — it's work for pay! I never took internships in anything. For me getting paid is a signal that my contribution is valued, that an employer is investing in me. I worked in a bakery until I got my first real production gig. Especially as a woman, it's always been important for me to earn money.
What do you think will most level the playing field, not just in film but all industries?
Men are going to be hugely important in the changes that happen in our lifetime. Entertainment, journalism, politics, the people with the money, it is all still so predominantly male. But I believe the most important changes will come from women lifting up other women. It starts on a micro level. How we communicate with our friends, the messaging we put out on social media, the kind of information we trade. How we show up for our female peers and friends is critical.
There are a lot of messaging and voices out there. It's hard to cut through it all and find one's own.
I probably wouldn't have wanted to do this interview a year ago. I would have thought, "I don't yet have anything to say," or "My boss should be the one to speak." But now, I speak on panels and am excited to be interviewed. It's not about promoting Sarah Hack. It's about women getting to say and do more of what they want.
Do you get to say and do what you want?
I recently re-read my law school application, and everything I wrote that I wanted from the degree, I now have. I am infinitely grateful for the support and opportunities certain people in my life provided. It's wild — today, my career is what I dreamed it to be so many years back. I love what I do. And I have agency doing it.