Back to selection
From River of Grass to Living Los Sures: George Schmalz on Kickstarter's New Curated Restoration Initiative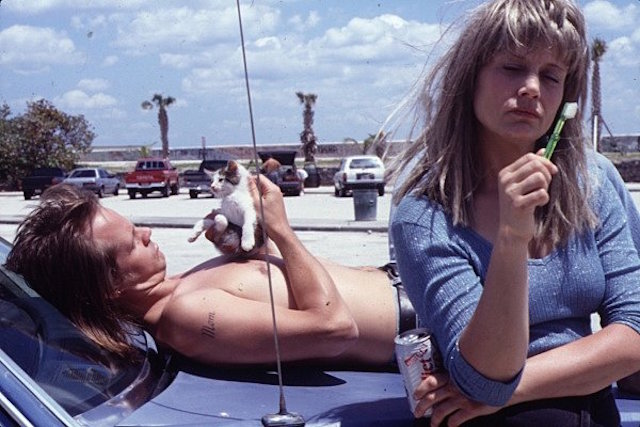 River of Grass
As part of a new restoration initiative, Kickstarter is partnering with various distributors, filmmakers and organizations to raise funds to preserve and proliferate significant and niche films on the verge of obsolescence. The first five projects to campaign through the site are River of Grass, Kelly Reichardt's wonderful, underseen debut; a Kino Lorber selection of "Pioneers of African Cinema," presented by DJ Spooky; the German exploitation film Bloody Friday; Living Los Sures, UnionDocs' update on the 1984 documentary Los Sures; and the VHS '90s horror flick, Jungle Trap.
There are distribution plans in place for all of the films, should the necessary funds come through: Oscilloscope is planning a VOD, DVD and Blu-Ray release, while also building a new DCP into their budget; Jungle Trap will be released by Bleeding Skull Video on DVD and will be available for download through VHX; "Pioneers of African Cinema" will be released in a DVD and Blu-Ray box set come February 2016; and Living Los Sures has teed up several local screenings at BRIC, Brooklyn Public Library, and NYU, while also planning a festival, theatrical and digital run. Filmmaker spoke to Kickstarter's George Schmalz about the new initiative, with Bleeding Skull's Zack Carlson and UnionDocs' Christopher Allen weighing in on their particular plans.
Filmmaker: Living Los Sures played late last year at Film Society of Lincoln Center, but the other titles have been relatively quiet on the rep circuit. How did you come together with the various campaign creators to support these five projects?
George Schmalz: The impetus for this initiative stemmed from a somewhat selfish place on my end. I've long lamented the difficulty of finding certain films in a high quality format — either online or through physical media. Last fall, around the time I'd gotten kicked off Cinemageddon for the second time (for not having a good share ratio) I had an epiphany — film restoration could be one of the easiest, straightforward usages of the Kickstarter model.
From there the Kickstarter film team started reaching out leaders in the film community (from top distributors working in the restoration space to non-profits like Artists Public Domain) to gauge interest and ask if there were any passion projects that they had always wanted to restore or release, but maybe were hesitant to take a risk on.
We see Kickstarter as a great way to save creative work, works that have not typically been classed within the overall "film canon" from being lost to time and to also be made easily available to the public, and those fans that care about them most.
This initial wave of film projects is part of a larger scale Archives initiative on Kickstarter. Along with the five film projects we have a handful of similarly focused publication, comics, music and photography projects currently live on site, with more set to launch in the coming months, and further into the future. If you're curious to know more, please take a look at www.kickstarter.com/pages/archive-projects.
Our hope is that by bringing these first projects to the site, the film community at large (and everyone engaged in the restoration and preservation movement across all categories) will view Kickstarter as a perfect model for these sorts of projects going forward.
Filmmaker: Can you speak a little bit about your collaborations with the distributors? Did you work together on the campaigns or were you pretty much hands off once the projects were curated?
Schmalz: I worked hand in hand with the folks running each of the respective film projects before they launched through giving feedback and advice, detailed notes, sharing prior Kickstarter campaign experiences, etc. Now that they're live we are periodically checking in with one another. And I'm definitely as available as they need me to be. This is my job, after all. And I love it.
Filmmaker: Most of the campaigns are seeking funds in the $30,000 range, but Jungle Trap is only $3,000. Is this simply because the transfer from VHS to DCP is less costly?
Zack Carlson: We're not transferring from or to the VHS format. The master will be coming off of professional 1″ master tapes, and transferred to an HD file on a hard drive, which we'll use to create the VOD, DVD and VHS versions. So the source material will be as "respectable" as possible considering the limited technology used to shoot the movie itself.
The $3000 goal was specifically to cover paying a professional editor to do a cut and sound mix for the movie. The remainder of the money will go to the recording of a new synth score, supervised and approved by the film's director.
Filmmaker: Restoration is about maintaining the film as the artist intended, but with Living Los Sures, the original document has been updated to a more accessible, relevant and interactive format for today's viewer. Do you think this is a special circumstance or a prevalent dilemma that restorers face in keeping 'old' work 'current'?
Schmalz: I personally feel the decision by UnionDocs to approach the original Los Sures as a jumping off point for a larger cultural and historical document that covers more than 30 years of intricate neighborhood history is an exciting usage of the documentary medium and new media to tell a generations long story.
They've given me hope for more works of this nature to come along in the future. And truthfully I now want to use this as a model to create the equivalent deeply interactive version of my hometown's history.
Christopher Allen: Diego Echeverría [director of Los Sures] was involved in the entire process for the 16mm preservation print made by the NYPL and also for our 4K digital scan and color correction and all that goes into the Los Sures 30th Anniversary distribution. A portion of this campaign is to pay for finishing that work.
For documentary especially, there is a huge opportunity to use older works as starting points for new projects and investigations. I don't think every restoration demands this, but they all do require some angle that makes the film relevant today. Without that, it's a preservation project for the vault. We've found a couple exciting ways to create new relevance that work well. Actually, I think that our "Shot by Shot" format is the best method invented to date for social annotation of moving images.
Filmmaker: Is Kickstarter planning to continue with outreach or support once the projects are funded?
Schmalz: The Kickstarter film team is focusing on areas of the film world that we think are vital and under-served. We feel Kickstarter is a perfect medium for these types of projects.
We hope this first wave of projects is the beginning of a larger scale movement towards the restoration and preservation of classic and "lost" works across all mediums featured on Kickstarter.
We deeply care about everything we're working on and will continue to champion these and future restoration and preservation projects in our personal and professional lives as they come into the world.
Filmmaker: As it stands now, do you think crowdfunding is the future of restoration? Is there simply not enough institutional fiscal support to keep the works that are in need alive?
Schmalz: There is an enormous catalog of material out there in need of saving. Crowdfunding and Kickstarter can be used to supplement the efforts of institutions such as MoMA, EAI, UCLA, USC, IndieCollect, AGFA, Anthology Film Archives, Artists Public Domain, George Eastman House, the Library of Congress, etc.