Back to selection
Directors and Producers Tyler Measom and Justin Weinstein on The Amazing Randi Doc An Honest Liar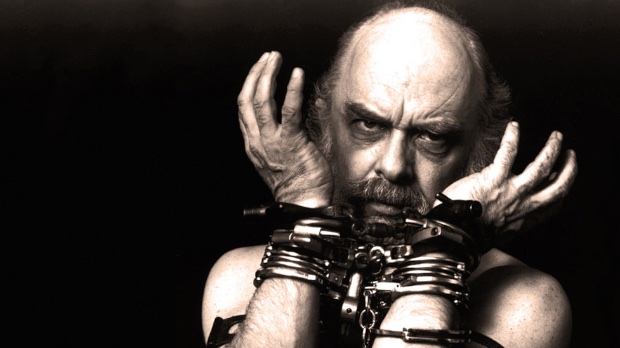 An Honest Liar
I've been a fan of Tyler Measom's work ever since I wandered into a screening of his and Jennilyn Merten's nail-biting portrait of teen exiles from the FLDS Church, Sons of Perdition, at Tribeca five years back. (The doc ultimately went on to be picked up by the Oprah Winfrey Network for broadcast the following year.) Now Measom has teamed up with producer Justin Weinstein (a scientist turned filmmaker and both executive producer of Ryan Murdoch's Bronx Obama and writer/editor of Constance Marks's Being Elmo: A Puppeteer's Journey) to craft another festival success story. An Honest Liar is an up close and personal look at legendary showman James "The Amazing" Randi, who for over half a century has used his unparalleled knowledge as a professional magician and escape artist to expose professional hucksters the world over. (Most notably the spoon-bending Uri Geller, whose spectacular undoing occurred in front of millions of viewers – not to mention host and amateur magician Johnny Carson – on The Tonight Show.)
Filmmaker spoke with Measom about going the indie band route (i.e., using festivals as a means to connect with fans and sell related merchandise), gaining the trust of a renowned skeptic, and also his very personal reasons for pursuing this remarkable subject in the first place. An Honest Liar hits theaters in NYC and LA on March 6th with a national rollout to follow.
Filmmaker: So the film's journey has been a real grassroots labor of love. Can you talk a bit about how you've approached your Kickstarter campaign, sales and merchandise as well as the upcoming theatrical release (including why you chose to go with Abramorama for distribution)?
Measom and Weinstein: Being an indie filmmaker in today's world, you can't just pour your heart into the creative work. You have to pour it into every element of getting the film made and seen – from design and merchandising, to sales and financing, to distribution.
We knew the importance of building an audience and making them a part of the process of filmmaking from day one. Early in production we posted a trailer on our website that quickly went viral, getting tens of thousands of views and generating tens of thousands of dollars in donations as well as a huge mailing list of fans. We did our best to nurture and grow this base of followers, so when we launched our Kickstarter campaign (after a great deal of prep and planning) there was already a large fan base waiting to support the movie.
As filmmakers with a strong aesthetic and design sense, we did most of the actual design work ourselves, including on our website, Kickstarter page, media, the merchandise — pretty much everything. We also created unique merchandise for the film, something filmmakers don't normally do for a documentary. We designed and created (with the help of talented artists) a deck of custom playing cards as well as some cool etched-wood coasters and other items. These were great rewards for our Kickstarter campaign and we continue to sell these items – on our website and at festivals and screenings – which really helps in tight times. We have a "store" on our website and have continued to accept donations, and presell downloads and DVDs, of which we've sold thousands – months before the release. It's a lot of work, but there are a lot of bills to pay and we're really grateful to get the help this provides.
We also knew – while we were still in production on the film – that we wanted to presell the film ourselves and not rely on a sales agent. So, based upon relationships we had from our previous films and with the help of markets such as IFP, Sheffield MeetMarket, MipDoc, and the HotDocs Forum, we secured deals from entities such as BBC Storyville, SBS Australia and others.
We knew that when the film was completed, we wanted to continue to "live above the store," so after premiering at Tribeca we considered theatrical distributors with a traditional model, but ultimately felt our film would just get put in a standard sized box and delivered by a more generic pipeline of distribution. Instead, we elected to work with Richard Abramowitz (Abramorama). Richard partners with the filmmaker in the process. He understands that nobody knows the film and audience like the filmmaker, and it's ultimately best to collaborate with the filmmakers to tailor the process of distribution for the unique needs of each film. We knew that this would require more work for us, but we are confident that this will ensure more revenue in the end for us as filmmakers, and more control over where the film would end up.
Filmmaker: What compelled you to approach Randi about making the film in the first place?
Weinstein: I remember seeing Randi on TV when I was a kid on Johnny Carson (The Tonight Show), Happy Days, Wonderama — all over. I loved how he was an entertainer, but used his talent to educate people about critical thinking, almost in a subversive way at times. As a scientist it became clear to me that a vast portion of the population doesn't understand fundamental differences between facts and evidence on the one hand and faith and belief on the other. I believe that most of the biggest problems we face today — on social, cultural, and political levels — can be traced to this. So when I met Tyler at the AFI Docs festival in 2010, and he mentioned Randi as a documentary subject, a light bulb went off. Given Tyler's own personal history it was a perfect match for a partnership.
Measom: I'm genuinely convinced that when you set forth on a documentary, you better damn well love it and it should be a part of what you believe in, because it is going to take much of your time, effort and passion. I had previously made Sons of Perdition, which tells the story of kids being kicked out of their polygamist community. But that was very much my story writ large, having been raised in — and consequently left — the Mormon Church. I felt like I had lived most of my life being deceived, and so when I found out about James Randi, a man that lived his life trying to expose deception, I knew it was a story I had to tell. After reaching out to him, and after much vetting on their part, they decided to let us make the film.
Filmmaker: As a documentarian was there a "trick" to ultimately gaining Randi's trust, including throughout the time he himself faced a disturbing deceit? This is a professional skeptic after all.
Measom: There was certainly a bit of wariness at first. JREF (the James Randi Educational Foundation) was approached by filmmakers in the pas, and are very protective of Randi. Luckily, when Randi watched our previous films and got to know us a bit, he felt we were the ones to do it.
There's no "trick" to gaining trust. It can happen quickly or be a process over time. We made clear that we were not out to make a puff-piece biography and that if some skeletons in his closet turn up he has to be open to dealing with them. (Little did we know what would actually end up unfolding before us!) He's very astute and understood our approach as documentarians and our ultimate focus on truth and deception – and that he had to trust us to portray things honestly. To his great credit, he insisted on it, saying it must be done "warts and all."
Filmmaker: I have to say, the highlight of hosting a Q&A with you and your subjects back in October was watching Randi, wrists rope-tied tightly behind his back by audience members, smoothly slip out of his binds. I mean, I was standing right behind this sharp octogenarian and I still didn't see him do it. Randi deftly directs your attention to where he wants it, as every great magician does. Were you ever worried that Randi might only allow you to see what he wanted you to see?
Measom and Weinstein: Randi's whole life has been as a performer, and whenever there's a camera or an audience he's "on." He's used to being the center of attention, and as a magician he knows how to direct — or misdirect — that attention. On the one hand that makes him a great subject because he's such a fabulous wit and entertainer, but on the other hand it was rare for him to let down his guard. We did have to confront his desire to focus our attention where he wanted, but when you spend enough time with someone, they're bound to let down their guard at some point.
Filmmaker: Randi's led — and still leads — a one-of-a-kind life, to say the least. I'm shocked there hasn't been an Amazing Randi biopic. Did it ever occur to you to go this route instead?
Measom and Weinstein: Yes, it did, but docs are so wonderful because the truth is often incredible enough on its own. Watching at the lab tapes from Project Alpha, or the behind-the-scenes footage from his exposure of Peter Popoff, hearing people tell these stories of what happened, you think, "If this were a Hollywood film, it would be too crazy to believe!" It's truly incredible to see the actual events unfold before your eyes. Also, Randi has done so many outrageous things in his life that a simple feature (either narrative or doc) can't cover it all.
Luckily, a great A-list Hollywood director came to see our film at a festival we were attending and saw the narrative potential in the story. We've now been working with him to bring about a fiction film based on one of the episodes in our film. We don't mean to be secretive, but there will be an announcement about it soon!