Back to selection
"The Odds Were in Our Favor to Fail": Krisha at the BFI London Film Festival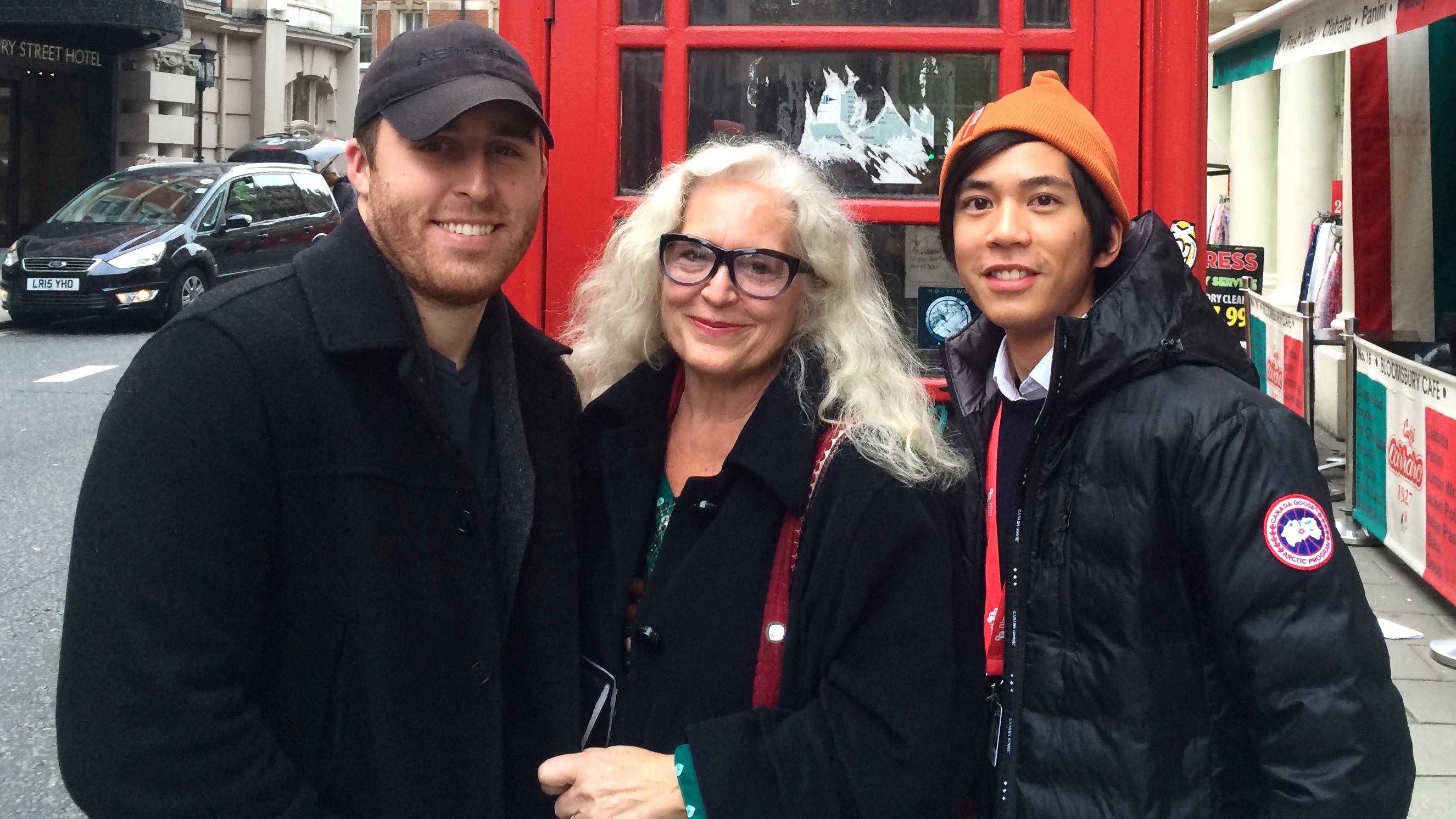 Trey Edward Shults, Krisha Fairchild and Justin Chan
Krisha Fairchild is a 64-year-old actress who lives in Mexico and has four dogs. She's named after a young Polish girl who saved her father's life during the Invasion of Normandy in 1944. With an older sister named Vikki and a younger one called Robyn, Fairchild grew up in Cincinnati, Ohio. Today, the three sisters take turns visiting their 91-year-old mother — who suffers from cognitive brain damage as a result of her late onset closet alcoholism — in an assisted living facility in Texas.
Fairchild's mother is remorseful about the addiction, and like her own alcoholic father, is charming and loving in spite of it. It's this hereditary charisma that's also striking about Fairchild, I notice when we first meet. But it's her recent film performance as an alcoholic that fully conveys the behavior patterns and personality traits that have been trailing her family for generations. The breakout performance to which I'm referring is one of the most memorable of the year, one that has earned Fairchild a Best Actress award at the 2015 Nashville Film Festival. Her gut-wrenching portrayal of an addict is so convincing that some audiences are fooled into questioning Fairchild's real-life sobriety, though there's a reasonable explanation for the confusion.
Krisha Fairchild plays a character named "Krisha" in Trey Edward Shults' SXSW Grand Jury Prize and Audience Award-winning feature-film debut, also called Krisha. Shults is the 27-year-old son of Fairchild's youngest sister, Robyn, who, along with 90% of the actors in the film, play characters based on their real-life personas with varying degrees of reality and/or fiction. Some characters represent family members who are otherwise not in the film, while others play imaginary iterations of themselves. Shults has somehow distorted his family dynamics just enough to distill the drama without compromising the truth. So sorting the backstory and context behind the making of Krisha with Fairchild, her first-time feature filmmaker/editor/actor nephew, and his childhood best friend, now producer, Justin Chan, feels like a goldmine/minefield. I'm unsure how to broach the details of their personal lives and what the stories may reveal about the film (a lot, as it turns out). Luckily, Fairchild, Shults, and Chan aren't reluctant discussing the off-set relationships that contributed to the making of one of the year's breakout cinema achievements.
Over carrot cake and tea at the 59th BFI London Film Festival, Fairchild starts at the beginning. Shults and Chan chime in intermittently while Fairchild describes her early days as a theater actress at the Goodman Theatre in Chicago. She describes being disenchanted by her move to L.A.; "All my training as a theater student led me to think that if they needed a five-foot-ten redhead with one blue eye and a peg-leg, I could pull it off," Fairchild laughs. "In L.A., they just wait until that person walks in the door. No one seemed to value what I valued about the craft so I lost respect for it, not necessarily as a craftsman, but for the process of the craft, in that place." Despite the typecasting and superficiality, she explains that being "big and unwilling to be on a perpetual diet to fit some image —" Shults interrupts loudly, "big and beautiful!"
"Thank you Trey," Fairchild beams. "I've always been big and beautiful."
Throughout our 90 minutes together, Shultz and Fairchild interrupt each other often, pausing only to give Chan, who is not the interrupter type, dedicated speaking room. Shultz and Fairchild, though, are comfortable talking over and finishing each other's sentences, a synchronicity also mastered on set. "He learned how to dial me down," Fairchild explains. "He would tell me exactly how far, an exact percentage, I needed to turn down my acting when it was getting too big. It totally worked."
Shults has used Fairchild and other family members as actors in all his shorts. "We were who he was practicing on," Fairchild explains. "By the time we shot Krisha, Trey nailed it. Now that he can do us, everyone else will be easy. He's going to be completely honest with whoever he's working with, regardless of how many stars are next to the actors' names, and they are going to love that."
Fairchild isn't shy about anything, particularly when it comes to complimenting her nephew, and Shults is neither embarrassed nor flattered when she mentions his inevitable success as a filmmaker (which she does often). He seems relatively unaffected by any of the attention from Aunt Krisha, or from eager fans and smug industry types. He's most interested in an undiluted love for moviemaking and the earnest satisfaction of having made a good one.
Shultz was studying business management at Texas State when he left as a freshman, after he "got the balls to drop out and just do it myself. It's hard to do that though," he admits, "when everyone around you says you can't."
Shults justified his decision to leave school with an argument about how Paul Thomas Anderson dropped out of NYU after getting caught plagiarizing a David Mamet play. "My mom would just tell me that I wasn't Paul Thomas Anderson," he laughs. "They wanted me to be realistic, to go to business school and get a real job, and maybe do the film thing later in life. I was always fighting against that. I knew I had to give film 100% or else I'd be 35 and thinking why I hadn't yet done anything."
I think of self-proclaimed TV junkie David Foster Wallace when Schultz describes binge-watching movies on his parents' couch for his self-taught version of film school. The number of films per day fluctuated, but "any movie worth it," he explains, "I had to watch three or four times to really feel like I'd seen it." Schultz describes the transition from a gym routine as a high school wrestler to a movie routine as a determined artist. Again, I think of Wallace, who was a dedicated high school tennis champion before writing consumed his life. I was reminded of Wallace even while watching Krisha because of how the relationships between the characters and their dogs mostly reveals something devastating about relationships between the characters and other humans. In the film, her sisters collect an army of dogs and Krisha is attached to her one. "It's just much easier having dogs," said Wallace. "You don't get laid, but you also don't get the feeling you're hurting their feelings all the time."
During our conversation, Fairchild describes hurting people as a form of yo-yo love, a sensation she's funneled from real-life experience into her character. Like how a yo-yo balances on a thin string as it swings and forth, an addict's relationship with the family swings like a similarly precarious pendulum. Is it uncomfortable to capture the essence of familial yo-yo love in a movie based on that very yo-yo love in the family? "I think there's a different kind of authenticity that comes through because they are real sisters," Shults says regarding the scenes between Krisha and Robyn. Their older sister, Vikki, lost her daughter to addiction, which Fairchild says helped to inspire the story and both performances. Shults refers to the family's comfort grappling with the delicate subject matter with a simple, "mostly, it was trust."
Shults has developed such a sense of trust working with Fairchild and his mother that he's already planning to cast them in a film after the next one. "We all agree though that for Trey's second movie, he should work with other actors," admits Fairchild; "I don't want my nephew to give me my next role. I want to earn it."
Even though Fairchild has been a working actress professionally since the 1970s, "there have been huge gaps in my work in front of the camera, for reasons mostly having to do with aging and my appearance," she explains; "When my hair started going grey in my forties, a casting director told me I had to dye it because women in their forties don't have silver hair. But, well obviously, they do."
"I don't know the last movie I saw where a woman over forty was the star" muses Shults.
"Philomena, maybe" Fairchild offers.
It's improbable that a woman over sixty who isn't Judi Dench is starring in a film acquired at Cannes by the in-vogue distributors at A24. It's improbable that Justin Chan, who planned to go into medicine, finds himself producing movies for someone who's been his best friend since they were seven years old. More improbable still is that a low-budget passion project has achieved so much momentum during the festival circuit this year, picking up UK distribution from another snazzy distributor, StudioCanal.
"The odds were in our favor to fail," Shults says; "We've been incredibly blessed because the odds of success are ridiculous." After they turned the first failed attempt at the film into a successful short, Chan was convinced to try again for the feature. "Knowing what we know now, I probably wouldn't have rushed it so much," Chan considers; "But at the time, we had so much confidence and optimism after the short that we wanted to jump immediately into the feature. I'd probably take more time, if I could go back, at least with the logistical stuff. Then again, being naïve probably helped us."
Shults and Fairchild nod in agreement. I say something cliché about risk and failure and Shults just giggles. "I'm obviously delusional enough that after wasting $14,000 on the short, I'm still here, borrowing money from the family," he smirks. "I just won't stop." Shults' next film is being produced by A24, who signed their first two-picture deal on the confidence in Shults' future. "I hope my next movie isn't a failure," Shults says when I ask about the possibility; "But I don't even care how it's received," he says. "I just care about pulling off the movie I see in my head."