Back to selection
The 5 Minor Epiphanies of the 2015 IDFA Forum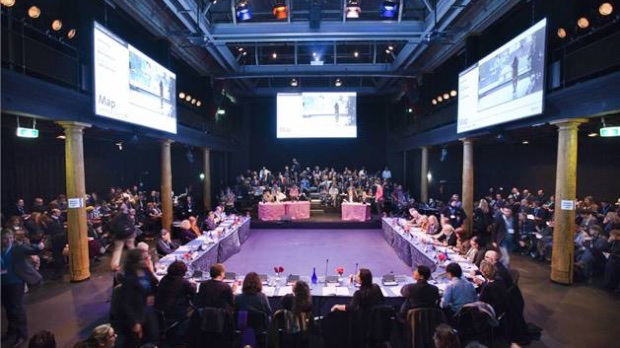 The IDFA Forum
The IDFA Forum is one of the oldest pitch roundtables in the world specifically for documentaries. It's a yearly event that gathers some of the biggest broadcasters in Europe, Canada, and the US, as well as other financiers, foundations, and distributors to hear about some of the most compelling new documentaries that are being produced independently. The format that is used at the Central Pitch is a seven-minute pitch followed by a seven-minute response from many of the broadcasting Commissioning Editors. The vibe is very collegial and only occasionally contentious, as filmmakers justify their choices and explain their projects in a pressure-filled arena atmosphere.
As a member of the documentary industry website The D-Word I was given front row access to the floor of the Compagnietheater in central Amsterdam, where I was lucky enough to watch over 30 pitches over the course of three days. Over that time I was able to skim some minor epiphanies that will hopefully be enlightening (and possibly empowering) to those in the trenches trying to make their own documentary mark on the world.
Your team matters. I heard on numerous occasions during the pitches CEs (creative executives) who said (essentially), "Well, I don't quite know what you're doing with this film, but you have such a great team, I trust that you'll figure it out." Having a film in the festival itself or a producer on board with a long history with several of the channels in attendance seemed to be a prerequisite for finding a seat at the table in the central pitch.
Trailers don't (necessarily) make the pitch, but they can break it. This didn't happen often, but on a few occasions, a trailer torpedoed an otherwise interesting pitch for some of the CEs present. It basically just meant that more of the pitch was spent explaining what the trailer maybe should've been or clarifying what the trailer didn't show or couldn't show. A poorly constructed trailer, or one that doesn't reflect the look or approach of your film, can definitely derail a conversation with someone who might otherwise be interested in the project. That said, two projects — Stammering Ballad, about an up-and-coming pop singer struggling with his rural roots in China, and Out of Thin Air, a Nordic-noir set in Iceland about false confessions — garnered many positive responses on the basis of their well-shot and edited trailers. As Murray Battle of The Knowledge Network in Canada noted about Out of Thin Air, "If there was ever a film I could see from the trailer, this is the one."
Archival is still interesting (and sometimes really interesting). I saw a few pitches that featured heavy use of archival in either the pitch or the trailer (or both), and although there had been a major trend at broadcasters and festivals tilting toward verité (and often the more extreme, the better) in the past few years, it seems that, in particular, "newly discovered" or uniquely sourced archival material still packs a punch for doc commissioning editors. Of course, this approach to your story has a small drawback — it's not terribly cheap. The listed budget for the documentary about the life of Sammy Davis, Jr. climbed up around $1 million, which may have given some commissioners pause.
Documentary's place in the market is shifting (maybe). I can't say for certain, of course, but there are some encouraging signs that there is a little more fluidity with funding. This year's edition seemed to be the most active central pitch with regard to commissioners jumping on board verbally of the past three years. The news that Ryan Harrington (formerly of Tribeca Film Institute) had taken a commissioning slot at Discovery – and had made the trip to take meetings at IDFA and voice Discovery's renewed interest and commitment to the documentary form – also seemed to be a sign of things to come. In particular, he mentioned a renewed focus at Discovery on hard science, so if your story veers into that territory, it might be worth discussing your project with him at an early stage. Again, see bullet point #1 as a reference to how to make sure that meeting goes well!
The market is changing (or evolving), too. A number of funds and commissioning editors had revised or were in the process of revising their "remits" for some of their funds. Most notably, Sundance has a rolling deadline now and spoke repeatedly about new areas of interest in their remit. But other funders, like the Ford Foundation and also Britdoc announced different directions in their funding approach. Discovery was also evolving what it was interested in commissioning, and it seemed that even the other European broadcasters around the table were more open to describing the things that they specifically were looking for. For instance, I now know that AVRO in the Netherlands is not interested in arts documentaries that don't feature people who are famous – though, for the pitch, Apolonia, Apolonia, about a young artist on the cusp of success that captivated through its trailer, even AVRO had to admit to wanting to take a closer look.
Eli Brown is an award-winning independent filmmaker and member of the D-Word. His work has been screened on PBS, A&E, Discovery ID, TV One and in film festivals around the world. He owns and operates the production company, Burst Films LLC.