Back to selection
Sundance Veteran DP Patrice Cochet on the Male-Bonding Comedy Joshy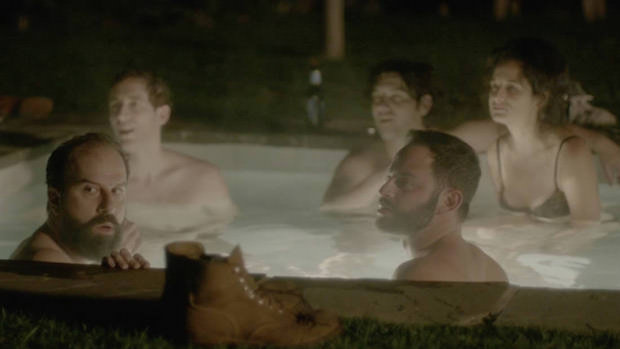 Joshy
Sundance regular Patrice Cochet has served as DP on four films at the festival since 2002: Better Luck Tomorrow, The End of Love, The Good Life and, as of this year, Joshy. Cochet speaks below about the perils of lighting improv, DPing on little prep and shooting on the Alexa. In addition to Joshy, the prolific Cochet has at least six other films set for release in 2016.
Filmmaker: How and why did you wind up being the cinematographer of your film? What were the factors and attributes that led to your being hired for this job?
Cochet: Joshy was a film that Producers Liz Destro and Josh Bachove were hoping would be one of the 16 films picked in the Dramatic competition at Sundance. Liz and Josh are good friends and they knew that I had three features selected at Sundance before and that I was familiar with that kind of budget size and film. Josh and Liz put the director in touch with me.
Filmmaker: What were your artistic goals on this film, and how did you realize them? How did you want your cinematography to enhance the film's storytelling and treatment of its characters?
Cochet: The director wanted to give the ensemble cast room to improvise. The main goal really was to light the sets to allow for such improvisation and allow for as many angles as possible at the same time. Being a one camera shoot with scenes that on average had four actors and often had as many as eight talking parts, my first goal was to make sure that we could catch it all without getting in their way.
Filmmaker: Were there any specific influences on your cinematography, whether they be other films, or visual art, of photography, or something else?
Cochet: We had very little time for prep on this film. I remember meeting with Jeff two or three times before principal photography. We both agreed that this film wouldn't benefit from having rigid plans. We were going to have to improvise as much as the actors would on the day and think on our feet.
Filmmaker: What were the biggest challenges posed by production to those goals?
Cochet: The biggest challenge specific to this production was shooting the film in script order. For that reason we often had to come back to locations we had shot days before hopefully keeping perfect lighting continuity. I think that shooting the movie that way was very effective story wise but it was quite challenging on a practical level for such a small crew.
Filmmaker: What camera did you shoot on? Why did you choose the camera that you did? What lenses did you use?
Cochet: With the time constraint we were going to have, we needed a camera that was especially well balanced on a shoulder for hand held, could deliver a shallow depth of field which we wanted, gave us the ability to do some reframing in post if necessary, and gave us the most organic color space. We chose the Alexa. It was a little pricey for our budget and I am thankful that the producers were able to make it work. I feel much better compromising on lighting than on the camera we shoot the film on.
Filmmaker: Describe your approach to lighting.
Cochet: I lit the sets for the wides and lit the close ups with Light panels. For the wides we used mainly kino-flos inside with an M18 (our biggest light) coming through the windows which gave us a nice color match. I always tried to enhance what was already there so that I didn't have to carry big units in the truck. We only had a cargo van. One of the reasons we picked a van was that, shooting in Ojai CA, we often had to pull up in small long steep driveways. The other reason was that we just didn't have the crew or time to do bigger lighting set ups. With the van we saved a lot of time by being able to get the equipment extremely close to our sets.
Filmmaker: What was the most difficult scene to realize and why? And how did you do it?
Cochet: To me the most difficult scenes were the ones involving seven/eight actors improvising around a dining room table and hanging out in a living room. The dining room, I was able to hide units on top of book shelves. The dining room table I wasn't that lucky and the room was very small. I decided to light only half of the set at a time to make sure the close ups looked good and do a standard turn around. The other challenge was having 1 camera for those scenes. Having the Alexa meant that we couldn't afford a B camera.
Filmmaker: Finally, describe the finishing of the film. How much of your look was "baked in" versus realized in the DI?
Cochet: The Alexa doesn't "bake" anything in which was another reason we picked it. At the speed we were going to shoot it was crucial to have all that raw information saved away. We did however look at a specific LUT while shooting that was close to the look of the film we were looking for.
Camera: Arri Alexa
Lenses: Zeiss super speeds & 1 Optimo 12:1
Lighting: 1 M18, Kino Flos, Light panels
Processing: Digital