Back to selection
New Documentaries Use Animation to Bring Nonfiction Stories to Life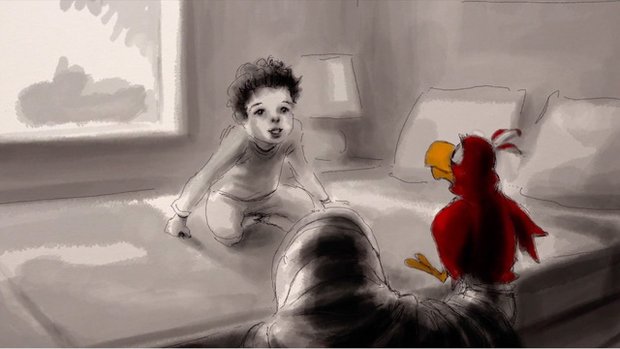 Life, Animated
In recent decades, some of the best documentary films — including Oscar-winners such as Bowling for Columbine and Searching for Sugar Man, and, more recently, festival favorites Point and Shoot and Meet the Patels — have have relied on animation to tell compelling nonfiction stories in nontraditional ways.
It's a technique audiences have grown accustomed to and nonfiction filmmakers have learned to adopt with varying degrees of success. While in the past, documentary purists might have posited that animation had no place in non-fiction storytelling, it's now largely accepted that even observational documentaries involve some degree of manipulation. If anything, by using animation in a documentary, the manipulation is more explicit.
Animation can serve various purposes. When done well, it can make talking-head interviews more dynamic or fill in gaps in archival material. It can also help create a strong visual style while tapping into the broader theme of the film.
Animation is an integral component of three new documentaries: Beth Harrington's The Winding Stream, Penny Lane's NUTS! and Roger Ross Williams' Life, Animated. Filmmaker recently chatted with Harrington, Lane, and Williams about why they opted to incorporate animation into their respective documentaries.
The Winding Stream – The Carters, The Cashes and the Course of Country Music tells the story of the Original Carter Family and their incredible impact on American roots music. But telling the story in a visual way without any footage of the Carter Family was going to be challenging.
The only photos Harrington had access to were promotional photos from the late 1920s. "Even though there were a vast number of photos, they all looked the same," Harrington recently told Filmmaker. Since Harrington and her collaborator, editor Greg Snider, knew they didn't want to use recreations, animation was a natural choice.
"We just knew we were going to have incredible monotony if we didn't do something," said Harrington. "I was convinced we should do some kind of animation, but finding the right animator was an issue."
Harrington finally found Portland-based animator Mike Olson, who had created animation for many historical films. For the segments of the film which involve notorious quack John R. Brinkley and his Border Radio station, Harrington said she wanted animation that was "just light enough and wacky enough. It calls out for something that underscores the wackiness of it all."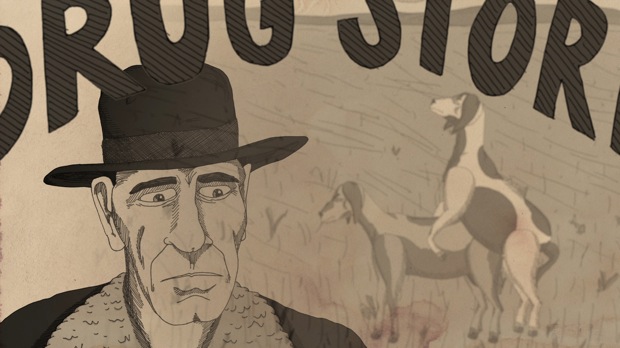 Coincidentally, for her award-winning documentary NUTS!, which opens theatrically in select cities throughout the summer, Penny Lane also turned to animation to tell Brinkley's story. But it took her two years of research, writing and collecting archival material before she got the idea to use animation.
Unlike her previous documentary Our Nixon, where she had thousands of hours of White House tapes to rely on, the archival material in this case was not as plentiful or convincing. Brinkley was a colorful larger-than-life character, but, as Lane pointed out "a 21st century audience is not seduced by or fooled by Brinkley on the radio in 1935." Without the right archival material, Lane realized she needed to "make that character out of scratch."
So the idea of animation came up, in part, to solve the problem of not having the right archival material in order to flesh out her main character. But Lane was also interested in the larger issue of manipulation in media, especially given her main character's propensity for it.
"We're dealing with very old stories that were told by a liar. A lot of the stuff in the film is whimsical. It's not necessarily to be trusted," she explained. "Brinkley's a great animated character in that way."
Animation suited the material, according to Lane, in part because it would allow her to think about more imaginative elements of the story that would be hard to pull off on a low-budget film. "It doesn't cost any more to have a car explode in animation," explained Lane.
Using animation in the documentary was "a kind of a nod or a wink to the audience that things are not totally straightforward, that the idea of this being a documentary that tells the truth is maybe something you should question," said Lane. "The idea that the imagination is being used is very foregrounded when you have animation."
Lane is all too aware that animation in documentaries can fall terribly flat if it's used as a "kind of filler B-roll kind of thing," she said. "Often documentarians aren't aware of how long animation takes, how expensive it is, how much work it is to make it good, so I see a lot of crummy animation."
She admits she knew almost nothing about animation when she began the process. But she learned what she liked along the way and selected seven different animators to animate each of seven chapters in the film.
"I have 56 minutes of animation and it's a very low-budget film," said Lane. "Every single animator that I hired pulled out a different bag of tricks as to how to quickly and relatively cheaply make something look good."
Using different animators made particular sense, according to Lane, because "the story is about point of view and how the story that is in front of you depends on who is telling it."
Roger Ross Williams' documentary Life, Animated, which will have a limited theatrical release on July 1 before a nationwide rollout, tells the story of Owen Suskind, a young man with autism who was unable to speak as a child until he and his family learned to communicate through the world of Disney animated films. Based on the book of the same name by Owen's father, Ron Suskind, the film interweaves clips from animated Disney films throughout the narrative.
The last chapter in the book is Owen's story based on his own fantasy world, "The Land of the Lost Sidekicks."
"It was always obvious to me that that was going to be animated," Williams said. "From the beginning when I read the book and was thinking about the film, I thought 'this cries out to be brought to life and to be animated.'"
As far as determining the style of the animation, Williams knew it was important that it "not look at all like Disney animation. This is a a world that Owen created and it needed to feel original to him."
He turned to Mac Guff, the Paris-based digital visual effects design company that worked on films such as Despicable Me to create the elegant, hand-drawn animation that brought Owen's fantasy world to life.
"Owen created that story. He created the villains in the story. He drew them. He imagined them," said Williams. For a film about animation breathing life into one boy, it seems particularly fitting that animation should bring that boy's story to life.