Back to selection
In Defense of Street Photography in an iPhone Age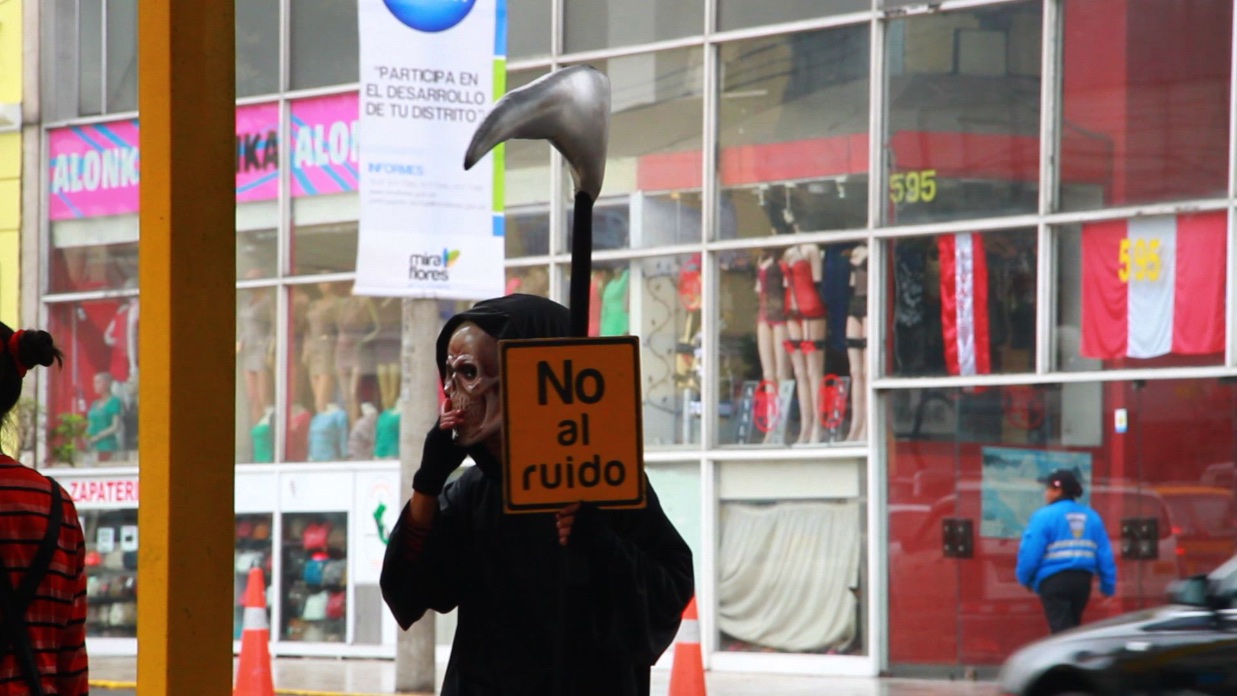 (Lima Limpia, 2015, Mark Street.)
Last Halloween (my birthday, as it happens), I loaded up my Bolex to shoot some 16mm black-and-white images of a children's costume parade in my Brooklyn neighborhood. I was thinking of Helen Levitt's 1948 masterpiece, In the Street. Levitt (and her co-cinematographers James Agee and Janis Loeb) used a small camera to surreptitiously record images (mostly of children) in Spanish Harlem. The film is a poetic time capsule — observational vignettes that become more than the sum of their parts.
The Bolex looks pretty big these days compared to digital cameras, so I wasn't hiding anything from anybody. As I stood on the sidewalk next to parents snapping cell phone photos, I encountered a fair amount of resistance. Several people asked me point blank what I was doing (which I thought was pretty obvious). They seemed unsatisfied with my admittedly vague response ("Shooting some footage, may turn it into a short documentary").
Later I ran into a neighbor (a filmmaker!) pushing her kids in a stroller. When I mentioned the opprobrium I'd felt, she looked at me and said, "Well, I wouldn't want you filming my kids, either." As a parent myself, I can understand fear of the unsavory, but I do think the current climate makes searching for magical moments on the streets more difficult.
I'm talking here about artist/filmmakers who try to build a film without an ironclad plan. The structure can come later, but it begins with "fishing" on the street, gathering material, being open to what might appear in front of the lens.
Oddly, as filming in one medium (the cellphone) has become ubiquitous, people seem to fear the semi-professional more and more. A professional film shoot ascribes to standards — releases are signed, tacit agreements are made, those filmed understand the scope of the project. As someone who works alone (without a crew that creates a kind of picture a passerby might be able to understand) I often find myself at pains to explain myself.
Maybe it is intrusive and invasive to film people on the street, but I choose to believe that within reason when one is in public space all is fair game. Of course, "within reason" is what creates the controversy, the tension between privacy and artistic expression.
Still photographer Phillip Lorca diCorcia's 1999 project, Heads, in which he set up a camera in Times Square and randomly took pictures of passersby, was a critical success as an exhibition at Pace/Macgill Gallery. But Erno Nussenzweig, an Orthodox Jewish man, sued, claiming that his image in the catalogue (which he'd stumbled on accidentally) infringed on his right to practice his religion, which forbade the use of graven images. The New York State Supreme Court dismissed his suit in 2006, but a legal challenge can make a photographer or filmmaker think twice about even attempting to capture an image. Sometimes the threat of a legal process can be censorious.
This has been a long term concern of mine; for the last 30 years I have gravitated towards filming people, usually in urban environments. Perhaps my last name has led me to explore the idiom of street photography. Filming with my Bolex after the 1989 San Francisco earthquake, a National Guardsman took umbrage at my photographing him, until he saw my "vintage" camera and decided it was no threat. In 2000, using a Hi-8 camera, I asked people on the street whether they were happy or not (a remake of Chronicle of a Summer by Jean Rouch and Edgar Morin and The Pretty Month of May by Chris Marker.) One man asked me why I was filming him, and wanted to know what "multinational corporation" I represented. Just last week, shooting with my DSLR at the Turkish Market in Berlin, a tall German woman told me in English to "point that camera somewhere else or I'll smash your face in." She wasn't even in the shot, but I wasn't about to explain lens optics to her.
It feels more intense these days. Everybody is snapping photos and sharing, but (or maybe because of this) people fear the gathering of images a priori. I can't quite convince people that I don't have a nefarious aim. My standard response — "I'm a street photographer, I film all the time, I'm never quite sure how it'll end up" — rarely assuages trepidation. How does this affect the proud, venerable ethos of Helen Levitt, Gary Winogrand, Rudy Burkhardt and others?
I do recognize the power imbalance between filmmaker and subject, and acknowledge that the act of gathering images is a privilege. I never hide what I'm doing, but then again I don't gather releases either. I am cognizant of the fact that for legal reasons some people wouldn't want their images recorded (undocumented immigrants for instance) and try to be sensitive to each situation. I don't generally ask permission, but sometimes I do, if I sense that someone might be resistant.
In my experience things go better when I give a simple concise explanation of the project's purpose. When I was shooting Fulton Fish Market (2000) the fishmongers in Lower Manhattan (some with huge cleavers in their hands) wondered what I was doing. "Shooting the last days of this market for a documentary." It was true, and palatable for them.
I've had a variety of encounters over the years on the street, not all of them pleasant. A woman threw her Coke can at me on Montague Street when I was shooting Happy? (2000). A blacksmith swore at me from his truck when I was filming at a truck stop in North Dakota for my new film, Oiltowns (2016). I try to pluck up my courage and summon my heroes when this happens. And I remind myself of how culturally impoverished we'd be if Henri Cartier-Bresson, Robert Frank, Vivian Maier, Chantal Akerman (I'm thinking specifically of her great film D'Est), Marie Mencken and others had been craven in the face of complaint.
Mark Street has been making films, videos and installations for 30 years. His work has moved from tactile, abstract explorations of 16mm film to essays on the urban experience to improvised feature length narratives. He's inspired by the tradition of street photography, whether working in an experimental, fiction or documentary idiom. He has shown at places like the Museum of Modern Art in New York as well as venues such as a former strip club in New Orleans called the Pussycat Cavern. He is Associate Professor of Film in the Visual Art Department at Fordham University — Lincoln Center where he teaches film/video production and other courses that engage contemporary artistic practice.