Anna Sandilands & Ewan McNicol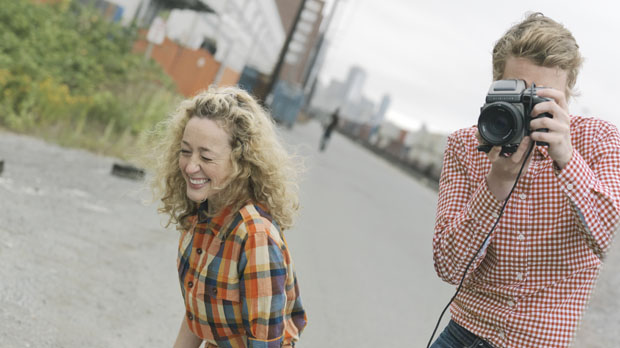 Anna Sandilands & Ewan McNicol
It's important to remain flexible, to keep an open mind about your future, yourself, other people, and this quality is very evident in the work of Ewan McNicol and Anna Sandilands. McNicol, a British expat, had adolescent dreams of designing cars, and Chicago-born Sandilands went to the University of Puget Sound ("which makes me a Lady Logger"), intending to become an archaeologist. Now, though, the two are partners in the Seattle-based Lucid Inc., which started out as an advertising company but has increasingly become focused on making documentaries.
McNicol and Sandilands both have photographer fathers, and the two came to advertising through their love of the image. Sandilands started Lucid in 2004 with the aim of creating advertising with a longer shelf-life that people could more easily respond to. "From the very beginning, the idea around Lucid was inspired by the FSA, Studs Terkel-type investigating of who people are and how people live," says Sandilands, who now co-owns the company with McNicol. "It felt very natural in the early stages to want to develop documentary as well that was motivated by our own interests." The pair's early doc work includes a couple of shorts, 2008's Plane Days (about plane spotters at Heathrow Airport) and the 2011 Missing (on how people deal with the loss of pets), and "Meet Me Here," a disparate series of Web shorts capturing the people and places Sandilands and McNicol encounter while doing ad work.
The Roper, their most recent short, played at Sundance, True/False and SXSW 2013, and has since won a Webby Award for Best Documentary (Individual Episode). It's the lyrical, beautifully shot portrait of a young African-American man, Kendrick Domingue, competing on the rodeo circuit in Louisiana. Sandilands and McNicol happened across Domingue when they were there to research a longer project on trail-riding, but immediately realized he was who they should be focusing on.
A similar thing happened with Uncertain, their debut feature now in post. A colleague had told them about the remote Texas town the film is named after, and they travelled there thinking they'd make a "Meet Me Here" entry on its quirky moniker. Instead of finishing after a few days, they ended up shooting on and off for 18 months, capturing the complexities of the stranger-than-fiction "town of outlaws" with a population of just 93. The film, which will play winter festivals in 2014, exemplifies their approach to "cinematic documentary," with McNicol citing Werner Herzog, Ulrich Seidl and early U.S. color photography as their influences on this project.
"I think when it comes to observational filmmaking, it can lead you down a different path than filmmakers who go in with a more intellectual, essay-driven approach," McNicol says. "We can be filming something and not be sure how it's going to progress the story, but visually we're excited by it. That's a gut reaction, and most of the time that will lead somewhere good."—Nick Dawson
Photo by Lucid Inc.
Links