Lou Howe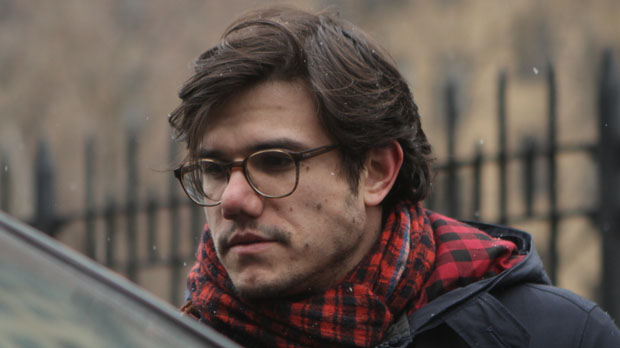 Lou Howe
A leafless tree stands tall against a cobalt blue sky. It is the first image glimpsed in Lou Howe's riveting debut Gabriel, currently in post-production, and the sole frame of the film to possess a measure of calm as it's readily eclipsed by a roaring coach that shuttles the tormented maelstrom of its title character. Gabriel, but please, call him Gabe, is inhabited with magnetic and manic fervor by Rory Culkin, and Howe, who has been a fan of the Culkin brother since You Can Count On Me, does not shy away from the actor's contributions in the realization of his script. "One of the goals of the movie was to show the interior life of someone who, from the exterior, is scary, inapproachable and off-putting in some way," Howe says, when asked if he was concerned about the relatability of a difficult and sometimes loathsome protagonist. "The real key to overcoming any potential misgivings the audience might have was Rory. It had to be someone who could inspire a connection, and I think you feel that as soon as you see Rory's face. You want him to get what he wants, even though it's not what's best for him. You root for him despite yourself. "
A native New Yorker, Howe originally set out to be a fiction writer, but during his freshman year at Harvard, he stumbled upon a documentary film class and fell in love with the medium. In his sophomore and junior years, he tried his hand at fictional filmmaking under visiting professor Hal Hartley, who was his first "narrative mentor." Returning to New York after graduation, he worked the usual odd production jobs, briefly serving as Christine Vachon and Pamela Koffler's assistant at Killer Films.
Gabriel didn't come to Howe until his tenure at AFI, where he graduated with a master's degree in directing in 2010. "It was always about the character," Howe says of the script process, which he began by penning first-person journal entries from Gabe's perspective. "From there, I collected scenes that I liked and thought about the world around him and how I could give it an arch and narrative momentum." Citing Mike Leigh's Naked and David Thewlis's performance as major touchstones, Howe admits that he's never been much interested in creating a character that strives for the audience's sympathy. Gabe is selfish, mentally unstable, unwilling to take his medications and prone to violent outbursts, but he also desperately longs for salvation and normalcy in love and a lasting connection, which can elicit varying degrees of both frustration and pity.
While making his thesis short My First Claire, which was eventually nominated for a Student Academy Award, Howe steadily developed Gabriel with his brother, the producer Ben Howe. Luca Borghese soon boarded the project as its second producer, offering substantial input as the script continued to evolve. There were six months of drafts before the creation of another character, Alice, who represents Gabe's driving desire for the nuclear household, finally "cracked" the script, giving it "the spine it needed to be as engaging as it could," Howe says. Soon after, the Sundance Institute and Cinereach lent their support, and this June saw the almost-finished product's participation in the IFP Narrative Labs. "It was really helpful for getting the lay of the land in the upcoming months," Howe affirms. Regardless of where it first surfaces in the public sphere, chances are you can expect to see Gabriel all over the circuit come next year.  — S.S.
Links