Back to selection
"Accessing Their Intimacy with Respect": Editor Sofia Subercaseaux on Dina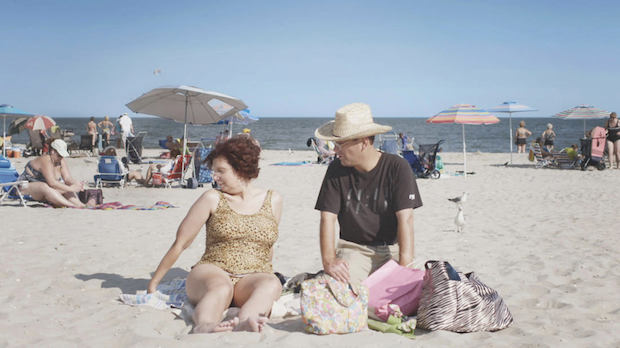 Dina
Four years ago, Sofia Subercaseaux was using YouTube tutorials to teach herself how to edit a feature film. She has since gone on to edit Nasty Baby, Christine and now Dina, the new documentary from Mala Mala directors Dan Sickles and Antonio Santini. Dina documents the lives of Dina and Scott, a couple very much in love but with profound complications when it comes to physical intimacy. Before the film's debut at Sundance 2017, Subercaseaux spoke with Filmmaker about how she broke into editing, working with two directors and the task of shaping hours of documentary footage into a final narrative.
Filmmaker: How and why did you wind up being the editor of your film? What were the factors and attributes that led to your being hired for this job?
Subercaseaux: Dina is my second collaboration with Antonio and Dan. In 2013 I edited Mala Mala, their first documentary, after that we knew we were going to keep on working together. Mala Mala was the first movie I edited after I moved to NY. It was a happy coincidence: we had a friend in common that was helping produce the film and thought we might be a good fit.
Filmmaker: In terms of advancing your film from its earliest assembly to your final cut, what were goals as an editor? What elements of the film did you want to enhance, preserve, tease out or totally reshape?
Subercaseaux: I think our biggest goal or challenge was to tell Dina and Scott's story without any conventional documentary elements (no interviews, titles, recreations, etc.). We had hours and hours of footage and it took a while to figure out how to shape it as a "narrative" and how to make sure all the things we knew and love about the two main characters were present in the film. That the audience would understand their back story, their relationship, their challenges and their victories. Also I guess it was about accessing their intimacy with respect, we had amazing access so we needed to be extra careful.
Filmmaker: How did you achieve these goals? What types of editing techniques, or processes, or feedback screenings allowed this work to occur?
Subercaseaux: 
I guess just by trial and error, also by accepting that sometimes there are scenes or moments that you really, really love but they just don't belong in the movie.
We also had some feedback screenings that were very helpful mostly for practical reasons. We just wanted to know if an audience would understand the back story the way we were presenting it. Other than that I think we had a pretty clear idea of what we wanted the movie to feel from the very beginning. There is also something great about working with two directors in the room; you would think having three people in the edit would make it more difficult but it actually helps, whenever you disagree you can take a vote.
Filmmaker: As an editor, how did you come up in the business, and what influences have affected your work?
Subercaseaux: I became an editor completely by accident. I was working as a producer on Sebastián Silva's Crystal Fairy (Sundance 2013), which was a small Chilean production. When we finished it Sebastián didn't have an editor and he needed someone that spoke English. He was like "Do you know how to edit?" and I lied and said I did. I had edited a few of my short films in film school but had no idea what I was doing. I edited that movie watching YouTube tutorials trying to figure out how to work Final Cut. After Crystal Fairy I realized that I really like it and maybe I could be good at it. I quit my job and started to get more work as an editor and ended up moving to New York.
Filmmaker: What editing system did you use, and why?
Subercaseaux: I use Adobe Premiere, I really like it. It's super easy to use and has everything you could possible need. I was never an assistant editor so I kind of skipped the whole technical training, Premiere was a perfect match, very intuitive and also easy to use if you learned in Final Cut like I did.
Filmmaker: Finally, now that the process is over, what new meanings has the film taken on for you? What did you discover in the footage that you might not have seen initially, and how does your final understanding of the film differ from the understanding that you began with?
Subercaseaux: I don't know if the movie took a new meaning for me once we were done. I think I just kept on learning more and more about Dina and Scott and their world. They are pretty exceptional human beings so I guess they have personally taught me a thing or two.