Back to selection
Five Questions with Loving Vincent Producer Sean Bobbitt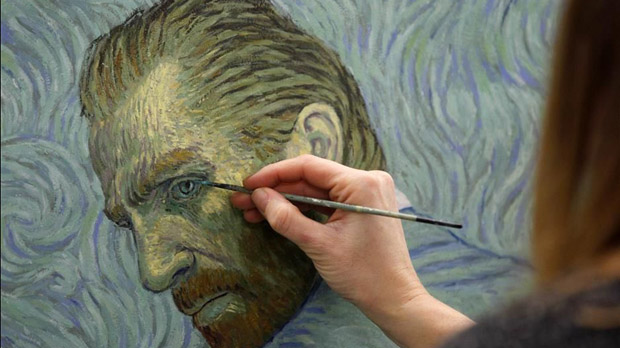 In 2014 I spoke with Dorota Kobiela and Hugh Welchman, respectively the writer/director and co-director/co-writer/producer of Loving Vincent, an animated film about the final days of Vincent Van Gogh's life that was then in preproduction. Three and a half years and much blood, sweat and tears later the film is complete and premiered at the Annecy International Animated Film Festival last week. It's been gaining attention since its initial failed Kickstarter campaign (a second go was more successful) for its production method, with a team of artists creating each frame in the style of Van Gogh with oil paint on canvas, the first film to ever be executed in this way. The response at Annecy was overwhelming, with a ten-minute standing ovation coupled by what Variety describes as a fulsome amount of international sales. I caught up with producer Sean Bobbitt, an American who spent the early 2000s as CFO then CEO of a multiplex movie theater company in Poland, about his experience bringing the film to completion.
Filmmaker: Loving Vincent seems like an ambitious project for a first-time producer. How did your experience compare to your expectations?
Bobbitt: It was definitely a true learning experience, but fortunately I had alongside me Hugh and Ivan Mactaggart, who have a great amount of experience. My background is in multiplex cinemas, and I think that a lot of the experience I gained building my company Silver Screen was useful with my producer responsibilities for Loving Vincent as well, especially in terms of budgeting, fundraising, investor relations, staff management and scheduling. Of course there are a lot of things that are completely unique to the film production process that I had to learn, but that's something I really enjoy.
Filmmaker: Can you describe the logistics you oversaw in your role? Staffing the animation team and overseeing the management of the animation must have been quite a process, for instance.
Bobbitt: At the beginning of the process I was essentially responsible for fundraising and budgeting, which are aspects that were somewhat familiar to me due to my background. But as this was a new production technique, understanding the production process was crucial to budgeting as well, so de facto I had to learn what are the variables that can impact the budget, in particular the speed of animation, which had the greatest impact on the schedule and hence the overall budget. That's why finding ways to reward and motivate the animators was also important to the entire process — giving them a sense of pride in being part of this undertaking, and listening to their concerns and trying to find solutions.
Filmmaker: Once the animation was in full production, how did it compare to the trials or proofs of concept that had been done before? Were there any unforeseen obstacles, artistically or otherwise?
Bobbitt: Our assumptions as to the speed of animation — the number of frames per day we could expect the animators to be able to paint — were based on the tests we had done with high-level painting animators and our experience in the training process, where the animators were able to paint around eight frames per day. But once we started painting actual shots that would be in the film, that fell dramatically, despite the fact that we started with a small team of animators who were "top of the class" in the training program. Once the painters knew these were shots that would be seen on the big screen, they were much more detailed in their work, which of course impacted their frames per day and the rate dropped to around four frames per day. That's when we realized we would need to either extend the production timeline by several months, or find and train more painting animators. From the 50 we had originally planned for, we ended up with 95 painting animators working at once! One fortuitous event was our painter recruitment film going viral and the subsequent media attention. While recruitment had pretty much dried up in Poland, suddenly we had 8,000 applications from artists around the world who wanted to come to Poland to work on this project.
Filmmaker: Now that you've been through an entire film like this, are the technology and workflow are sufficiently established to allow for a second film to be produced in the same way?
Bobbitt: If we were to produce a second painting animation film, I think with all the experience we now have and the fact we know have a group of experienced painting animators, the process would actually be much smoother.
Filmmaker: Loving Vincent has an ambitious release strategy, including festival screenings and a traveling gallery exhibition of some of the artwork. Can you talk about your plans for the project over the next year?
Bobbitt: Right now I'm at Annecy where we had the world premiere, and the response of the audience was beyond my wildest imagination. It was touching to feel the respect the audience showed for Dorota both during her introductory speech and the standing ovation that went well beyond the end credits. For the future, we've been invited to several festivals — Shanghai, Moscow, Melbourne — and are really looking forward to sharing the film with those audiences as well. We also announced at Annecy the premiere of the Loving Vincent Exhibition, at the Het Noordbrabants Museum on October 14th. So we're keeping busy in the time leading up to the film's theatrical release.