Back to selection
Positive Endeavor: CPC London on Striking Affordable 35mm Prints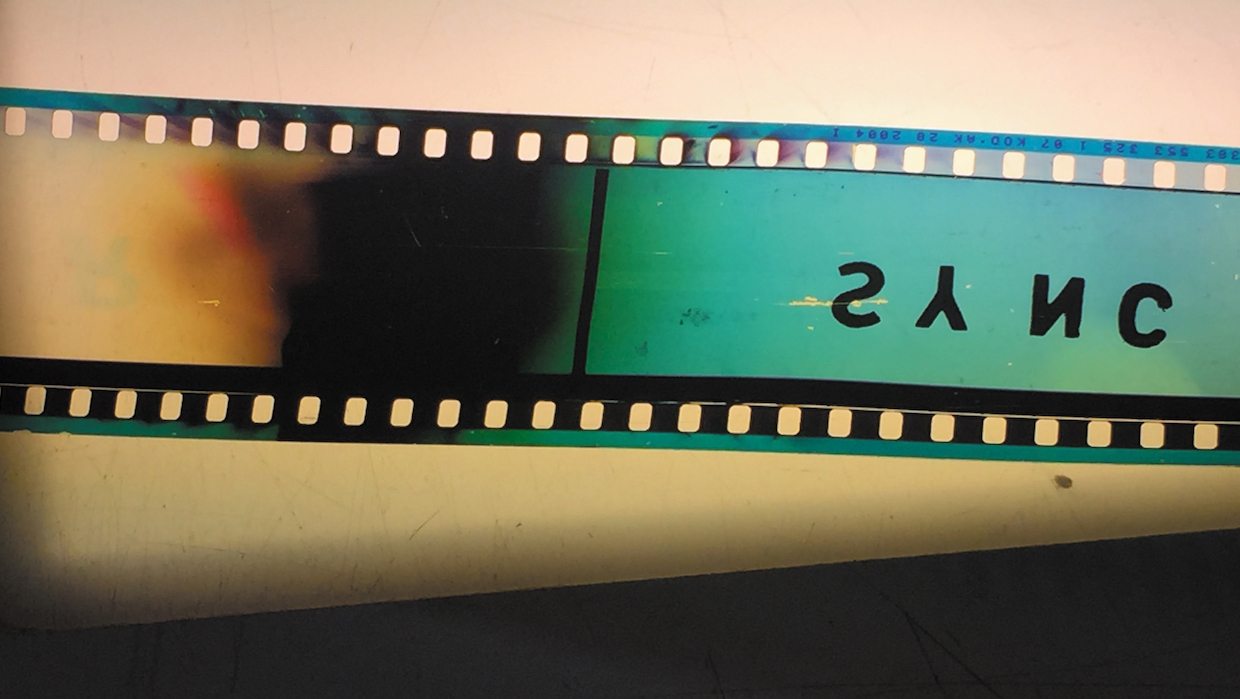 Image by Carolyn Funk
In February 2020, I attended a screening of Josh and Benny Safdie's Uncut Gems at Quentin Tarantino's New Beverly Cinema, a venue widely known and admired among film enthusiasts for its devotion to celluloid exhibition. I was awestruck by the exquisite 35mm presentation of a movie I had previously—like everyone else in the world—only seen projected digitally, and even more astonished when I spoke with the Safdie brothers afterward and learned how simple it was for them to strike a flawless 35mm print from their digital source. Back in 2005, when I directed Bad Reputation, a microbudget horror movie shot on digital video, I had to forgo the option of blowing up to 35mm because the cost—somewhere in the neighborhood of $50,000—significantly exceeded my resources (in fact, about five times what I spent on the entire production); in 2020, using a UK lab called CPC London, the Safdies were able to strike 35mm exhibition prints for around two grand a pop. 
To say I was intrigued by this possibility would be an understatement, so I looked into CPC to see about creating 35mm prints of my own digitally shot features, for both repertory screenings and archival purposes. Although at this point my movies have been distributed on enough platforms and via enough different companies holding on to my deliverables that it's unlikely any of them will be "lost," I live with a constant irrational fear that if my drives crash or my apartment is destroyed by an earthquake, my life's work will disappear in the blink of an eye. While thorough preservation and archiving in the traditional sense would require the creation of a negative—and thus that outlay of $50,000 or more for a print created on an Arrilaser—a $2,000 positive that can be stored under ideal conditions at an archive (such as the Academy of Motion Picture Arts and Sciences facility in Los Angeles, where I ultimately deposited my print) is a nice economic middle ground.  
By forgoing the creation of a negative and simply going straight to a positive print from a digital source CPC creates prints in real time on a scanning machine called a Cinevator. The process is remarkably simple, as I learned when I decided to strike a 35mm print of my feature The Trouble with the Truth. From my home in Los Angeles, I uploaded a ProRes file of the picture and sound to CPC's server in London, a process that took a couple of days with my internet connection. Less than two weeks later, a box containing my movie spread across five 35mm reels arrived on my doorstep. About a month after that, the American Cinematheque in Hollywood premiered the print at its Los Feliz venue with Lea Thompson and I in person for a post-screening Q&A. I then dropped off the print at the Academy archives, where it is now being looked after with tender loving care until the next opportunity for exhibition.
Now, I hate to put my sentimental side on display for the world to see, but when I first saw the 35mm print of Truth I wept tears of joy. In the transition from a digital format to an analog one, the film's strengths, from Roberto Correa's warm, Fabulous Baker Boys-inspired cinematography to Lea and John Shea's economy of expression and depth of feeling, were not only preserved but enhanced, made more dreamlike and tender—indeed, more cinematic—by the introduction of fine grain and the human touch of celluloid running at 24fps through a film projector operated by a properly trained technician. At a time when the future of theatrical exhibition and the state of movies as a business are in such unpredictable flux, I felt like I was simultaneously freezing time and traveling back to the era in which I first fell in love with cinema. It's difficult to articulate just why the act of sharing the movie with an audience in this format was so much more, for lack of a better word, spiritual than the multitude of DCP presentations that occurred on the festival circuit and during its theatrical release, but that was my experience—one I highly recommend to other independent filmmakers. 
To that end, I hopped on a Zoom call with CPC London's founder, Chris Lane, and his business development manager James Nash. I wanted to find out a little more about how filmmakers can optimize their services, and also to get their thoughts on the state of 35mm exhibition and where it's going. Like me, they seem to be optimistic that the community of celluloid devotees is expanding, not contracting. They also shared my feeling that 35mm is a way for independents to make their work stand out, given that for a large community of moviegoers celluloid projection in and of itself is a draw. "We're finding that a lot of filmmakers make 35mm prints for festival runs just to get noticed," Nash says, adding that even for streaming and DVD releases filmmakers have found uses for the Cinevator technology. "Something that's proving to be really popular is the process of filmmakers shooting on digital and sending us the file, which we print on 35. Then, we scan it and send them back the scan, introducing an organic cinematic grain to something that was never even shot or projected on film."  
According to Lane, the most essential requirement for a successful transfer is a source file that accurately represents how the filmmaker wants the 35mm print to look and sound, viewed and approved on a calibrated monitor. "We're not colorists and we're not graders, so the most important thing is that they give us a file that's Rec. 709 or something in a locked color space," he explains. "Our internal calibration is extremely accurate, so we prefer a DCP as a source—the ideal is a 2K DCP. 4K is really a waste, since print stock's only capable of about 2.2K. But the beauty of these Cinevator machines is that anything is possible. We've printed from .mov files and iPhone movies, and people are happy with the results." Once a filmmaker has uploaded the digital file to CPC's server, the print creation takes place in near real-time, with an added benefit of the Cinevator machines (as opposed to the Arrilaser) being that they can print subtitles for foreign releases at no additional cost. 
CPC's work in the admittedly limited arena of commercial and repertory 35mm exhibition is supplemented by a financially lucrative tangent: the creation of prints for Russian censors. "For some reason, even though nothing is released there on film, the Russian censor board still insists on screening 35mm copies," Lane says. "It's a nice business for us since every Hollywood release needs to make one of these prints to pass the censors." That said, Lane clearly gets a special thrill out of working with both independent filmmakers and large companies like Netflix on projects designed for movie lovers, not censor boards. "Uncut Gems was a big turning point for us," he recalls, "because the Safdies made around eight prints and really pushed the experience of watching it on film. We've had trouble getting any kind of engagement from the major studios, but filmmakers like the Safdies see the value in it, and a company like Netflix does as well. They have no print lab, and they have no axe to grind because they're not part of the old boys' club with FotoKem and Kodak and the complexities of all that."
Indeed, a print of Navot Papushado's Netflix release Gunpowder Milkshake, which screened at the New Beverly in July, was one of my first great post-pandemic moviegoing experiences. "That came about because Tarantino specifically requested it," Nash says, adding that he hopes that the director's recent acquisition of the Vista in Los Feliz will add to an increased appetite for 35mm among filmmakers who hope to have their work showcased there. (Tarantino intends for the Vista to show new releases, while the New Beverly continues to program primarily repertory material.) Lane adds that he likes the idea of using his connections to venues like the New Beverly and the Prince Charles in London to get into the distribution game. The plan would be for CPC to pay a reasonable amount for the 35mm theatrical rights—rights most companies aren't doing anything with anyway in the present climate—and take on the cost of creating prints to then disseminate to 35mm houses around the world for a split of the box office: "We could go to the New Beverly and 10 or 20 other screens we have relationships with and say, 'Hey, if we had a print of it, would you like to show this title?'" Nash explains. 
"To strike five prints of every Hollywood release would make me incredibly happy," Lane says, adding with a laugh, "Then I can just bugger off and retire and leave it to the youngsters." That said, he admits that his business has more to do with pleasure than money. "I wasn't banking on this being my retirement or pension," he says. "It was money I could afford to lose—I didn't want to, but I could afford to. I just thought, 'Well, it will be fun.' And it's kind of turned out like that." I can attest to the fun from a filmmaker's perspective, as well. At a time when it's harder and harder to make individual movies feel special due to the proliferation of content and unpredictable algorithms of streaming services, nothing beats screening your movie on 35mm for an audience of cinephiles who can appreciate the difference.