Back to selection
"Don't Settle for What Your Eyes See on the First Day": Editor Clara Martínez Malagelada on La Pecera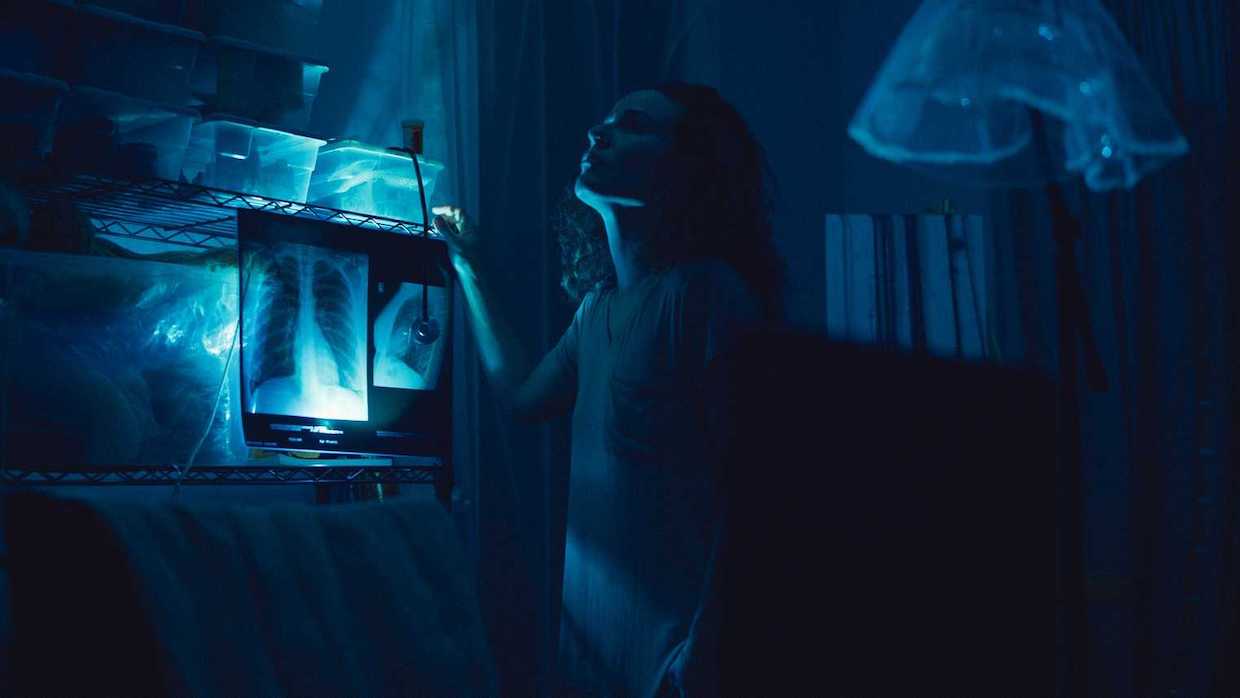 Isel Rodríguez in La Pecera
When Noelia's (Isel Rodríguez) cancer returns, she eschews traditional treatments and retreats to the Puerto Rican island of Vieques where she spent her childhood. Suffering severe contamination from its use as a U.S. Army testing site (and with Hurricane Irma inching closer), Noelia grapples with the painful legacy that lingers over Vieques in La Pecera, writer-director Glorimar Marrero Sánchez's feature debut.
Editor Clara Martínez Malagelada talks about cutting La Pecera, coming on board after the film's original editor left the project.
See all responses to our annual Sundance editor interviews here.
Filmmaker: How and why did you wind up being the editor of your film? What were the factors and attributes that led to your being hired for this job?
Martínez Malagelada: The truth is that I came to La Pecera (The Fishbowl) project by chance, because at first it was another editor who started working on the film, but he had to leave the project. He contacted me, for which I am very grateful, and he passed me the baton. I guess he saw something in me to give me that responsibility, maybe I'm not the one who should talk about the factors or personal attributes that led me to be chosen, that's for someone else to answer!
One of the key factors for me has been to find in the material its own truth. I believe that an editor should not impose anything on their material, but let it find its own form, rhythm, tone. Sometimes I think that the cuts are already there, and we editors just have to find them, like a great mystery. 
Filmmaker: In terms of advancing your film from its earliest assembly to your final cut, what were goals as an editor? What elements of the film did you want to enhance, or preserve, or tease out or totally reshape?
Martínez Malagelada: From the first cut to the final cut, we logically progressed through many phases. We discarded entire sequences, dialogue, and even rewrote characters. I don't want to repeat that the editing is the third rewrite of the script. It was very important to get distance from the material, and look at it like a child who lets themself be surprised. It was easy for me to do it together with Glorimar, since she was always open to exploring new paths. When truth, verisimilitude, and authentic emotion are your priorities, you have to be very strict with your material, and be able to set aside, discard, and rearrange your material. In a film like this, so intimate, so subtle, the editor must approach each cut like a craftsman, carefully measuring every gesture, every word, every look of his actors. If at the slightest moment we do not believe something of what we see, we are lost.
Filmmaker: How did you achieve these goals? What types of editing techniques, or processes, or feedback screenings allowed this work to occur?
Martínez Malagelada: To achieve these goals, it is necessary to be very critical of everything you do, and during editing it was important to get feedback from the film crew, producers and direction. The screening of each rough-cut was intense, strict, and demanding. An editor has to know how to deal with that, to build a better film. Obviously, I take it for granted that to achieve my goals I must know the material inside out. 
Filmmaker: As an editor, how did you come up in the business, and what influences have affected your work? 
Martínez Malagelada: I consider myself a filmmaker first and foremost, so my influences have always been cinematographic. When I started studying Film Editing, I don't think I knew the name of any editor, ha ha ha ha. But I have a degree in philosophy, so for me the most important thing is the thought and the construction of it. I enjoy building stories, because for me editing is a philosophical discipline. 
Filmmaker: What editing system did you use, and why? 
Martínez Malagelada: For my work I think versatility is important, so I work with all the editing software, Final Cut X, Premier, da Vinci, and Avid. But if I'm honest, I've had a few love affairs, and life is leading me to have a more sentimental relationship with Avid.  
Filmmaker: What was the most difficult scene to cut and why? And how did you do it? 
Martínez Malagelada: It is evident that the most complex sequences are not those that have a lot of cuts. In the case of La Pecera (The Fishbowl) my challenge was always that the characters were excellent, and in their tone. I don't know if I can choose a sequence, but I can say that when building a sequence you are leading the characters to take a path, and it must be coherent. We wanted to be consistent, for example, with the point of view of our protagonist. In that sense, we had to do a lot of reflection, this required that we work on each individual sequence and its complexity. 
Filmmaker: Finally, now that the process is over, what new meanings has the film taken on for you? What did you discover in the footage that you might not have seen initially, and how does your final understanding of the film differ from the understanding that you began with? 
Martínez Malagelada: I feel that one of the great lessons of the film was to find in the material that point of view and truth I was talking about. This required a journey from the first cut to the final result. And that was one of my great lessons learned, don't take anything for granted, and don't settle for what your eyes see on the first day.