Back to selection
Leitner's Mondo NAB, Part 5: Roundup

Signage at Sony Booth, NAB 2011.


Originally posted April 2011.
This fifth and last NAB 2011 blog is really about churn.
Churn, to my way of thinking, is the degree of agitation and upheaval in the industry at a given point in time, such as this NAB.
Apple's sneak peek of FCP X at the Final Cut Pro Users Group 10th anniversary SuperMeet reminded me that even a decade ago, indie filmmakers were still coming to grips with the desktop revolution. I remember producers transferring MiniDV cassettes of my footage to Betacam for digitizing back to Avid, oblivious to FireWire or FCP 1.0. How professional could $1000 editing software be, anyway?
Apps are now coin of the realm—much of a $750K DaVinci color correction system is now found in $995 DaVinci software for a Mac from Blackmagic Design—and while it's hard to imagine where we'll be ten years from now, we do know that change, like the expanding universe, is not slowing down.
Below are quick notes on advances in cameras, lenses, lighting, monitors, plus the camera as erector set and hummingbird. But first a promised digression. In reporting Sony's prototype 8K-sensor F65 camera in my initial NAB blog, I mentioned it was the first digital camera to deliver, per Sony, "true 4K images." And I said I would explain 4K in a subsequent blog. Here goes.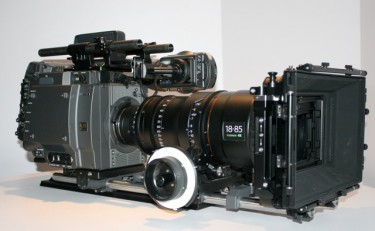 Back in the 1980s during the first stirrings of "electronic cinematography," the subject of how much resolution an electronic camera would need to match 35mm film came up often.
Kodak, developing its Cineon film scanner, produced an answer: 4096 square pixels measured horizontally across a standard Academy 35mm camera aperture (not Super35). This answer was universally accepted and seemed to settle the question.
As Digital Intermediates grew in popularity, 4K and 2K—2048 pixels measured horizontally—entered the industry's vocabulary. 2K soon predominated for a number of reasons. Real-world resolution losses from 35mm contact printing, duping, and film projection meant few had ever experienced actual 4K on the big screen. Not only were 2K film scans deemed good enough for D.I., they required a quarter of the data crunching and storage of 4K—no small consideration, given slower computers and the high costs of bandwidth back then.
Kodak's original 4K film scans had been uncompressed, with full RGB data for every pixel written to an uncompressed file type called DPX (more info at Wikipedia). However RED Digital Cinema Camera Company altered the meaning of 4K with the introduction of RED One, a camera with a single Super35-sized CMOS sensor boasting 4K horizontal pixels—but not full RGB data at every pixel.
Using a Kodak invention called a Bayer pattern filter, RED's "Mysterium" sensor assigned each pixel a single red, green, or blue filter. (See example at right of illustration below.) A tri-color checkerboard results, favoring green pixels over red and blue by a factor of 2:1. In the case of 4K, this means each horizontal line contains not 4096 square pixels with full RGB values like a 35mm Cineon film scan, but 2048 green pixels and 2048 red pixels, or the same number of green and blue pixels, depending on the line selected.
Full RGB values for each Mysterium pixel are instead created in post during "de-Bayering," an interpolation process that infers color values from neighboring pixels. As a result, RED One's effective horizontal resolution has been calculated actually to be 3.2K.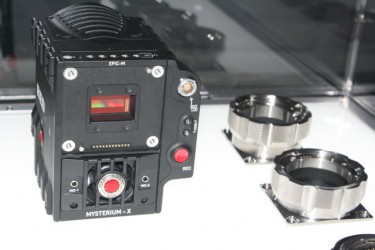 Because 4K uncompressed RAW image files create enormous data flows, RED One also pioneered compression of RAW files via "visually lossless" wavelet compression. Called REDCODE, of course.
Another point of confusion: isn't 2K, with 2048 pixels across, virtually the same as HD, with 1920 pixels across?
The short answer is that 2K derives from uncompressed film scanning, as described above, while 1920 x 1080 or HDTV, created by the broadcast industry, is rooted in legacy TV signals called luminance and chrominance. Uncompressed 1920 x 1080 RGB 4:4:4—found in high-end HD cameras only—was created to get around such limitations of color subsampling and signal encoding.
Now we can discuss the Sony 8K F65 camera sprung on NAB.
It's fair to say that without Jim Jannard and RED, the F65 wouldn't exist.
The F65 has a Super35-sized CMOS sensor, check.
Claims of 4K resolution, check.
PL mount for cine lenses, check.
RAW output, check.
But innovation is Sony's heartbeat too, and the F65 throws down a gauntlet. Its Super35 8K CMOS sensor is unique, nothing like RED's, or even Sony's own new Super35 3.5-megapixel Bayer-filter CMOS sensor optimized for 1920 x 1080, found in both the PMW-F3 and NEX-FS100 .
As you can see in the illustration, the F65's pixels are rotated 45 degrees. (Sony has done this before with "ClearVid" CMOS sensors in consumer and professional 1/4-in. and 1/3-in. camcorders.) Harnessing an active 18.7 megapixels, equivalent to 5882 x 3179, the F65's sensor is able to oversample 4K. This produces a "true" 4K output, each pixel on the sensor contributing unique RGB values to every one of the image's 4096 x 2160 pixels. No invented color information.
Does any of this matter to an audience? Unlikely, as audiences respond to storytelling and acting, not camera specs, and are hard pressed to tell the difference even between 2K and 4K projection—another imminent upgrade.
But it will matter to producers and crew, as 4K RAW quadruples the amount of data wrangling and storage necessary to digital production compared to 2K. Same situation in post. That's why Apple touted 4K as one of the formats Final Cut Pro X's timeline will handle natively, if not also effortlessly.
Sony at NAB beat the drum for end-to-end 4K. Their SXRD 4K projector is already well established. The F65 now acquires native 4K images. Next up are 4K field recording and signal processing. Unveiled at NAB were a 1TB SRMemory card and SR-R1 onboard SRMemory Recorder, both designed to handle massive amounts of fast data including uncompressed 4K RAW.
For a less taxing alternative—that is, lightly compressed 4K at the same bit rate as uncompressed HD—Sony has enlisted MPEG-4. (Simple Studio Profile 5 at 1.4Gbps for 24p, and SStP up to 3.6Gbps for 60p.) Call it SonyCODE.
Believe it or not, talk of 8K acquisition and display is already in the air. Specs for so-called "4K2K" and "8K4K" standards are in place, with 4K2K flat panel TVs bowing at last year's Consumer Electronics Show (always three months prior to NAB at the same Las Vegas Convention Center).
If this is news to you: 4K2K equals 3840 x 2160 pixels, also called "Quad HD." Multiply each number in 1920 x 1080 by two, and you'll see why.
8K4K equals 7680 x 4320—multiply each HD pixel count by four—a whopping sixteen times the data of HD. Yikes!
You'll be relieved to know that the latest version of HDMI, version 1.4, was conceived to handle 4K2K, including the cinema version of 4K at 4096 x 2160. Another new interface, Intel-Apple's Thunderbolt featured on the latest MacBook Pro, was demonstrated at G-Technology's booth. There I saw a G-Speed Q 4-bay RAID with Thunderbolt achieve 12 times the transfer speed of FireWire 800. Talk about timely!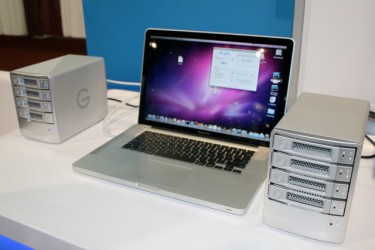 (Let's return to earth for a moment. I suspect most filmmakers, not least independents, would be thrilled to settle for the poor-man's 2K that is ARRI's Alexa… Also, I get perverse pleasure out of the digital video industry defining their products in terms of film scanning. Likewise, why F65? Has nothing to do with 65mm film, dimensionally or otherwise. As noted in my last blog, only Vision Research's Phantom 65 Gold comes by this moniker honestly.)
At long last at NAB, a working version of Aaton's Delta Penelope, a 35mm film camera with a cassette-load digital back replacing its film magazine. (Pull-down claw and spinning mirror are synced electronically, so claw is simply turned off.) The Delta digital back houses a Super35-sized Dalsa CCD—Aaton marches to the beat of a different drummer—with a dual ISO of 100/800. A 1TB onboard pack of solid-state drives captures 40 min. of 16-bit 4K RAW.
My reaction as operator: pure joy focusing through an optical viewfinder! And the image on the monitor, formed through a 50mm Cooke 5/i? Sublime to these eyes.
A similar approach could be seen at P+S Technik's booth, where a digital back was shown on an ARRI SR3 16mm film camera.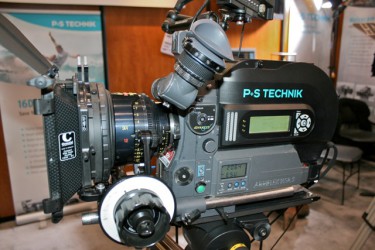 At JVC's booth, I saw a 4K2K prototype camcorder under glass, at first glance identical to a GY-HM100U (three ¼-in. CCDs). A JVC presenter at the Consumer Electronics Show this January pointed to what looked like the same prototype and proclaimed, "4K2K shooting… in cameras that are within the price range of consumers."
Why would consumers need or want 4K2K resolution? Also, isn't 4K beyond the optical performance of a built-in zoom lens in an inexpensive handheld camcorder?
As I've written many times, there's no Moore's Law of optics. There's good reason 35mm motion picture lenses—the original 4K, don't forget—are of a certain size, sophistication, and cost. Since RED reinvigorated the market for PL mount lenses, new sets of primes and zooms have flooded NAB, all high-performance. Canon this year, for instance, introduced their first PL mount lenses, two cine zooms that "also address emerging 4K production standards" per Canon's PR. The state-of-the-art 14.5-60mm and 30-300mm are indeed beauties. They'd better be for $45K and $47K. Canon, I'm told, is also developing "8K zooms."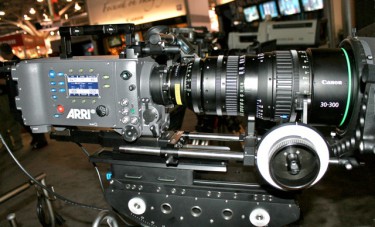 Zeiss took a different tack, showcasing their lower-priced Compact Prime II line next to the SLR lenses that CP2 lenses are based on. The SLR versions possess glass identical to their CP2 offspring but at a sixth the cost. This should be of keen interest not only to those using Canon HDSLRs but also new large-sensor cameras like Panasonic's AG-AF100 and Sony's NEX-FS100.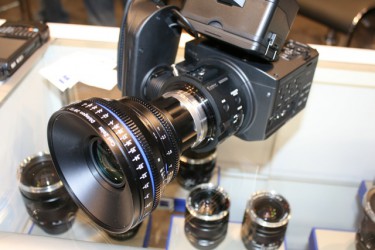 Meanwhile Abel Cine Tech addressed one of the thorniest problems to dog affordable large-sensor cameras like the AF100 and FS100: what to do about a zoom for vérité-style shooting? 35mm cine zooms are huge, heavy, and way expensive. Nor are they motorized. Abel's HDx Optical Adapter for B4-mount lenses allows conventional 2/3-in. HD zooms to be adapted to the Micro Four Thirds standard in the case of the Panasonic AF100, and to PL for the Sony FS100, Sony F3, Alexa, and RED One.
The HDx B4-mount adapter optically corrects for the missing prism and also preserves angle of view. In the viewfinder you see the same-size image you would get if using a 2/3-in. HD camera, yet with the shallow depth of field of a large-sensor camera. A 2.5 stop loss is somewhat compensated by the greater sensitivity of large-sensor cameras. Mitch Gross of Abel Cine Tech swears, to anyone who will listen, that B4-mount HD zooms look better on large-sensor cameras than they did originally on 2/3-in. cameras.
One of the quirkiest developments at NAB is the mania for accessorizing sparked by ergonomically challenged HDSLRs. Companies like Zacuto, Red Rock Micro, 16×9, Chroziel, Hot Rod Cameras, and Element Technica are having a field day supplying, often in brightly colored anodized aluminum, baseplates, rods, rod adapters, lens supports, PL mounts, follow focus gears, focus knobs, handles, handgrips, articulating arms, shoulder pads, matte boxes, loupe viewfinders, external electronic viewfinders, portable monitors, batteries, onboard HD recorders—you name it. The joys of Tinkertoys, Legos, and Erector Sets all wrapped up into one.
Even the latest cameras get hacked before they hit the pavement. I came across an amazing chop-top of a Sony PMW-F3 at Abel Cine Tech's booth. Gone were the poorly placed viewfinder and original handle. In its place were snazzy blue-anodized accessories from Element Technica: a top plate with mounting holes, robust handle, and rod holders; and a bottom plate with rosettes, more rod holders, and a shoulder mount. Not pictured was an external electronic viewfinder from Zacuto.
As I was snapping photos, Abel's Andy Shipsides was hustling the F3 off to a nocturnal test shoot in and around Las Vegas. A couple of young New York City filmmakers along with HDSLR advocate Vincent Laforet put the F3 through its creative paces that night. This was a special F3, the first in the country with Sony's $3500 S-Log upgrade, which enables dual-link output of 10-bit RGB bearing the sensor's full dynamic range for better color grading in post. (Similar to RAW but expressed as a logarithmic curve like color negative, hence Sony-Log.) You can see the results, much discussed, at http://vimeo.com/22540499 and a "making of" with commentary at http://vimeo.com/22576231.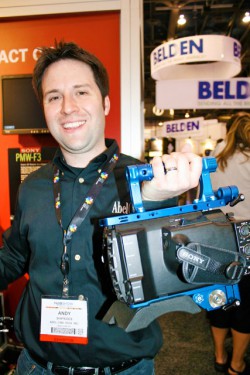 Two NAB items I came across deserve special mention because both guarantee perfect image control in the field, where chaotic viewing conditions and harried schedules conspire against perfectionism.
Organic LED (OLED) monitors have long been a holy grail. Unlike ordinary LED panels which require backlights like computer screens, OLEDs emit their own light, like fireflies. As a result, they're thinner, lighter, use less power, and display true blacks, since they emit no light in areas that are black. Ordinary LEDs, by comparison, crush color reproduction in dark areas and generate at best a dark gray instead of black. OLEDs also possess a wide viewing angle. There's no contrast or color shift as you view from the side. Without exaggeration, OLED monitors are the only type to accurately and reliably display full tonal scale values all the way down to 0-level black.
Why aren't they common? Wouldn't nirvana in the field be to see exactly what you are getting on camera, down to the darkest shadow detail?
High manufacturing costs and concerns about lifespan, particularly blue OLEDs, have been overcome, per Sony, which began developing OLED in 1994 and has inaugurated a huge OLED plant in Higashiura in southern Japan. At NAB Sony introduced 25-in. and 17-in. OLED monitors in both a high-end Trimaster EL series (capable of full digital cinema gamut) and a less-expensive PVM series.
The PVM 740, Sony's 7.4-in. OLED field monitor with 960 x 540 resolution (qHD or quarter HD), should top the wish list of everyone behind a camera. I fell in love with this monitor while shooting tests with Sony's NEX-FS100 and didn't want to part with it. For the first time, I could discriminate the finest shadow detail including color. Why I call it the first genuine WYSIWYG monitor.
The PVM 740 has a built-in waveform display like many monitors now, but if you lack a monitor or waveform display for location work, ScopeBox 3.0, announced at NAB, may be your ticket. It's a Mac app that turns your MacBook Pro into a combination picture monitor, waveform monitor, vectorscope, histogram, focus assist, audio VU meter, and more. It also acts as a direct-to-disk recorder to capture incoming video streams. Best of all, version 3.0 drops the price from $700 to $100. Available this summer.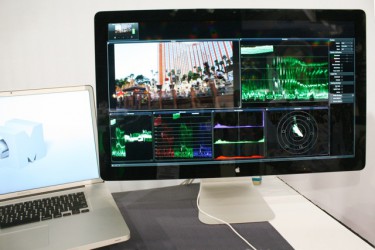 Like last year's NAB, innovations in lighting can be summed in one word: LEDs. This year I noticed countless new companies with hats in the ring, many them Chinese and Korean with obscure brand names showcasing rip-offs of Litepanels 1x1s. Competition will ensure better prices and color rendering, however, so this is not an unwelcome development.
A small company named AastroLight demonstrated an intriguing ring light created to overcome color deficiencies in white LEDs. Most don't realize that white LEDs incorporate the same green-spiked phosphors fluorescents use—not ideal for skin tones. AastroLight's ChromaRing employs a mix of five colored LEDs along with white LEDs to deliver a more complete spectrum, with programmable color temperatures and dimming.
Following up on Litepanel's breakthrough LED Fresnels last year, several companies introduced their own Fresnel designs, including ARRI and Gekko. ARRI's L-Series uses 7-in. glass Fresnel lenses instead of plastic for smoother beams and output equivalent to 1K tungsten Fresnels. There are three versions matched to tungsten, daylight, and variable full-color spectrum.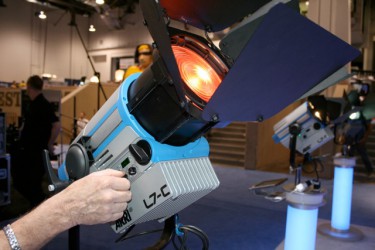 Camera support is not standing still either, with cameras now able to float, probe, and dart about like hummingbirds, at least in the case of the SteadiSeg, a fusion of Steadicam and Segway. I watched as a talented operator glided down the show floor, stopping on a dime to position a pair of Silicon Imaging SI-2K Minis over the shoulder or behind the feet of an unsuspecting passerby, then following silently behind like a French mime, all the while booming the 3D cameras up and down. Mesmerizing.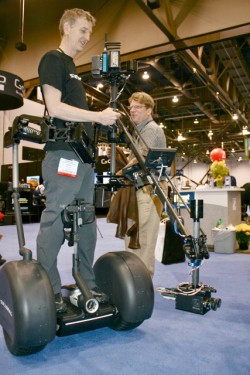 For a higher angle or even an endless crane shot, nothing beats a helicopter. Full-size copters could be found on the show floor, but an eight-rotor mini-copter hefting a teeny-tiny GoPro 3D Hero rig stole the show.
In an age of iPhones with 3-axis gyroscopes and deadly Predator drone strikes, nothing to dismiss as a toy.
So back to my starting thought: there are those who will greet the gut renovation that is Final Cut Pro X with open arms, others who will grumble that Apple has abandoned serious editing. Churn is disruptive. It's also a daily fact of life on the technical side of this industry.
Name a group in this industry that has benefitted more from leaps in technology and plunging costs than independent filmmakers.
Which is what makes my yearly trek to NAB so rewarding.
Photos by David Leitner.