Back to selection
Ten Lessons on Filmmaking From Director Abel Ferrara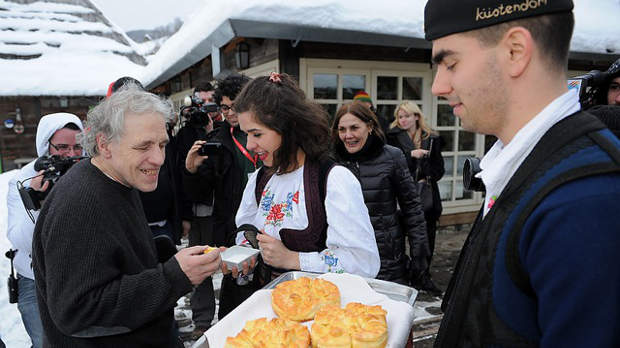 The original King of Indie Abel Ferrara made a stop at Emir Kusturica's Küstendorf Film and Music Festival this January to screen his latest film 4:44 Last Day on Earth. The Loisaida-set film paints a picture of addiction at the end of the world, starring Willem Dafoe and Shanyn Leigh. Ferrara felt very welcome at Küstendorf, Emir Kusturica's wooden village high in the mountains of Mokra Gora. "We just kinda have a connection, other than I look like him," Ferrera told me of the famed Serbian director, minutes before entering a workshop to discuss the film with students who had descended upon the festival to learn from the week's line-up of cinema greats. Also at the fest were Kim Ki-Duk (Korea), Nuri Bilge Ceylan (Turkey), Marjane Satrapi (France), the Dardenne Brothers (Belgium), Andreas Dresen (Germany) and Frederikke Aspock (Denmark).
These days, Ferrara is generous in sharing his wealth of knowledge on the industry. Just keep him away from the bear sanctuary, a new habitat Kusturica is building for abused circus bears at the Mokra Gora nature park, among his many projects in the region. "If you've got that kind of energy it's great. But I wouldn't be dancing with no bear, I'll tell you that much," said Ferrara, referring to a photo he had seen earlier that day of Kusturica getting intimate with a brown bear. "There's a picture of him with fucking sugar in his mouth kissing it, I don't know. I've had nightmares about bears my whole life. If that bear was around I'd be on a helicopter out of here."
Fortunately for Ferrara, the brown bears of Mokra Gora were hibernating during his visit. So I sat down with him to discuss some of the top lessons he's learned over the years from his vast and diverse lifework. So stop fucking around and take note.
1. New game, new rules.
"Being independent now is like being the loneliest man in the world.
I think independent was a reference to a film structure that was outside of Hollywood. I guess you could be independent in Los Angeles, but at a certain time, a certain period in the '90s it was all about a setup where you could raise money. If they were making movies for $10-15 million, you could make movies for $500K-$3 million. There were directors and banks and distributors and the whole world you knew that existed back in the day, that I think are no longer in existence."
2. Don't be dependent on anyone.
"I make movies now by independently financing the films, by raising money basically outside the system. That's the first way to go. And second of all, I mean, I joke about it, but being independent is still a small but kind of loyal group of people, mostly European."
3. Stay away from the factory.
"You don't have to be a genius to figure out what the deal is in Hollywood. Hollywood is a factory town. It always was a factory town. And you know the idea of a director who makes the kind of films I wanted to make, they just don't make them.
"You're not going to make pasta fragole in fucking Dublin, you know what I mean. You're not going to make Mexican food in Istanbul. It doesn't work that way. In Hollywood they make a certain kind of film a certain kind of way and the director is the last person or the last thing they want."

4. All you need is a vision.
"It's a matter of going into a project just knowing you're going to make a movie and just having a vision of a film. And then letting all the marbles make everything just kind of be where they end up."
5. Just pick up the camera and go.
"You know I think we just basically just picked up the camera and started shooting. It's funny, I'm working with some of the same guys I initially picked a camera up with. But we were like 16.
"You know we had a problem because when we were at the point when we could actually learn, and in certain situations we were around some really great people to teach us, we had the attitude that we had nothing to learn. It was a problem back then. But now I know how much there is to learn. But I would say we just learned by doing it. Filmmaking is something that is so idiosyncratic, and it's so personal the only one who is going to teach you is yourself. The only way you're going to learn is by doing it."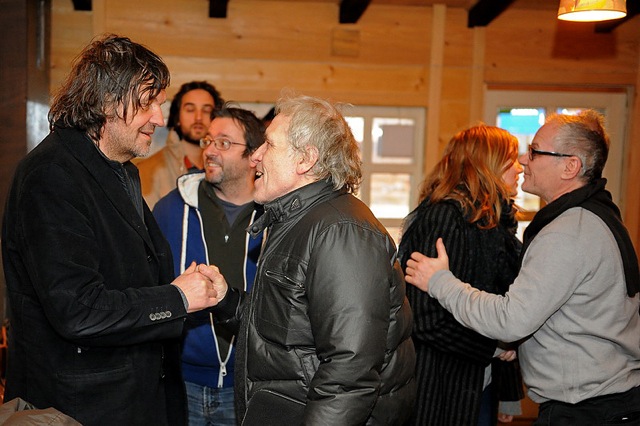 6. Shoot From Your heart.
"I mean, all my work is personal. You try to make a film that speaks, and the further inside you go, the more you're speaking to other people.
"This film, it's straight up about sobriety. I'm not going to negate the work all of us did when we weren't sober. It's about the films and about the characters that we're dealing with. I mean that's what Kenny [Kelsch, D.P.] was saying: 'Hey, at least if we come back as cockroaches, we're going to come back as sober cockroaches.'"
7. Get your shit together. No excuses.
"A message to my younger self? Wise up, bro. I mean like wise the fuck up. I was drinking 50 beers a day; it's a joke. The simplest thing that I learned was that I didn't have to drink. And if somebody told me that when I was 17… you can, but you don't have to… I thought I had to. I had to do all that stuff. We had to be like the baddest motherfuckers in the room. And we had to be negative. We had to be every dumb fucking thing that we were. And it certainly didn't help, working in L.A. and being there and all those values that are laid on you, you know, having a bigger car. Just a car we used to rent, I mean if we made $500, we spent $400 on the car we rented. It was like that kind of idiocy.
"So the film, we never could have made that film sober. Not that we couldn't have made it, but none of that would have been important to us. So for us now it's like a great light that's opened to us."
8. The Internet is your best friend.
"Use the Internet. The Internet is a gift from God. As much as the piracy and the robbery is going on, you've been given a tool you can use.
"And as much as I don't like the digital — it's tearing my heart out not shooting on a negative — you have a way to connect to the whole world. You're on the other side of the world now from Los Angeles, and you're connected here like that. It is there for us to use that and show our stuff, and connect, and connect, and connect, and make the kind of films that connect.
"Put your film out there — YouTube, anywhere. Find a way and keep working."
9. Avoid the spotlight.
"Stay off the red carpet. But if you're on, get your clothes together. Cause you're gonna be seen."
10. There is only one language in cinema.
"Hitchcock said this to Truffaut back in the day. You know, when they scream in that shower they're screaming in Tokyo the same way they're screaming in Paris. It isn't the language that's making them scream. It's not the words, man. It's the pure cinema that is effective. And when you're speaking with the images, and you're putting those images together, they way they're supposed to be put together, then you're speaking the language. It doesn't matter if you're in Serbia, or in a fucking igloo with Eskimos. You're speaking that one universal language, and that's the language of the cinema. And that's holy."
(Photos courtesy of www.kustendorf-filmandmusicfestival.org)