Back to selection
Director Matthew Akers on Marina Abramovic: The Artist is Present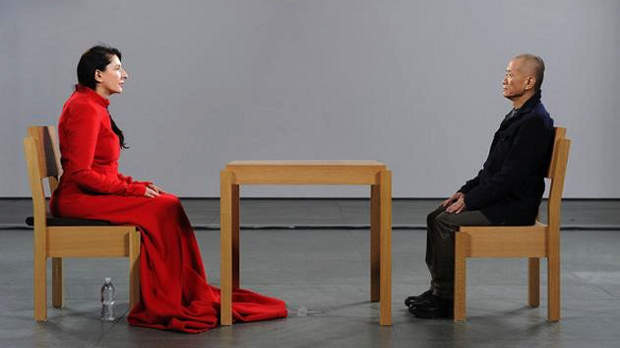 The self-described "grandmother of performance art," Marina Abramovic has for almost 40 years been one of the leading lights of a still-marginalized form. Born to ex-partisan parents in 1946, in the early days of Tito's Yugoslavia, she is the fascinating subject of Matthew Akers' new documentary, Marina Abramovic: The Artist is Present. Despite her international renown, the Belgrade-born, New York-based Abramovic failed to enter the public consciousness in the States until her blockbuster 2010 MoMA retrospective. Akers' film is a sinewy tour through Abramovic's peculiar life and working process as she embarks upon her most high profile performance yet, one that she hopes will finally push performance art out of the margins and into the mainstream. Mixing biography, interviews and vérité, Marina Abramovic: The Artist is Present captures a snapshot of a high-art world in flux and one of its most ambitious inhabitants at the top of her form.
Akers is a veteran documentary cameraman, producer and director, having shot over a dozen doc television series for PBS, including Carrier and Circus. He moved into directing with 2007's Nimrod Nation, which aired on the Sundance Channel, and has spent the better part of the last decade co-producing documentaries with his partner Jeff Dupre. Marina Abramovic; The Artist is Present debuted at this year's Sundance Film Festival before making stops in Berlin and San Francisco. It opens at Film Forum in Manhattan today and debuts on HBO later in the summer.
Filmmaker: What first put you in contact with Marina Abramovic's work and how did that lead to you making a film about it, and her?
Akers: It happened quite spontaneously. I've been working with [producer] Jeff Dupre for a number of years. We a did series together that I produced and shot called Circus. He walked into the office the day after production had wrapped. Right before he had been to a dinner party and had been seated between Klaus Biesenbach and Marina Abramovic and they were talking over him about a retrospective they were going to do the next year. He asked if I knew anything about her and we had a brief conversation about how much fun she was to be around. He thought she was really charming. I have a degree in art. I went to the School of Visual Arts in New York for painting and sculpture originally. I didn't set out to be a filmmaker. I studied her a bit and discovered that she had this show at P.S. 1 that had been a collaborative work 10 years before, so I knew a little bit about her and we chatted and talked about how she might make for an interesting film. Definitely, there was no money at all.
So I went away for a week or two and Jeff decided to proceed. He met with Marina and asked her if he could make the film, then he went and met with MoMA and hired someone to write a treatment to get access to MoMA. Then a few weeks later he found out that she was going to be training the other performers at a house she has upstate. They couldn't eat or speak for three days. So he called me and asked me if I wanted to go up there and work on the film with him. Initially I was really hesitant because I was so exhausted from having spent a year trying to get clowns and acrobats to let me into their trailer so I could film. I was beat up. So I asked him if he thought she was going to be a difficult subject or an easy subject and he felt like she was really unique, that she'd really open up her life to us, that she was super fun to hang out with and if nothing else it would be fun. I was also skeptical of performance art. Even though I have a degree in art, it wasn't my thing, it wasn't my mode of expression. I'd never really been to a good performance piece. I knew she was a very famous artist and all that.
Anyway, he talked me into it. He said I should still meet with her and we also realized that we could shoot this four- or five-day event that she has with these three performers and maybe cut a trailer and get some money for the film. When I met up with her, she was awesome; we hit it off right away. I remember in the first couple of hours of meeting her, while talking to her about the intention of the film a little bit, I said, "We're not going to be able to give you any sort of editorial control. You're going to have to trust us." She'd actually seen another series that I had produced and shot that Jeff had shown her called Carrier. It was a 10-hour show for PBS and she thought that was really hardcore that we had gone and spent that much time seeing the life of an aircraft carrier. So she trusted us based on that. Then I trusted her based on the fact that she said that I wasn't going to have to track her down and she would really open up her life to me. She promised me within a week that she would give me keys to her apartment, which she did. That's unheard of, no subject that I've ever filmed has done that. So that was incredible.
I also told her about my skepticism of performance art and she wasn't fazed by that; she's been dealing with that her whole career. I said, "As documentaries often go, you don't end up where you begin or you don't end up where you think you'll end up. No disrespect to your legend or you myth or your oeuvre, but if my skepticism is confirmed I want to be able to be led down that path and that direction, I did not set out to make a hagiography. I also didn't want to make an art film." So I had to struggle with how to make a film about something that is challenging to a wide audience and that is supposed to be ephemeral. Making a film about someone who is going to sit in a chair for three months is, for a filmmaker, kind of terrifying. You think, "How am I going to make this cinematically interesting?" So that's how it began. It was just mutual trust on both of our parts. She trusted that we were going to pull it off, get it sold somehow or shown somewhere. I trusted her that she was going to give me access, that she wasn't going to try to control the film in any way, that she'd let us see her archive. She really opened up the doors to us and in that respect it was an amazing collaboration.
Filmmaker: You said you weren't very interested in performance art before making the film. Has that changed in the process of making the film?
Akers: It has changed in the sense that I totally believe in Marina. Not in everything she's done: I still think that there are works she's made or directions she's gone that are criticized in the film; her theatricality, I'm not as interested in. Still The Artist Is Present represented a shift in my perception of performance art, or at least in Marina's work. I found that to be a profoundly affecting piece. That said, I'm not rushing out the door to every performance art piece I'm invited to. If Marina calls, I'll certainly go, but I still think there's a lot of bad performance art out there.
Filmmaker: What did you learn about Marina's method that most surprised you?
Akers: The reason why I feel like I was able to "get" Marina's piece was because of its simplicity. I think she's done things that are a little bit more complex with her other pieces. There's a lot of symbolism in many of her pieces. I don't really understand all the concepts and allusions within some of her pieces. But The Artist Is Present seemed so simplistic and yet so complex, it was a great way for someone who was skeptical like me to enter her work and then back track, go back into her past. That's what we did in the edit, we said, "OK, what are the things that she's really striving for here in her work that are from her past?" We sort of curate that stuff, and ask how does that inform this new work. I see her as someone who's worked her whole life toward that performance of The Artist Is Present. Her career really illustrates that. I think the mistake a lot of performance artists make is to include way too much personal symbolism and it just gets very difficult from the outside to enter into that kind of work because the universals are not apparent. I found that in The Artist Is Present she applied a lot of universal stuff that I and other people could draw on.
Filmmaker: How did the dynamic between the two of you evolve as the process of making the film unfolded?
Akers: We definitely became very close friends on a personal level. We've traveled with the film a lot now. The dynamic didn't change so much during the process. She stayed true to her word, I had total access up until the day I stopped shooting. When she saw the first cut, she gave us 15 pages of notes, but we ignored them and she came around. I think she's seen it several hundred times now. She's cried when watching it. While we became friends on a personal level, I never really gave her an inch while I was in production in terms of my skepticism, I never showed her that I had a change of heart during production. While I was shooting, I really wanted to be able to maintain that distance in order to keep exploring my own thoughts about what I was witnessing. I feel like that energy definitely comes from a place of practicing trying to objectify my subject on some level, which you have to as a journalist or filmmaker or documentarian on some level. You have to keep some sort of distance, which can be tricky, but I think I did do that.
Filmmaker: What were some of your strategies for making the piece formally engaging?
Akers: As both director and cinematographer, I had a complete handle on the film's formal style. It was very observational for the most part, although I did shoot 10 or so key interviews. I also shot all the vérité [footage] in such a way that if we decided that we didn't want to use any of the interviews at all, the film could still work. I really actually wanted to go that direction before we got into the edit room. I worked extremely hard to capture every moment in a way that's usable. I shot seven hundred hours of footage and I would say the vast majority of that is really, really good material. We could have made an epic out of all that material. I don't like the term fly-on-the-wall, but for lack of a better term that's the sort of style I shot in. I would make sure ahead of time that everyone was comfortable with the presence of the small crew I had, usually myself, the sound guy and a PA.
When we got in the edit room, it took me awhile to come around. Through the sage advice of my producer Jeff Dupre and the editor, Donna Shepard, I was able to figure out how to structure it and what we needed to do. First of all, there were some budgetary concerns. I self-financed the film through production, I paid for everything from my own savings. So we spent very little on the production of the film. We were basically out of money by the time we needed to start editing. Just prior to that though, HBO got involved and really believed in the film. So very quickly we had a very definitive editing schedule. I shot so much material that we would have had to spend three years in the edit room to look at all of it, mining the vérité stuff for its potential. That was slightly disappointing, but I knew that regardless it was going to be great, so we went ahead and included bits of interviews and structured it in a very formal way.