Back to selection
Animating 1000 Parts: Creating the Short Day Shift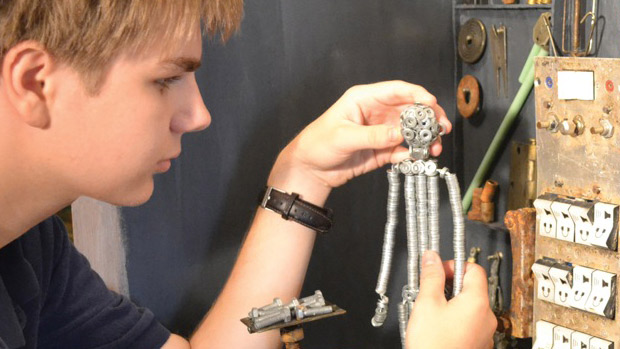 Ian Timothy, 18, is about to graduate high school — applying to art schools hoping to study animation — but he already has several years of animation experience under his belt. He created his first stop motion at 12 using a DV camera, and quickly discovered he liked doing it so much that it became "pretty much a full-time thing." Timothy won a Silver Telly Award for animation in 2013, has created animation for music videos, and is currently working on an animation for Adult Swim for the Cartoon Network.
In the following interview Timothy talks about the short Day Shift, which he recently completed, as well as the art and tools of stop motion.
Filmmaker: How did you become interested in stop motion?
Timothy: I've always been a fan of the Wallace and Gromit series and the old Christmas specials, and pretty much anything in stop motion. I started playing with my first camera, rolling around little blobs of clay on the floor, and then I got into actual characters and little stories, and it kind of went on from there.
Filmmaker: How were you making them then?
Timothy: Not well. I would take a single frame with the camera and do the whole thing and then import it into the computer. I was pretty much animating blind because I couldn't tell where I was going with characters and things. I wasn't even using iStopMotion when I started.
Filmmaker: When did you start using iStopMotion?
Timothy: I was 13, I started using it in early 2008. I think it was iStopMotion 2.
Filmmaker: What do you like about iStopMotion?
Timothy: I think it's a great program, you can do simple stuff but you can also get really in there and do really good animation with it. There's some programs that are kind of hard to work with or you don't have the tools you need to really to get smooth and good animation.
Filmmaker: What else are you using?
Timothy: I also use Dragonframe for some things. I'll switch back and forth depending on the project depending on what I need.
Filmmaker: What makes you use one versus the other?
Timothy: I've just started using Dragonframe. I'll use it if I'm doing more dialogue and maybe a little more subtlety.
Filmmaker: What camera are you using now?
Timothy: I'm using a still camera at this point, a Canon Rebel T3i DSLR with the kit lens, the 18-55mm. I've moved away from the video cameras.
Filmmaker: You used a Nikon for Day Shift. Why did you switch to the Canon?
Timothy: Canons are used more for stop motion — they have better manual settings so I don't get as much flicker.
Filmmaker: What do you do for lighting?
Timothy: I have a simple setup. It depends on what I am shooting. Usually I have two lights; sometimes I'll have three. I'll have a main light and then I'll have a smaller fill light.
Filmmaker: Do you record your audio and work out the timing from the audio file?
Timothy: Yeah. My dad is an audio engineer and he has a studio in our basement, so I've always had access to good sound. He started out doing a lot of my voices for me and then I started getting in other voice talent. I'll record it and then I'll work out the timing and then I animate to the voice.
Filmmaker: Do you ever rerecord the audio, or do you record it and you're locked to it from then on?
Timothy: Once I've animated it, then it's set. The only time I might rerecord stuff is if I know it's not going to work when I get to animation. I don't usually have to rerecord a whole lot.
Filmmaker: Where did the idea for Day Shift come from?
Timothy: I had to create a character out of a thousand pieces of something for an art class, and so I used little metal washers and from there, everything else was built to fit the character with found objects. But the story and everything else was all me.
Filmmaker: How long did it take you to shoot Day Shift?
Timothy: It took a week or two to get everything built. It was during the summer so I didn't have school. Once I had everything built it took about three weeks to shoot.
Filmmaker: What was the hardest thing to do in that sequence?
Timothy: The character was heavy so getting him to move right was hard, and it wasn't easy to get a whole lot of subtlety with him. He has a simple wire armature, and the washers are threaded onto the armature and then sealed off at the joints. I guess I managed pretty well with it, but the washers are loose, so it moves around quite a bit and it's heavy so you can't get it to do exactly what you want. But it worked pretty well for what it was.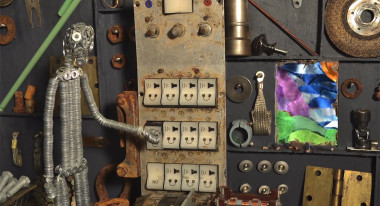 Filmmaker: What's the hardest thing to learn in stop motion?
Timothy: Good timing. Getting a character to feel alive. Making sure they aren't too static or moving around too much. That's probably been the hardest thing for me. I think I have a general sense of timing but then really honing in on that is probably the biggest thing for being an animator.
Filmmaker: Any books or references you recommend to beginning animators?
Timothy: Cracking Animations by Aardman. It's pretty basic but it still goes into some good advanced stuff, from starting the animation all the way up to finishing it. There's lots of good tips in there. And then there's a book, Basics Animation 04: Stop-motion by Barry Purves, and he has another one called Stop Motion: Passion, Process and Performance. It's more about getting character out of a puppet and less about the technical stuff.
Filmmaker: How did you come to do the All My Dreams music video?
Timothy: My dad is a musician. He opened for Grace Adele and the Grand Band about two years ago, and they were interested in having a music video for the album they were working on. About a year and a half ago they got in contact with me again and asked if I would do this music video for them.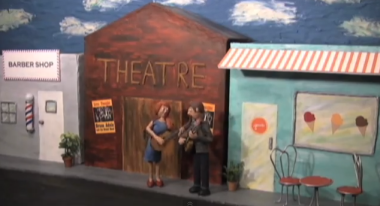 Filmmaker: What was the process?
Timothy: They gave me the song, and many of the things that are in the song I put into the video. If it says they're doing something then I kind of did that, but there are also less specific points where I asked them what they liked to do in real life and put those in there. They gave me probably 20 examples and I picked from there.
Filmmaker: Did you do storyboards?
Timothy: I worked up a storyboard with the music so I had an animatic so they could see how it would look. I got approval from them and then I did the character designs and then I started animating and it took about three months, but that was during school.
Filmmaker: What are you working on at the moment?
Timothy: I'm working on two projects that are in production and then I am about to start another one. One of them I'm working on is an animation for Adult Swim for Cartoon Network. They have a website called Thing X, this online satirical new website, and I'm doing a little two-minute animation for them.
YouTube: IBTimothy