Back to selection
Uneasy Does It: The Comedic Filmmaking of Issa Rae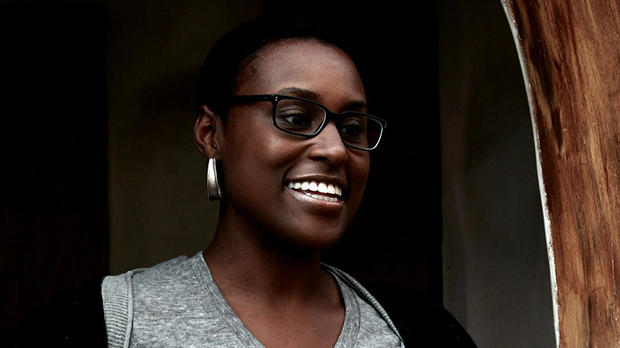 "My name is J, and I'm awkward and black. Someone once told me those were the two worst things anyone could be. That someone was right." So says the title character in the pilot episode of The Misadventures of Awkward Black Girl, one of YouTube's biggest Web series that's spawned two seasons and a major career.
Issa Rae, 28, is the creator and lead actress of the series (commonly referred to as ABG), which has millions of views and legions of fans, including Pharrell Williams, now an executive producer on the series, and Shonda Rhimes, who has added Rae's forthcoming TV show, I Hate LA Dudes, to her ABC-based empire. Gabrielle Union, Kelly Rowland and others have expressed interest in guest-starring on the Web series. A feature film version of ABG is in the works.
ABG's production values aren't high, but the writing is sharp and specific. Rae's initial episodes parse out the beats of day-to-day awkward occurrences: seeing a co-worker repeatedly in the hallway and wondering if you need to say hi each time; downplaying the mistake of waving to someone who wasn't waving at you initially; trying to explain to someone that you're not gay without sounding unintentionally homophobic. The humor isn't necessarily breaking new ground — we've seen plenty of comedic protagonists struggle with dead-end jobs, failed love lives and an overly active fantasy life. But it's the simultaneous self-assured yet self-deprecating tone that makes the material jump out. J may be awkward and insecure, but she's intelligent and doesn't pretend otherwise. She combs the black community for satirical material (making fun of everything from black sorority life to the hypocritical views of the overly religious) but does it without distancing herself as an "other." Rae doesn't just toe the racial line — she kicks it hard and sees what shakes out. It's hard to think of another show, or movie for that matter, that can script such extremely uncomfortable lines without the audience feeling uncomfortable. J may casually drop the n-word for comedic effect in an inner monologue, but she does so while sitting in a cubicle wearing a button-down shirt. She writes out violent rap lyrics and sings them to herself when stressed or frustrated, but it's not funny because she's bad — she's actually a pretty decent rapper. Rae gets us to laugh because we recognize her angst in ourselves.
Rae is living what many would consider the Web series dream. She has managed to create unique, uncompromising content; find a deep and loyal online audience base for it; and receive enough attention to transition into more traditional media formats if she wants to.
Film was Rae's first love, but getting her start on the Web enabled Rae a healthy lack of preciousness about her work. "I'm not worried about getting the Web series audience to transition and see a movie version," she says. "Even if they don't see it in the theaters, I know they'll watch VOD or stream it online. I want to make all of those options available."
Born in Los Angeles, Rae spent her early years in Senegal before returning to the U.S. at the age of six. The creative bug hit her early and hard. Rae spent her spare time coming up with stories and crafting homemade books, and the stories soon turned into scripts. When she was in just sixth grade, Rae took it upon herself to submit a teleplay to NBC; Rae had written an original episode for Cosby. "I watch a lot of Saved by the Bell and Fresh Prince, and I think you'd like my script," her letter read. NBC didn't take the bait, but soon after she had a life-altering experience when a teacher cast Rae, a self-described tomboy, as Demetrius in A Midsummer Night's Dream. "I had a career revelation," Rae said. (How old was she? "Eleven," she replies, without a trace of irony.)
But it was Gina Prince-Bythewood's hit romantic drama Love & Basketball, which Rae saw for the first time in high school, that lit a new fire. "Love & Basketball was written, directed and produced by a black woman, from my suburban neighborhood," explains Rae. "I had only seen Boyz n the Hood and stuff like that — movies I enjoyed, but ones I didn't really relate to, because I didn't grow up in the hood. I watched Love & Basketball and thought, I can do this, too." Rae proceeded to watch the movie (including the director's DVD commentary) every single day for a year. It motivated 16-year-old Rae to write a screenplay and send it directly to Prince-Bythewood. "She wrote me back," Rae recalls. "She said, 'Way to finish a screenplay! I'd love to direct it but I just had a kid and have a lot on my plate.' She was really sweet and encouraging about it." Her preoccupation with Bythewood's work planted an important seed for Rae: it helped to define the kind of material Rae liked, but perhaps more crucially, it made clear how unusual it was to find black females in lead creative roles.
Rae might have known early on where her interests lay, but finding it compatible with a traditional university education didn't come as easily. Rae was accepted to Stanford, but the university didn't offer at the time a film major of any kind, and her parents had their own set of concerns. "My dad said if that if he was going to pay for Stanford I needed to be educated in something legitimate. I went to a medical magnet high school, so I originally thought I wanted to be a doctor. Then I considered being a lawyer, even though my heart wasn't fully in it. I was always trying to justify to myself how I could be creative on the side and still be a lawyer." When it came time to declare a major, Rae picked political science, but when Stanford required her to fill out a form to explain why she wanted to go that route, she couldn't come up with an answer. "All I could say was, 'My dad wants me to,'" Rae says, laughing at the memory. "So I didn't declare and started instead to take a lot of creative writing and African-American Studies classes."
Stanford introduced Rae to another student with creative ambitions, an emerging writer/producer/actress named Tracy Oliver. The girls quickly realized they had similar sensibilities and began writing screenplays together. (Fans of Awkward Black Girl will recognize Oliver as the actress who plays Rae's workplace nemesis, Nina.) "One of our scripts was a finalist at Sundance's Screenwriters Lab, and we were pretty geeked out about that," says Rae. In her sophomore year of college, Rae enrolled in a four-week program at the L.A. campus of the New York Film Academy. "That's when my parents got really worried," she says. NYFA was "amazing" for Rae, since it was the first time she was "around people who lived and breathed moviemaking. It really motivated me to be DIY about my material — it showed me that all I really needed was a camera."
One of Rae's early Web productions was Dorm Diaries, a series that depicted black student life at Stanford. Facebook and YouTube were starting to blow up, and then Facebook came out with the ability to post media to your profile page. Rae immediately saw the opportunity this created. "I realized that I could write and create a series starring my friends, and that they could share it without any effort. I thought maybe a Web series like that could go viral." The show didn't go viral, but it did spread beyond her Stanford friends' pages. "The series was a mockumentary about what it was like to be black at Stanford, but people at Georgetown, Duke, Howard — all these other schools — were also totally into it. They started seeing it and were like, 'Oh, this is so cool, this is humor that's specific to my experience too,' and so they started sharing it among their own friends."
Rae graduated from Stanford in 2007 and moved to New York City for a fellowship at the Public Theater. But Rae wasn't that passionate about theater, and she found herself starting a film collective in her spare time. "I bought all this equipment and worked to bring together filmmakers of color to produce content and workshop shorts together." Her efforts culminated in a gala that she organized with 300 people in attendance. Her momentum, however, would soon be derailed. "My apartment got robbed, and all my film equipment got stolen," she says. "It was definitely a low point." Rae stayed in New York for another year but kept visiting her friends back home in L.A. "They were like, 'What are you doing? Why are you struggling in a different city when everyone you know is in L.A.?' I really liked New York, but it's not fun when you're broke!" she says. She moved back to her hometown, determined to tap into people she knew so she could collaborate on fresh projects. Her directorial debut arrived when her brother, a rapper/producer who goes by enimaL, needed a music video for his group, Fly Guys. The video launched another Web series, also titled Fly Guys, which started garnering a slow but steady following.
ABG also stemmed from close, familial roots. In a Google Talk from late 2011, Rae explains to an audience that she "comes from a really, really awkward family. As a family we once walked into the wrong funeral … late." Rae realized that she and her family weren't the only ones laughing at these types of daily mishaps. She loved this kind of behavioral humor that shows such as The Office, Parks and Rec and 30 Rock embodied, but she wasn't seeing that in any shows that were led by — or even featured — people of color. Referring to those NBC shows in a 2011 interview with Vulture.com, Rae notes "if you put all those black sidekicks on one show, it would be the most boring, one-dimensional show ever." She continued, "It's so crazy how in the '90s, there was so much diversity on television, and so many options on black television. My producing partner Tracy Oliver jokes she had the nerve to be picky back then, like, 'I don't feel like watching Martin, I'll watch Living Single.' We had options. We don't have any choices. There are only a few select things. Even look at the black women on Community and Parks and Recreation — they are the archetype of the large black women on television. Snide and sassy. I love both of those shows, and I love the characters, but it's like, come on, there's more than that." Rae saw a void and believed it would be funny to put the two elements together. She sat on the idea for two years, but then read an article in Complex magazine that asked, "Where was the black Liz Lemon?" Rae knew she needed to put her idea into action before someone else did it first.
ABG was originally conceived as an animated series, but she was simply "too broke" to bring that into conception, so she settled on a live-action, guerilla format. Friends with little to no experience helped piece the first few episodes together, and soon a schedule started to form. "The first week of a month we'd take two or three days to write an episode. The next week I'd do prep — finding cast, crew, locations. Third week in we'd shoot the episode in two days. The fourth week we were in post-production, and then I'd release it the following week. So every single day I was working on it." The system became more manageable when they brought on a consistent crew and two additional writers. They began to treat it like a writer's room. By episode nine, Rae had relinquished directing the episodes to someone else. (Rae credits director Shea Vanderpoort and producer Deniese Davis as two of the key personnel behind the show.)
In 2011, ABG raised more than $56,000 on Kickstarter to support its production costs, and now, adds Rae in a follow-up email, it "makes money through YouTube's partner program. The series definitely helped me to support myself, but not just through revenue share. Kickstarter jumpstarted its financial stability, and then [there is] merchandising and college touring. Those are all streams of income from the Web series." Rae's cast and crew began working on the show for free, received low rates after the Kickstarter campaign and then, writes Rae, "For season two, we were able to pay the cast and crew fully."
I asked if there was a moment, or a view count number, when she realized ABG had hit a nerve. "The very first episode," Rae replied without hesitation. "With Fly Guys we were painstakingly increasing our views per weeks and months. When the first episode of ABG was uploaded, I got a call from one of the guys from Fly Guys and he was like, 'Your new show is killing us.' We had 10,000 views on that first day — more than double what my other shows averaged." Rae's previous Web series helped gain an initial audience, but it was posts on two prominent blogs — Indiewire's Shadow and Act blog, and Clutch magazine — that helped spur the initial word of mouth. Rae used to work as a film blogger in New York, and since the circle of black film sites was "so small," she had made contact with Shadow and Act and others early on. They saw her episode when she put it up on her social media channels and helped spread the word. Her seemingly roundabout career journey was coming full circle.
Initial buzz, of course, can only go so far. For a series to really thrive, Rae needed to provide a point of view that was lacking anywhere else. "I knew that putting 'awkward' and 'black' in the same title would get people's initial attention," Rae says. But it's the subtle and not-so-subtle quirks of her characters that make the show shine.
"J" works at a call center for a new weight-loss pill called Gutbuster — the side-effects of which, her character intones, "include a full-month of nausea. We basically sell bulimia in pill form." J plays by the rules, is afraid of confrontation and writes those violent rap lyrics in private when she's feeling frustrated or stressed. Like many workplace comedies, J's co-workers embody painfully extreme characteristics themselves: her evil boss, the "drama queen who never shuts up," the "space-invading germ chick," the culturally-ambiguous guy who gets away with non-PC comments. There's also, of course, a work crush named Fred (played by Madison T. Shockley III). Rae cast the show almost entirely with talent of color, from the over-the-top CeCe, Rae's onscreen best friend played by the Indian-American actress Sujata Day, or her Latino co-worker Jesus, played by Michael Ruesga.
But it's Lyman Johnson, a blond-haired, blue-eyed actor, who's perhaps best known as White J,  who plays Rae's unexpected love interest, that has the fast-growing female fan base. "I have about 1,000 Twitter followers, and I'd estimate about 90% of those are black women" said Johnson over email. "Originally my character was only supposed to be around for a couple of episodes …but luckily for me, the fans of the show really took to my character." Has being on a primarily non-white show changed the type of roles he's been offered? "It hasn't affected my auditions very much, but the roles that have been offered to me unsolicited have, by and large, come from other black producers. My friends joke that I have a bright future as a token white guy." #TeamWhiteJay or #TeamFred have become common hashtags on Twitter, with audiences actively arguing who would make a better boyfriend for J. The "token white guy" is by and large winning the debate even if the audience is primarily black, proving that diverse casting isn't just important for abstract PC reasons. "I see some people viewing the series as a 'black series' and some seeing it as one with a niche audience but with universal appeal," says Rae. "People want to see themselves reflected in some way. It's also realistic!"
Rae, who saw the power of Facebook early on, is fully engaged on social media. "Interaction is everything. It promotes engagement and fosters a community. Your audience feels more connected to the show when the creators/actors actively talk to them. And it takes time! I was blogging for at least three years, building an audience, before I gained a sizeable audience, and I'm still trying to build a bigger audience." Rae even got her manager through Twitter contacts. She recalls, "The comedian Hannibal Buress reached out and was like, 'I really like your stuff … if you need representation my manager reps Amy Poehler and Donald Glover and I could introduce you." ABG's associate producer, Benoni Tagoe works as the show's social media strategist; Rae credits her as being "amazing."
Rae, who is repped by UTA and 3 Arts Management, is ending the ABG series after two successful seasons and is putting her energy on feature films and television. Shonda Rhimes, the prolific showrunner behind mega-hit network shows like Grey's Anatomy and Scandal (and who happens to be an African-American woman with a great track record for diverse casting choices herself) met with Rae during ABG's online run. "It was super intimidating to meet Shonda, but she was so chill and so normal. At the end of the meeting I approached her and asked if I could get a picture with her — she was so surprised that anyone would ask her that." Sixteen-year-old Rae would surely approve.
Rae's advice to aspiring Web series creators is simple. "Do your research," Rae writes. "See what else is out there. Come with an original idea that nobody is doing so that you'll stand out. There are a LOT of Web series about the same thing. Dare to be different (authentically)."
Top photo of Issa Rae by Steven Russell for Know This! TV