Back to selection
Zach Braff Fights the Money Guys on Kickstarter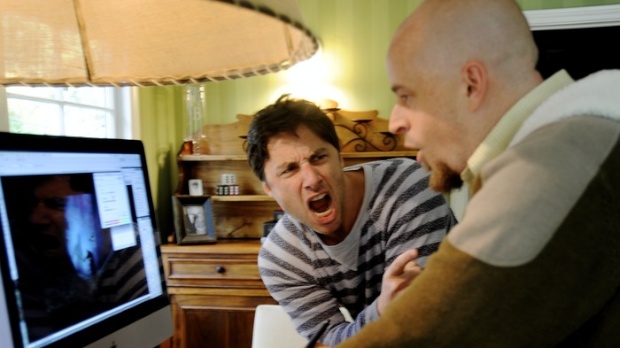 Zach Braff with VFX artist Colin Fix.
What hath Veronica Mars wrought?
When Kickstarter began, it was a place for projects that couldn't find their money elsewhere. Projects that didn't fit into easy categories. Projects from people without access to typical funding sources. Over the years, it's morphed into many other things, including a pre-sale marketplace for new tech gizmos. The latest is a Money Guy Free Zone for Hollywood names. First, Veronica Mars creator Rob Thomas turned to Kickstarter to fund what the owner of its IP, Warner Bros, would not. (Aiming for $2 million he raised $5 million). Now, Garden State director Zach Braff is turning to the platform to replace "the Money Guys," who, apparently, are already willing to finance his $2 million follow-up feature, Wish I Was Here.
What's the problem? Well, they want final cut. And casting approval. And they might not want to approve the funds required to shoot at Comic Con. And that's despite Braff's own track record and the presence of excellent producers (Michael Shamberg and Stacey Sher.) Says Braff on the Kickstarter video, only through Kickstarter can he realize "the truest representation I have in my brain."
Rewards include a speaking part (10K), naming rights to a character (7K) and credit for underwriting the film's VFX budget (9K). For $8,000 you can take part in a "filmmaking symposium" where you'll "discuss what you liked, what you didn't… and help shape the final cut of the film." (Presumably you'll be smarter than the Money Guys.)
Braff is trying to raise $2 million on Kickstarter. Only just launched, he's already at $660,000 with a month to go.