Back to selection
Balancing the Autobiographical Documentary: Jason DaSilva on When I Walk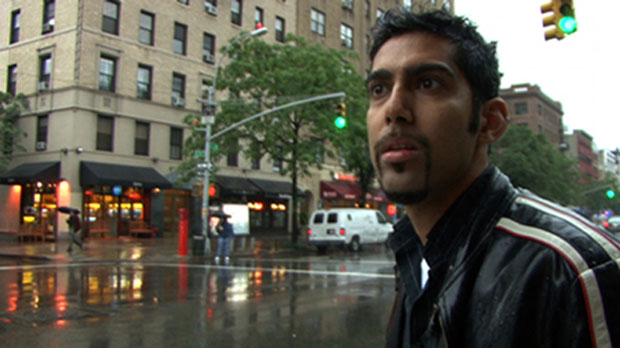 I remember the first time I saw Sherman's March and realized how revealing autobiographical documentary could be. Filmmakers who turn the camera on themselves run a high risk of self-indulgence, but when done right their films can intimately show the resilience of the human spirit, especially when their challenges appear insurmountable, whether in situations as grandiose as in Ernest Shackleton and Frank Hurley's South or as ostensibly mundane as Steven Ascher and Jeanne Jordan's Troublesome Creek. The process of making autobiographical films can even be beneficial for the filmmakers, psychologically or otherwise, provided they place therapy on a backseat to developing a good narrative and engaging film.
That's what documentarian Jason DaSilva has done with When I Walk, a chronicle of his own struggle with advancing multiple sclerosis. MS is a subject that is both infinitely personal and incredibly universal — it is the most common neurological disease of young adults in America — and DaSilva shows us how it affects both his own life and his relationships with others, particularly his mother and a developing relationship with his girlfriend Alice. It's through the latter's eyes that viewers without personal exposure to MS gain an avenue to greater acceptance of and tolerance for the disease, as she comes to terms with committing her life to someone who can't have a "normal" existence. The film becomes less about DaSilva's medical condition and more about the forging of these stronger interpersonal relationships in spite of — or perhaps because of — his physical condition. The film remains rooted in physicality — such as the achingly unsteady handheld shots when DaSilva is behind the camera — while moving upward into this emotional and even spiritual realm.
I asked DaSilva about his production process and about maintaining the sense of balance and detachment necessary for successful autobiographical filmmaking. Go here to see where When I Walk is playing near you.
Filmmaker: I'm curious about the film's origins. What were you working on when you decided to make a documentary about your condition, and what prompted you to chronicle it in a film at all?
DaSilva: At the time I was doing an MFA and I was inspired by performance artists such as Marina Abramovic and Vito Acconci who use their bodies in performance pieces to create high-stakes art. I started to film myself as a study of the human condition and thought of it as a piece of performance art. Of course the film became something very different.
Filmmaker: So you eventually transformed it into a documentary. What if anything were you aiming for when you started that process? Was it really different from how the finished film wound up?
DaSilva: Part of my intention was to explore medical treatments, but as I realized there weren't any, the film had to change. I didn't want it to be a story about searching for a cure, because that is such a cliché.
Filmmaker: It seems like your relationship with Alice is central to the spine of the film. How did her presence affect the finished picture?
DaSilva: It affected the film a lot — not only her presence on camera, but the work she did behind the scenes. She collaborated on the structure of the film and did voice-over writing.
Filmmaker: How difficult overall was it to make an autobiographical film, especially about something so personal and potentially exposing?
DaSilva: It was very difficult. I didn't think about how hard it could be at first, but it became really difficult when my symptoms got so much worse. I just got tired of being on camera. But I was able to push through because the role I was playing as a director made me want to see the project finished. I almost had a split personality and my director self drove the film to the finish line.
Filmmaker: Tell me about postproduction. Since you cut it yourself, did you have to do anything to distance yourself from the material or did the story flow naturally out of your footage? Were there any narrative surprises at that stage?
DaSilva: In order to distance myself, I would bring in other editors at various points in the process. As our lives unfolded the narrative did flow from the footage but we were shooting and cutting at the same time, so it was a messy process. There were surprises in post — I didn't realize that my mom would be such a humorous element in the film, but in post it became clear she was a great piece in the story.
Filmmaker: Jeannette Catsoulis in the New York Times said the film is "neither as depressing nor as arm-twistingly uplifting as you might expect." How would you describe When I Walk? What kind of movie is it and what kind of effect do you hope — or suspect — it has on viewers?
DaSilva: I describe the film as a story of real life with ups and downs and twists and turns. Just like in real life — in spite of all the challenges — you can find triumphs and humor no matter what you're dealing with — MS or something else. My focus in the film was telling a good story that people would enjoy watching and feel somehow relates to their own life. I really believe in the power of a good story.