Back to selection
Jerry Lewis's The Total Film-Maker Available Online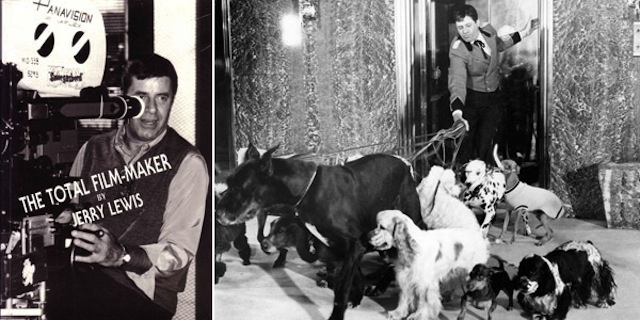 The Total Film-Maker, that invaluable manuscript culled from 480 hours of Jerry Lewis lectures at the University of Southern California, made its way online last week, courtesy of Cinephilia and Beyond. The out-of-print book, which can fetch up to $500 a copy, is now available in PDF form, free of charge, for anyone interested in ingesting every pace of the directorial process from the definitive filmmaker-comic.
Conversational and anecdotal, Lewis relates advice and observations that often demonstrate that though the years may change, the times stay the same.  His chapter "The Money Man" concludes, "There is a trend back toward low-budget films in Amer­ica simply because the studios are up against the financial wall as the result of spiraling costs and in some cases bad management." Sound familiar?
Lewis frequently impresses the need for directors to comprehend the technical aspects of filmmaking, and embrace the viewfinder: "The director must know what's technically happen­ing with the lights and camera. Mistakes in this area are often made because the cameraman and the director are not conferring enough…They distract."
Wealth of shared experiences aside, a set of imperatives found in the prologue may offer the most truthful blueprint to the aspiring filmmaker:
More important: make film, shoot film, run film.

Do something.

Make film. Shoot anything.

It does not have to be sound.

It does not have to be titled.

It does not have to be color.

There is no have to. Just do.

And show it to somebody. If it is an audience of one, do and show, and then try it again.

That is how.

It sounds simple.

It's not. Then again, it is.
Update: For those asking, the PDF can be found at the link to Cinephilia and Beyond at the top of the page.