Back to selection
Creating Memphis and Ping Pong Summer: An Interview with Production Designer Bart Mangrum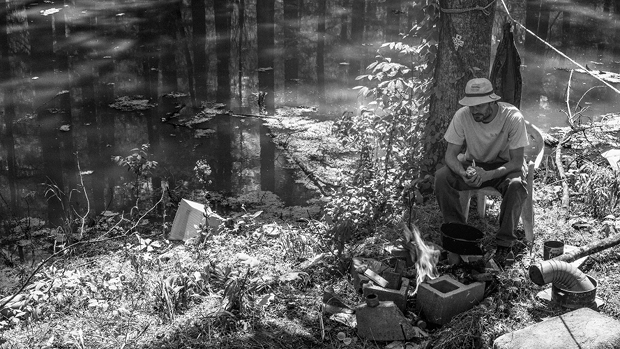 Bart Mangrum on the set of Memphis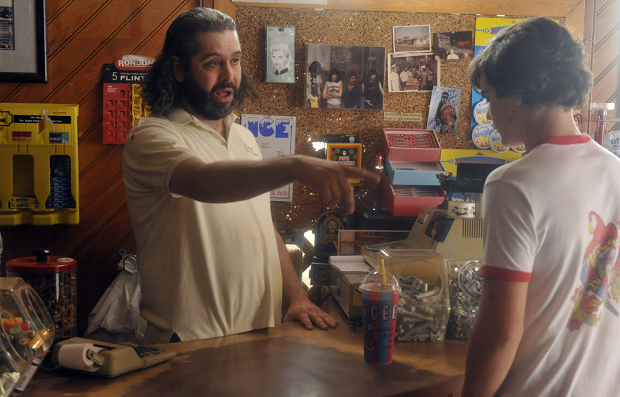 This is not production designer Bart Mangrum's first movie at the Sundance Film Festival. He designed Septien (2011, directed by Michael Tully) and I Used To Be Darker (2013, directed by Matt Porterfield), and was both an on-set dresser and extra in Stoker (2012, directed by Chan-wook Park). But this is the first time Mangrum has been at Sundance as the production designer of two feature films screening in the same category.
Mangrum was born and raised in Nashville, Tennessee, and still lives there. His father ignited his enthusiasm for art by teaching him how to draw during church around the age of five, and Mangrum has been at it ever since. After entering the production art world in the mid '90s as a scenic artist on music videos and commercials, he went back to school to receive his degree in Stage and Set Design from the Accademia delle Arti e Nuove Technologie in Rome, Italy. Since then, Mangrum has designed and art directed over two-dozen films, music videos, and TV episodes, which include collaborations with Harmony Korine, AG Rojas, and The Black Keys.
Mangrum is at the festival this year with Ping Pong Summer (directed by Michael Tully) and Memphis (directed by Tim Sutton), both of which are premiering in the NEXT section. Full disclosure: I worked with Mangrum on Memphis this past spring.  I co-produced the film as he explored the landscape and sounds of the city to create the mythical environment that Memphis' lead character inhabits.
When I heard that Ping Pong Summer  would also be premiering at Sundance, I immediately thought about Mangrum's work – he could not have two more dissimilar films at the festival to represent his abilities. Ping Pong Summer  is a coming-of-age comedy set in Ocean City, Maryland that required extreme preciseness with its production design to feel authentically 1985, while Memphis challenged Mangrum to allow the sets and film's design to evolve naturally, often with far less control.
Below Mangrum talks about the differences between the two films and his experiences as a Production Designer.
Filmmaker: How did you prepare differently for Ping Pong Summer than Memphis?
Mangrum: For Ping Pong Summer (PPS), I revisited the '80s mentally. I did research on '80s films, ping pong, and Ocean City, looking for common ground between the movie and myself. Taking summer vacations and having an older sister was something I was familiar with, and PPS is set the year after I graduated high school. With Memphis, I've always loved the blues, had some friends there that I used to visit from time to time, and could relate to Willis' somewhat existential search.
My mantra for PPS was, "What Is 1985?" For Memphis, I wanted to become the central character. I buy as many of the props as I can from the location where the film is actually set, get to know the town and the people of the town. We're visiting these places and listening to this music, and these experiences become insight into what the personality should feel and look like on film.
For PPS, we were looking for items you would find in 1985. Having a little more time and manpower, we reached out to the community in search of period-specific arcade games, ping pong tables, cars, catamarans, and everything else we needed to make the movie. The PPS script was clearly defined what was going to happen and where. We knew what we were going to need. With Memphis, we worked off a shorter, looser scriptment that left room for change and for things to morph as we shot.
Filmmaker: You've worked on films of considerably varying budgets (as both a Production Designer, Art Director, and Set Dresser), which do you prefer? Do they offer you different opportunities?
Mangrum: When working with lower budgets, you tend to work with a smaller crew, which can often make your team tighter. You get to know everyone better and work more closely. On larger films, sometimes the crew can be so large that you don't personally work with everyone. It's the difference between working with a family and a community.
With the bigger budget, you have the opportunity to do bigger things. You can build or alter sets that you can't afford on a smaller film, where you have to find and work with existing locations.
Filmmaker: When working with a small or smaller budget what is the biggest trick you must rely on?
Mangrum: You have to have a crew that is committed to the film and whatever it's going to take. In Ocean City, we got a couple guys to bring some catamarans out to where we were shooting PPS. They got out in the water for the shot, and we were losing the light, so trying to get them in the right spot out in the ocean to be in the background was nearly impossible. We started to roll and at the time they were way out of the shot, but we stopped for an adjustment. We started rolling again, and [Michael] Tully and I were watching the monitor when I hear our set decorator Joie Todd screaming in the background. Then a catamaran just comes busting into the frame and lands on the beach, something we could have been there for days trying to capture. On smaller budget films, every day you have to be able to set up the possibility for things to happen that you can't afford to purchase.
Filmmaker: In this industry, we are constantly learning from and reacting to situations and problems that arise. What was the most important thing you learned on Memphis? What about Ping Pong Summer?
Mangrum: On Memphis I learned to let go and trust in the process. With PPS, by putting together a crew where everyone's different strengths work together, we were able to pull off magic quite regularly.
Filmmaker: If you could design the film of your dreams, when and where would it take place?
Mangrum: I'm imagining a Martin Scorsese film about an organic farmer who wrestled in high school and starts a fly-fishing tour guide business that travels the world, set in the very near future.
Filmmaker: Is there anything you always sneak onto one of your sets – a Bart signature?
Mangrum: I sometimes sneak in as an extra.
Filmmaker: What tool (mental or physical) must a good production designer possess?
Mangrum: You have to have endurance, mentally and physically. It's about pacing yourself, trusting yourself, and focusing.