Back to selection
POV Hackathon Deadline Approaching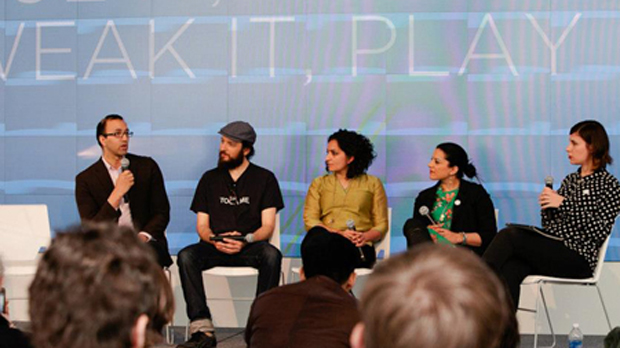 Film hackathons are spreading. Tribeca Hacks is hosting its first international event in Geneva March 15-19 and now POV, which has been running a successful hackathon in New York since 2012, is expanding to Los Angeles. Under the direction of Adnaan Wasey (speaking at a Tribeca interactive event above), POV is running two consecutive events on each coast, at the Center for Social Innovation in Manhattan on May 10-11 and at Hub LA (in collaboration with CreatorUp!) in California on May 17-18.
Applications for both events have the same deadline: 8 p.m. ET/5 p.m. PT on Wednesday March 26. Applications can be submitted at http://www.pbs.org/pov/hackathon.
Nonfiction projects in any stage of production are welcome. Teams are welcome but one huge benefit of participation is for filmmakers working alone to be paired with coders, designers, or other tech-savvy collaborators. Frequently these relationships continue past-hack as the new teams create a completed project; that's what happened with former 25 New Face Jessica Oreck when she was paired with Mike Knowlton and Hal Siegel to expand her film Aatsinki: The Story of Arctic Cowboys (which later premiered at Tribeca) into a time-based interactive web doc The Aatsinki Season. This is, in fact, not unusual, as Wasey points out. "We're excited that many teams, going back to our first lab in 2012, are continuing their work and giving their projects life beyond the prototype."
Wondering if your project would be a good fit? All of the past prototypes can be seen on the application page. You can also check out these past Filmmaker stories on the hack by Rose Vincelli Gustine, participant Amanda Wilder, and myself (on the 2012 and 2013 events).