Back to selection
The Women of SXSW: Fort Tilden Writer/Director/Editor Sarah-Violet Bliss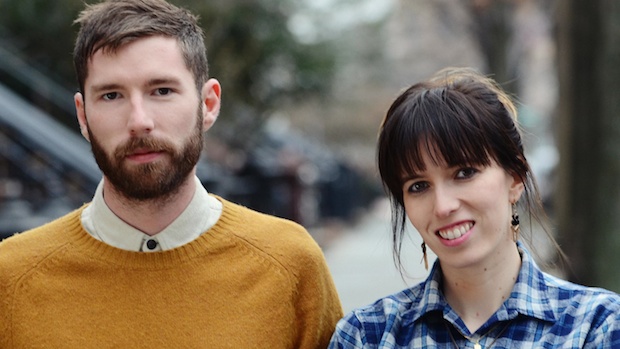 Fort Tilden writer/directors Charles Rogers and Sarah-Violet Bliss
Following "The Women of Sundance" article in our print and online additions, Danielle Lurie continues her coverage of female filmmakers with a series of interviews highlighting women directors at SXSW. In this interview, she talks with Sarah-Violet Bliss, who co-wrote and co-directed the SXSW Grand Jury Prize-winning narrative feature Fort Tilden with Charles Rogers.
Filmmaker: Why this movie?  Why did you decide to do it?  
Bliss: I was excited to tell a story in response to the popular topic of discussion these days frequently labeled "millennial malaise." I have many thoughts on this matter in hand that are enormously fun to voice via comedic/dramatic expression. 
Filmmaker: How did you go about raising funding for it? 
Bliss: A combination of grants, investors, kickstarter and student loans. 
Filmmaker: What is an anecdote from the making of this film that should be legendary? 
Bliss: There's a litter of stray kittens that appear in the film. We had planned to borrow a few grungy kittens from a shelter, but on the day of the shoot they got sick so we had to re-cast last minute. Our producer found a pet-store in the Rockaways willing to lend us kittens but they only had these perfect poseidon-eye pure-bred beauties. Each kitten costs $600.00 a pop if you want one of your own.  
Filmmaker: How much of your crew was female? Was hiring women a consideration for you?  
Bliss: We had a tiny crew, and about half of the key roles were filled by women. Myself, one of the producers, casting director, production designer, key PA, still photographers, HMU, music supervisor, and one of the additional location sound recordists were all women. We worked with super talented people who were great at their job and jived with what we were going for — we didn't take gender into consideration when hiring our crew; it was about who was best for the job. As it turned out, when we followed that formula we had a good balance of both men and women.
Filmmaker: In your opinion, how did being a female filmmaker effect how this film got made? 
Bliss: I co-wrote and co-directed with a fantastic writer and director, Charles Rogers, so this is a tricky question to answer. It was a sublime collaboration, and we couldn't have made this movie without each other. It's a perfect blend of our comedic and dramatic voices and we had equal weight in handling the making of the film artistically and practically. Filmmaking is extremely fulfilling but can also be grueling work for anyone who takes on the challenge, and I think everyone handles the stress differently. You just can't allow the stresses to swallow the spirit of your film, which takes a massive load of confidence. It's a lot easier to give up and take a nap. But if you're going to get your film made you need relentless belief in your vision and the grit to move forward when the inevitable absurd challenges arise. Both men and women have the capacity for this courage.
Filmmaker: In what ways do you think being a female filmmaker helped or impeded your trajectory in the film industry? 
Bliss: There are some awesome champions for women in the industry right now who are actively recruiting women to speak about their work and acknowledging their achievements. I've gotten an inch more press than Charles has because of articles that seek out women filmmakers, and I've been tweeted at a few more times for being a woman as well. So in that respect, my womanhood has worked in my favor. On the other hand, I work as an editor, and I am frequently offered a job for an offensively low pay rate considering my skill set. It's a common issue for all genders in this industry but I have an inkling women get low-balled more regularly.
Filmmaker: How can we get more women making movies? 
Bliss: Pay them! And if you're a female writer/director, pay yourself! Your writer and director's fee should be included in the budget before you start filming. 
Filmmaker: Of the big blockbuster movies out there, which do you wish you had directed? 
Bliss: Clueless, Jurassic Park, Back to the Future, and Terminator 2. 
Filmmaker: What's next? 
Bliss: I have a couple of ideas for films and episodic series' which take over my mind on a daily basis. One of these ideas involves alien abduction, which is a great thing for my brain to be preoccupied with right now.
Filmmaker: What do you hope to gain from being at SXSW? Who would be your dream person to meet while there? 
Bliss: I can't wait to see each film in a theater full of sweat and nervous energy. Particularly the Fort Tilden premiere Saturday March 8, 9:30pm at the Alamo Ritz! Jason Bateman is giving a keynote, and I'm a huge Arrested Development fan. I think my knees would buckle if I got within 50 feet of him. But, his speech conflicts with the Veronica Mars premiere, which is a tragedy I haven't quite been able to confront yet. 
Filmmaker: What is a question I should have asked but didn't that you think is relevant to your film?
Bliss: Q: Who are your favorite female filmmakers?
A: Lynn Shelton, Sophia Coppola, Amy Hackerling, Nicole Holofcener and Penny Marshall.