Back to selection
Alfred P. Sloan Foundation's Doron Weber on Science on Screen and Live Distribution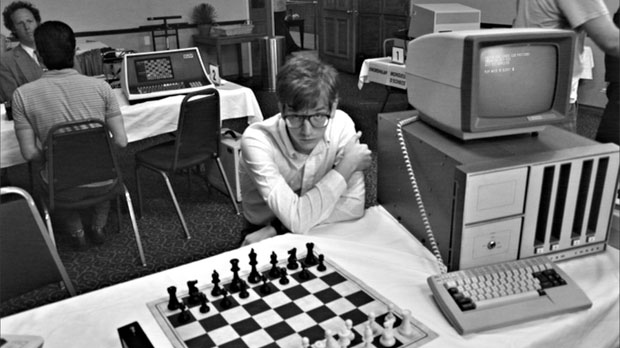 Computer Chess, featured in Science on Screen
Last month, I wrote an article about the rise in live supplements to theatrical screenings. Turns out, this is hardly a novel idea. Coolidge Corner, an arthouse theater smack dab in the Boston suburb of Brookline, has been merging the two formats for nine years running. With the help of the Alfred P. Sloan Foundation, Coolidge spearheaded the Science on Screen series, in which selected films are programmed alongside specialists who contextualize the narrative within science and technology, which is not necessarily as straightforward as it sounds. Take, for instance, a recent screening of 8 Mile, which was followed by professors from Johns Hopkins' Department of Otolaryngology and the Peabody Conservatory discussing the neural basis of freestyle rap.
Indeed, Doron Weber, the Vice President of Programs at Sloan, has made it his mission to proliferate the idea that the sciences and the humanities are not as disparate as one may think. "I'm focused on the 98% of people who will never be mathematicians or scientists, and making them more comfortable with what that 2% is up to, so we don't have a cultural divide," he told me last week at Sloan's office. Tonight, Science on Screen enjoys a nation-wide event, as 17 cinemas from coast to coast will participate in the program. Filmmaker spoke to Weber about the community-driven distribution measure, and whether or not it's the way of the future. You can find the full list of tonight's locations and screenings after the article.
Filmmaker: One of the great things about Sloan is that you have your hand in every step of the process, from the script stage to the festival circuit and now, a little bit of distribution.
Doron Weber: I'm concerned about distribution, and I heard BFI had a version of this. It's the equivalent of a $50,000 incentivized grant. I've done it in my theater work – with Manhattan Theatre Club — where I'll offer them extra money to produce a selected project. So, you'd say, if you pick up this film, you get an extra $50,000, which is not a ton, but in the independent film world, that tips the scales. I want to help the filmmakers get their films scene, because, obviously, that's what they want. The traditional modes are breaking down, people are looking at things on their computers –  at this point, we should be making films for phones. But people still like coming together, and having shared experiences, so I still believe there's value in making things that look different in the theater. But certainly young people starting out now can make a film for nothing, on any old home video camera.
Filmmaker: Which more and more critics seem to be taking issue with, in terms of quality versus quantity. The argument is that so many people are making films who have no idea what they're doing, we're producing an excess of content that leads to this "glut."
Weber: Well, in the end, it will filter out. Everyone, as you know, isn't an artist, and not everyone can tell a story the way it should be told, but eventually, those people rise to the top. In terms of distribution, though, I'm completely open to what works. We have such a large library to get out there, and Science on Screen has been doing that for us, but it's only one avenue.
Filmmaker: That's been going on at Coolidge for a while, yes? My boyfriend said he went when he was in college.
Weber: Coolidge themselves started it as a local phenomenon around 2005, 2006, and we've been working them for about four years. Denise Kasell became the head of Coolidge, and previously we had worked together through the Hamptons Film Festival, and she mentioned it to me, and I had been thinking of something along those lines for a while. I've always wanted to do a Siskel and Ebert type show where one of them is a scientist. They review movies every week – they don't have to been science-related – but they'd take that lens. In fact, I have a proposal from CUNY TV to do a pilot, and I have one of the hosts, and I'm going to try that. I give Coolidge absolute credit for it, and it's done really well. I always loved the general idea, but I also thought of it in terms of a distribution platform. And now it's growing, and growing.
Filmmaker: Right, March 31 is a national undertaking. I saw on the website that theaters have to apply for a grant in order to participate in Science on Screen. Can you talk about that?
Weber: Through Coolidge, we give out 20 mini-grants of roughly $8,000 and for that the theaters agree to do three screenings. We give them kits about how to market and promote it. But ultimately, you're drawing on your community, and your bringing in your local scientific or technical expert to enhance the viewing experience.
Filmmaker: So the theaters are in charge of programming?
Weber: Yes.
Filmmaker: I looked at the lineup, which has a pretty wide variety, and I was curious about how the different screenings catered to different audiences. They're doing Computer Chess in South Carolina and Eternal Sunshine at BAM, but someone Amherst is getting Herzog.
Weber: In the application process, they submit what they want to do. But honestly, I can't think of a film that wouldn't fit. It's a matter of figuring the angle. We did Harry Potter, and people from DARPA came in and talked about the invisibility cloak and how it parallels camouflage in the military. We just ask that one of the three films be a Sloan-supported film. The idea behind the program is that science and technology are so prevalent in our lives, we use them without thinking twice about it. Just getting up to charge your iPhone in the morning, it's common sense. So we're underscoring that relationship that's more a part of our sub-conscience. But we have a lot of work in front of us, to keep people engaged and keep them critical. We don't want to be lecturing, because that just makes people shut off.
Filmmaker: Do you think the live distribution format is going to be more widespread in the future? In terms of getting people off of their couches and out of VOD.
Weber: I don't think it's really either/or. VOD is a niche. But, at the end of the day, people still want to go to the theater. It's part of the experience, seeing how other people respond to the film. As a writer, I think it's a little bit similar to the eBook market. It's great for when I travel, and I can have a thousand books in my bag, but I still love the physicality of a book, and that will never go away. It's not a replacement. And people still like bookstores. I don't want Amazon to tell me what I should be interested in.
Filmmaker: I read an article, I can't remember where, that posed the idea that going to the movies doesn't actually compete with VOD, it competes with, say, going out to dinner. Anything you would do on "date night."
Weber: My instinct would be to say that that's right. We get things from other people that we don't get at home. Unless you're disabled or have trouble leaving your house, in which case it's wonderful. It's cyclical, things go through phases, but there is that social, community based need. You may know more about this, but now you can crowdsource a film into theaters.
Filmmaker: Yeah, Tugg.
Weber: Which is a true testament to that.
Filmmaker: It's great, because so many independent films are only released in New York and LA, and then VOD.
Weber: Sometimes the crowd needs to be led, but nonetheless, it's a wonderful way to give people their say. At Coolidge, it's the same way. Grassroots. They pick what they think the community will be interested in. And everyone speaks film. Not to sound pejorative, but it's the lowest common denominator. It's an entry point for discussion for anyone.
*********
NATIONAL EVENING OF SCIENCE ON SCREEN – Monday, March 31
PROGRAMS AT A GLANCE 
Starred (*) films have received the Alfred P. Sloan Feature Film Prize given annually to outstanding feature films focusing on science or technology as a theme, or depicting a scientist, engineer or mathematician as a major character.
Amherst Cinema — Amherst, MA amherstcinema.org
*Grizzly Man — Director Werner Herzog chronicles the life and death of grizzly bear activist Timothy Treadwell, who with his girlfriend was killed by grizzlies in October 2003 while living among the bears in Alaska. Before the film, Dr. Richard Halgin, clinical psychologist and professor of psychology at UMass Amherst, explores the question: Was Treadwell a nature lover, an eccentric narcissist, or a person with an unusual psychiatric disorder?
Athena Cinema — Athens, OH athenacinema.com
Soylent Green — In an overpopulated, polluted, and resource-depleted New York City of the future, a detective (Charlton Heston) uncovers a shocking secret about a mysterious synthetic food while investigating a murder. After the film, Ohio University Russ Professor of Chemical and Biomolecular Engineering Dr. Gerardine (Gerri) Bottediscusses clean, renewable energy sources and technologies, followed by Q&A.
Athens Ciné — Athens, GA athenscine.com
Walter: Lessons from the World's Oldest People — Inspired by a visit to Walter Breuning, then 113 years of age, documentarian Hunter Weeks and his fiancée, Sarah Hall, embark on an adventure to capture the stories of several supercentarians. Before the film, University of Georgia gerontologist Dr. Leonard W. Poon discusses well-being in the "oldest old" – people aged 85+.
BAM — Brooklyn, NY bam.org
Eternal Sunshine of the Spotless Mind — Heartbroken over their failed relationship, Joel (Jim Carrey) and Clementine (Kate Winslet) turn to medically-induced amnesia, only to fall in love all over again—and repeat the same mistakes. Joseph LeDoux, director of the Emotional Brain Institute at New York University and author of The Emotional Brain: The Mysterious Underpinnings of Emotional Life, discusses emotion and memory following the screening. 
Belcourt Theatre — Nashville, TN belcourt.org
For All Mankind — Director Al Reinert's Oscar-nominated documentary tells the story of the Apollo missions from the perspectives of the astronauts who made the harrowing but breathtaking journey from the earth to the moon. A discussion with Apollo mission engineers Brooks Moore and Aloysius (Al) Reisz and NASA historian Mike Wright follows the film.
Boedecker Theater at the Dairy Center for the Arts — Boulder, CO thedairy.org
The Lookout — A former high-school hockey star (Joseph Gordon-Levitt) whose once-bright future has been dimmed by a severe head injury is recruited to help rob the same bank where he works as a janitor. Kathryn Hardin, a clinical assistant professor in the Department of Speech, Language and Hearing Sciences at University of Colorado Boulder, discusses traumatic head injury before the film and answers questions afterwards.
California Film Institute/Smith Rafael Film Center — San Rafael, CA cafilm.org
Journey of the Universe — Written by cosmologist and evolutionary philosopher Brian Swimme and Mary Evelyn Tucker, a senior lecturer in religion and the environment at Yale University, this award-winning documentary tells an epic story of cosmic, Earth and human transformation from The Big Bang to today. A panel discussion and Q&A with Swimme, Tucker, and directors Patsy Northcutt and David Kennard follows the film.
Center for Contemporary Arts Santa Fe — Santa Fe, NM ccasantafe.org
Panic in the Streets — In director Elia Kazan's 1950 film noir, a physician from the U.S. Health Service (Richard Widmark) and a police detective (Paul Douglas) race against time to prevent an outbreak of pneumatic plague in New Orleans. Before the screening, biologist, epidemiologist, and Santa Fe Institute Omidyar Fellow Samuel Scarpino discusses the history of public-health response to infectious disease.
Coolidge Corner Theatre — Brookline, MA coolidge.org
Paths of Glory — Stanley Kubrick's antiwar classic stars Kirk Douglas as a World War I French colonel who takes on ruthless generals when his men are accused of cowardice after failing to complete an impossible mission. Before the film, Harvard experimental psychologist and acclaimed author Steven Pinker discusses human nature and why – as implausible as it may sound – we are living in the most peaceable, least violent era in human history.
Enzian Theater — Maitland, FL enzian.org
*The Diving Bell and the Butterfly — At age 43, former French Elle editor Jean-Dominique Bauby suffered a stroke that left him with locked-in syndrome – unable to speak or move any part of his body, except for his left eye. Using that eye, he blinked out the memoir on which Julian Schnabel's stunning film is based. Evan Allen, MD, medical director of the Neuroscience Institute at Florida Hospital Orlando, speaks before the film about locked-in syndrome and the relationship between mind and brain. Q&A follows the film.
The Film Society of Minneapolis St. Paul — Minneapolis, MN mspfilmsociety.org
*Robot & Frank — In the near future, an ex-jewel thief (Frank Langella) receives a gift from his son: a robot butler programmed to look after him. But soon the two companions try their luck as a heist team. University of Minnesota Computer Science Professor Maria Gini speaks before the film about artificial intelligence and robots, including robot pets.
Hollywood Theatre — Portland, OR hollywoodtheatre.org
Bill & Ted's Excellent Adventure — Two totally excellent dudes (Keanu Reeves and Alex Winter) travel back in time to learn from influential historical figures for a history report. James Butler, a physics professor at Pacific University, and Todd Duncan, PhD director of the Science Integration Institute and physics instructor at Portland Community College, introduce the film with a talk entitled "Einstein's Excellent Adventure: The Physics of Time Travel."
The Little Theatre — Rochester, NY thelittle.org
*Another Earth — On the night of the discovery of a duplicate Earth in the solar system, an ambitious young student (Brit Marling) and an accomplished composer (William Mapother) cross paths in a tragic accident. After the screening, Adam Frank, professor of astrophysics at University of Rochester and co-founder of NPR's 13.7 Cosmos and Cultureblog, discusses parallel universes, followed by Q&A.
Michigan Theater — Ann Arbor, MI michtheater.org
Particle Fever — Physicist-turned-filmmaker Mark Levinson's riveting documentary follows six brilliant scientists during the launch of the Large Hadron Collider, built to recreate conditions that existed just moments after the Big Bang and to find the Higgs boson, the so-called "God particle". Producer David E. Kaplan, a particle physicist heavily featured in the film, explains why the Higgs boson matters, and takes questions, following the screening.
Nickelodeon — Columbia, SC nickelodeon.org
*Computer Chess — Writer/director Andrew Bujalski transports viewers back to 1980 with this comedy set at a provincial hotel that's simultaneously hosting a weekend tournament for chess software programmers and a New Age therapy convention for couples. Joshua Cooper, an associate professor of mathematics at University of South Carolina, discusses the concept of combinatorial explosion before the film.
SIFF — Seattle, WA siff.net
Earthquake — One of the biggest of the disaster films of the 1970s, 1974's Earthquake features an all-star cast led by Charlton Heston as a construction engineer who must restore order after a catastrophic earthquake hits Los Angeles. Washington State seismologist and University of Washington Professor John Vidale speaks before the film on different kinds of earthquakes that affect the Pacific Northwest, quake early-warning signs, and preparing for when "the big one" hits Seattle. Q&A follows the screening.
The State Theatre of Modesto — Modesto, CA thestate.org
Avatar — Indigenous residents of the planet Pandora battle the invading forces of Earth, who covet the mineral resources that exist beneath Pandora's surface. Before the film anthropologist Andrew Hayes discusses the history of magical practices in indigenous cultures and the relationship between science and magic.