Back to selection
4 Observations from a First Time NAB Experience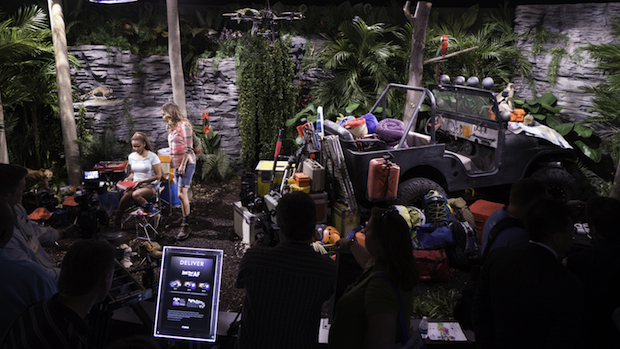 This was my first year at the gear-head mecca of NAB. It definitely did not disappoint, and I had a blast attending, checking out new gear (which you can see a list of here) and finally meeting some people I've only had contact with in the online world. Here are some of my overall impressions about what I saw (or didn't see) on the showroom floor and the conference itself.
Very Few Surprises and Not a Whole Lot of New 4K
The #1 question I keep getting asked is, "What was the best thing you saw?" And I really don't have a good answer. I didn't really see anything "mind-blowing," like what I would imagine seeing the MoVI for the first time was like last year.
The DJI Ronin was really cool, but now a handheld gyro rig is pretty much a standard tool, not revolutionary anymore. Speaking of gyro rigs, there was definitely no shortage of them or drones.
Camera wise CION and URSA were the two big announcements. I was definitely more impressed by URSA — it looks like the best camera Blackmagic has put out yet (at least from an ergonomics perspective). But let's see if it actually ships on time and if the firmware has the functions you'd expect from a video camera.
No surprises 4K wise in the DSLR world. The Sony A7s only half counts because you still need an external recorder to actually record 4K off the HDMI (well I guess that was a surprise). I did get to finally hold a Panasonic GH4 and talk to Panasonic about it. Maybe that backfired on their part because I ended up downsizing my pre-order (read more about that here).
There was only one new 4K recorder, the Atomos Shogun. I thought there would be more, especially ones that could record from HDMI, but it was just the Shogun, which won't be released until late this year.
No Low Cost Archival Solutions
With 4K and RAW comes the realization that this stuff takes up lots and lots of space. There were some new Thunderbolt 2 drives from G-Raid, Lacie, and CalDigit built for the new MacPros and ready to handle 4K, but no new LTO solutions for long term archival for the single shooter looking to clear off some hard drives and securely store their footage long term.
The Booth Panels Were Actually Interesting
NAB has their own set of panels that are part of different education tracks. However a lot of booths had their own speaker schedule, like Canon, Nikon, Sony, Avid, and a bunch of others. At first I thought they would just be sales pitches for the host company's gear. But just from walking around I caught the tail end of a talk from SNL DP Alex Buono talking about 4K workflows and issues and later Nick Higgins, a documentary DP, talking about his work. These were both at the Canon booth.
They were really quite interesting and informative and totally not pitching gear at all. Nick Higgins didn't even mention Canon once until after his talk when someone asked what camera he uses. "Oh, right, I'm mostly shooting with a C300." I'll be paying more attention to these next year and a break from walking is definitely not a bad thing.
It's Huge
Everyone said it was big, and they were not exaggerating. I tracked my steps and easily walked 10 miles a day. I don't think it was until day two that I realized the South Hall had a complete second level. There were areas I swore I walked by at least five times, and I would still stumble on a new booth I hadn't noticed before.
For a lot of companies "booth" is a gross understatement. Some were a complete showroom in themselves. RED and Canon had their own theaters. Blackmagic had a lounge area behind its main wall. Sony had two demo stages, which definitely led to some confusion when you tried to meet someone "by the Sony stage."
I was most amused by the staged scenes set up to have something to point the demo cameras at. They ranged from kitchens and art studios to lost safaris and film noir detective bureaus.
Overall it was an excellent experience. Like I said, the place was massive, so I definitely could have missed something I said I didn't see. Let me know if you think that's the case.