Back to selection
Five Questions with Pervert Park Directors Frida and Lasse Barkfors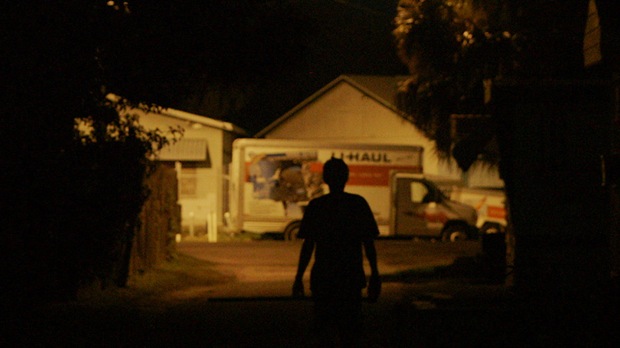 Pervert Park
First-ime feature filmmaking couple Frida and Lasse Barkfors set their sights on unraveling the taboo yet widespread condition of the sex offender in Pervert Park. At the Florida Justice Transitions trailer park in St. Petersburg, the film's ostracized subjects work towards societal reintegration through group therapy and unflinching self-reflection. Filmmaker spoke to the Barkfors about building relationships with guarded subjects, objectivity, and how they first came across FJT. Pervert Park has its North American premiere in the World Documentary Competition at the Sundance Film Festival tonight. 
Filmmaker: As Scandinavians, how did you come across Florida Justice Transitions, and what led you to make a film about its inhabitants?
Frida Barkfors and Lasse Barkfors: We read about FJT in a Danish newspaper, and got interested in the parallel society that the sex offenders seemingly had made for themselves. The article described how the offenders had opened up small shops and even a hair salon in the park. The article left us with the impression that the park was a society of its own. When we got to the park ourselves we met something very different. It turned out that a lot of the residents had jobs outside the park, and were struggling to be a part of society; they were not just suspicious weirdos. We met people rather than only criminals and that was what the film had to be about, as we had seen nothing like it described in mainstream media before.
Filmmaker: In dealing with ostracized subjects, was it difficult to establish transparency during filming? Did you find that they were heavily guarded or rather openly past caring?
Barkfors and Barkfors: It differed a bit, but we would say that most of the residents in the park were a bit guarded during our first visit. Keeping in contact with the park throughout the years it took to make the film helped in gaining their trust and getting them to open up. Once they realized we were there to listen to them, with no hidden agenda, they opened up to us one by one. We did have a close correspondence with Don, the sex offender's counselor, to make sure that they weren't minimizing their crime, but actually telling us the truth. We also made sure to film what they said about their crimes both in therapy and in the interviews we made.
Filmmaker: In the edit, did you seek to portray the characters with objectivity, or did you want to hand it over to them in some way, allowing their stories and perspectives to come through?
Barkfors and Barkfors: We wanted to portray a variety of people that could somehow show the actual diversity in sex offenders. At the same time, it was important to us to let them tell their stories without us guiding them, so that we would minimize the viewer's feeling of us telling them how to react. We always wanted to leave that open to the audience to interpret.
Filmmaker: How much time did you spend at the park? Did it take a while to obtain permission to film?
Barkfors and Barkfors: We spent four years from our first visit to the park trying to finance the film. We went there for the first time in 2010, to make sure we had people who were willing to participate in the film. At that time, we met a few people who were willing to be interviewed. Over the years we stayed in contact with the people we met and they knew we were dedicated in the project and didn't seek to portray them in any sensationalistic way. When we came back to shoot the final film in early 2014, we had many more people approach us than could be in the film time wise. However, many of their stories resembled each other, and we believe we have covered the diversity that we met in the park.
Filmmaker: The film premiered at CPH:DOX. Do you expect the Sundance reaction to be different now that you're screening it to a predominately American audience?
Barkfors and Barkfors: We were quite happily surprised by the audience response at CPH:DOX, showing such a great interest and understanding despite the film's topic. We are looking forward to show it to an American audience; Pervert Park does take place in the US, but the problem of sexual abuse is worldwide.